The role and benefits of lubricants cannot be undermined in today's mechanical world. They help reduce friction and allow machines to do more work for the same amount of energy input. They can achieve this by lowering the temperature of the materials that are in contact with each other. A beneficial side-effect of this process is that the lifespan of moving parts is greatly enhanced every time a lubricant is used. Generally, there are three types of lubricants – solid, liquid, and semi-solid. Each of these lubricant types are available for commercial use but are best suited for specific applications. The beneficial properties of lubricants ensure that the demand is always steady, but in markets such as Australia, the recovery of the mining sector will have a positive effect on the overall growth rate. According to SpendEdge's latest research report, the increasing coal and iron ore mining activities will spur the demand for various lubricant types over the next four years.
To know more about the dynamic factors affecting the lubricant market and strategies to mitigate market risks, request a free sample below.
Types of Lubricants
Oils
Oils are types of lubricants that are made of long polymer chains with several additional properties. The corrosion inhibiting properties of oils prevent parts from corroding. It is used to prevent the corrosion of hinges, bearings, tool maintenance, and sharpening blades.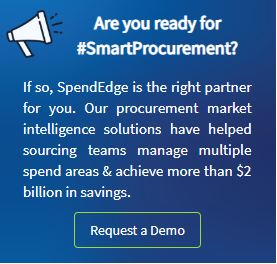 Penetrating lubricants
These types of lubricants are low-viscosity oils with additives that are specially designed for a single purpose and that is to lubricate the tiny cracks between surfaces and remove rust. It is used to lubricate screw threads.
Dry lubricants
They are made up of lubricating particles such as molybdenum disulfide, graphite, silicone, and PTFE. They are used in 3D printer rails, threaded rods, locks, and hinges.
Greases
Greases are made using mineral oil and mixing it with thickeners like lithium-based soaps. It is used to lubricate gears, bearings, chains, linkages.
Continue reading to know more or request a free sample report.

Lubricants Market Overview
The automobile, marine, mining, manufacturing, and power and energy are key end-users of lubricant oils. Among the major end-users, the mining and automobile industries are the biggest markets due to their rising demand for various types of lubricants. Lubricating oils are used in mining equipment such as drilling machines, pneumatic tools, and excavators. The demand for lubricating oils post-2017 in mining industries has increased due to factors like the extensive mining of minerals such as coal and iron ore. During the forecast period, LCV sales are expected to increase at an annual rate of nearly 2.5% and this will also contribute to the growth of the lubricants market. Furthermore, the global trend of replacing older cars with newer models is also expected to fuel market growth over the next couple of years. (Source: SpendEdge's procurement report on the lubricant category)
---
Properties of Lubricants
Suitable viscosity, which prevents a change in its state during temperature fluctuations.
Oiliness, provides adherence to bearings and makes its surface smooth.
Better chemical stability, which helps prevent surface reactions.
High flash point and fire point, preventing it from leaving a heavy deposit and poisonous exhaust.
Excellent cleansing properties, which helps clean engines effectively