[bctt tweet="SD WAN is a transformational technology that has the potential to make office networking and application performance better." username="SpendEdge"]
Software-defined wide area networking, or SD-WAN, is well-known for its ability to boost agility and bring about cost-reductions. When it comes to WAN, there is no fatigue around the use of the word "software-defined". Though some of the hype around the word "software-defined" has worn off, SD WAN continues to create a lot of buzz. Our experts, in their latest market report, believe that this technology will continue to gain rapid popularity owing to its ability to offer a tangible solution for a specific business problem. Other SD WAN benefits include its ability to streamline WAN management and configuration by reducing the amount of traffic that is carried over to expensive MLPS links.
Our experts believe that the market has immense potential for SD WAN vendors, mostly due to the numerous SD WAN benefits. However, the market's immense growth potential will make it a hassle for enterprises to choose the right vendors. Since SD WAN products have various pricing models and different ways of integrating with networks, it has become essential for enterprises to research more about the products and develop a strong knowledge of the SD WAN benefits and how this technology will aid their business.
In their latest procurement report, the industry experts at SpendEdge share their opinion on the latest disruptive technologies and identify some of the key SD WAN vendors to help enterprises make the right choice.
Top 5 SD WAN Vendors
VMware
Established in the year 1998, VMware is one of the most popular SD WAN vendors who is based out of the US. They are well-known for mainstreaming virtualization and are committed to solving all technology-related problems for their customers. They currently employ more than 21,700 employees and have branches spread across 100+ countries. Their SD-WAN solution enables bandwidth expansion, provides optimal connectivity, supports virtual services, and helps automate branch deployments.

Cisco Systems
Headquartered in the US, Cisco Systems currently employs more than 72,900 people across the globe. Their main aim is to help shape the future of the internet by creating opportunity and value for customers, employees, investors, and ecosystem partners. Their SD-WAN solution helps extend networking and improves user experience, agility, threat protection.
Continue reading to know more about the top SD WAN vendors and SD WAN benefits or request a free sample copy to access the complete scope of the report.

Silver Peak Systems
They are one of the market leaders when it comes to SD WAN solutions. Their solutions provide reliable and secure virtual overlays to boost flexibility so that users can connect to applications seamlessly, without compromising on app performance. Established in the year 2004, they are one of the SD WAN vendors whose solutions can lower capex and opex costs by 90%.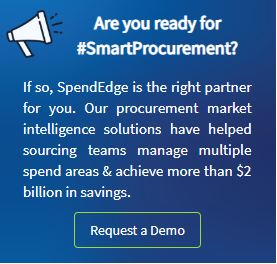 Citrix Systems
Citrix currently employs more than 7,500 people across the globe and has branches spread across 5+ countries. They offer solutions that follow a reliable, scalable, and cloud-ready approach to help deal with today's application traffic. Citrix SD-WAN combines application analytics, WAN optimization, routing, and many more into one comprehensive solution.
Talari Networks
Established in the year 2007 and headquartered in the US, Talari Networks has grown impressively since its inception. They have offices in more than 40 countries across the globe and offers solutions that help enterprises to accelerate performance for business-critical applications, optimize branch office network, and boost resiliency.
SpendEdge Advantage
SpendEdge's market leading procurement reports offer comprehensive insights into the global and regional market landscape. They also shed light on the SD WAN benefits and the major problem areas so that buyers can develop a better procurement strategy. We also offer customized market information and data to clients who are looking for specific market information. Talk to an Analyst Today!