Benefits of Spend Analysis
Spend analysis revolves around the process of data cleansing and categorizing prior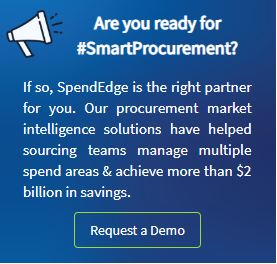 to the detailed analysis of spend data. It helps businesses to understand spending trends and determine new cost-saving opportunities. Without the right tools and technologies in place, spend analysis may seem to be a daunting task for procurement officials. However, most of the spend analysis tools used today offer basic features which can leverage your spend analysis effort. Also, one can conduct an in-depth spend analysis and generate spend analysis reports to gauge organizational spend efficiency without the use of such tools. Here are the key benefits of conducting an in-depth spend analysis:
Saving opportunity identification

Enhances spend visibility

Improves spend forecasting ability
---
About the Client
The client is a Fortune 500 American apparel brand. The apparel store offers a collection of high-end, luxury designer outfits.
Continue reading to gain in-depth insights into the benefits of spend analysis or Request a free proposal.
---
Client's Challenge
The American apparel store which consists of multiple brands was functioning without a uniform spend management strategy across different geographic locations. Low levels of compliance associated with their purchase and requisition processes along with the limited ability to capture spend data further affected the American apparel store's ability to achieve enterprise-wide spend visibility.
In addition, the lack of a centralized spend management system negatively impacted the organization's bottom line. Due to many such factors, the American apparel store realized the need to

transform its procurement functions into a centralized function with the help of SpendEdge's advanced spend analysis solutions.
Engagement Overview
The spend analysis experts at SpendEdge worked closely with the American apparel store to bring about a major procurement transformation. A three-pronged spend analysis approach was adopted to analyze the client's spend data. This highly focused approach to spend analysis empowered the American apparel store to streamline contracts, enhance their sourcing capabilities, and their spend management processes.
---
Key Findings
The solutions offered by our spend analysis experts suggested that the development of a centralized spend management system would help the American apparel store to enhance their overall performance. Our solutions further helped the American apparel store to streamline their spend data, thereby delivering $50 million in CapEx savings, which was equivalent to a 20% rise in their CapEx efficiency.
---
Would you like to learn more? Get in touch with our spend analysis experts Today!