Importance of Supply Chain Management
Supply chain management restructures everything from product flow to unanticipated disasters. Also, with an effective supply chain management process, establishments can analyze problems and disruptions accurately. Additionally, supply chain management is an integral and dynamic part of every organization as it helps firms achieve a sustainable competitive advantage and maximize customer value.

A robust supply chain management process also deals with the storage and transportation of materials that are needed to create a product and keep track of produced goods.
---
Supply Chain Management Process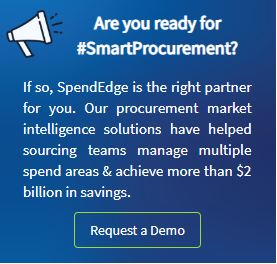 Supply chain management process plays a massive significance in running key operations for virtually every organization. Without a successful supply chain, developments could halt at the floor level and ultimately bring down the results. Here are five basic stages to be followed for an effective supply chain:
Plan

Source

Execute

Deliver

Return




---
Canned Food Market Overview
Improvement in distribution structure and the resultant growing popularity of ready-to-eat food products, coupled with the affordability of canned food and changing lifestyles are expected to propel the demand for canned food market in the coming years. Additionally, with the increase in demand for chemical-free canned food, manufacturers are increasing their focus on innovations in packaging by offering food in BPA-free containers.
SpendEdge's procurement market intelligence solutions assist businesses in methodically monitoring the supply market settings and comprehend the importance of supply chain management.
Start your 14-Day Free Trial Now.
Client Profile
The client – is one of the top canned food market players in the world. The company is based out of the United States and is renowned for establishing their presence in various markets across the globe within a short duration of time.
Predicaments

The canned food market player wanted to design and implement a robust supply chain process to eliminate unnecessary transport and handling of their goods. Additionally, the canned food manufacturer's existing supply chain was complex, inefficient, and expensive. As a result, they wanted to create a more flexible and responsive supply chain.
Solutions Delivered
With the help of SpendEdge's supply chain management process engagement, the canned food manufacturer created a responsive and flexible supply chain. This enabled the client's customers to make better buying decisions; thereby, creating a significant competitive advantage. The engagement also helped the client achieve combined cost savings of over $12 million.
---
To know more about the importance of supply chain management

---