Oil and Gas Industry Overview
From being one of the biggest sector's in the world in terms of dollar value, the global oil and gas industry is considered to be the powerhouse that employs thousands of workers globally, while generating billions of dollars annually. Today, oil and gas companies form a vital part of the global economy that they often contribute a significant amount towards national GDP.
However, there has been a rise in negative sentiments towards the oil and gas in

dustry, due to major environmental disasters that have taken place in the past. The rise in the adoption of renewable energy sources and the growing trend toward alternative energy are major contributors that have cast a negative spotlight upon the industry. Such factors coupled with the rise in governmental and pro-eco legislation pressure have made it challenging for leading oil and gas companies to establish their presence in the global landscape.
About the Client
The client- a commodity petrochemicals manufacturing company in the U.S.
Client's Challenge
The client- a leading oil and gas industry player specializing in the manufacturing of commodity petrochemicals such as aromatics, olefins, and surfactants found it challenging to effectively manage their procurement and sourcing activities across their operating units. Their decisions about suppliers were fragmented across their business facilities with little evidence of effective spend control. The oil and gas industry player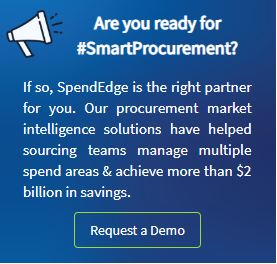 decided to perform an in-depth total cost of ownership analysis to assess the organizational cost factors and identify improvement opportunities.
Engagement Overview
A team of industry and TCO analysis experts were deployed to conduct an in-depth total cost of ownership analysis. The team began with a detailed review of spend across all categories of the supply network. A detailed total cost of ownership analysis played a crucial role in revealing an unclear organizational structure that consisted of fragmented sourcing activities which lacked process controls and discipline.
The development of a total cost of analysis model helped identify and gauge significant opportunities to reduce spend across a range of spend categories. As a result, the oil and gas industry client decided to formalize the total cost of ownership model and leverage its use to identify efficient sourcing and procurement programs. Also, with the help of a total cost of ownership model the oil and gas industry player was able to identify and collaborate with specific MRO suppliers and contract laborers which helped bring down their procurement costs.
---
Key Findings
The solutions offered by our TCO analysis experts suggested that the adoption of simple policies around the equipment usage would help the oil and industry client to manage the overall demand. The total cost of ownership model instituted a formal spend review program to ensure that the oil and gas company had exhausted all avenues for meeting the needs for purchased items before approving additional expenses.  Moreover, the use of the total cost of ownership model not only reduced the associated losses but also helped the oil and gas company to consolidate spend and strategic sourcing activities across all categories to realize $6 million in savings.
---
Want to gain a winning edge in the oil and gas industry? Get in touch with our TCO analysis experts to understand why it's essential to develop and formalize a total cost of ownership model.