Benefits of a Procurement Plan
A procurement plan is a basic framework that guides procurement officials throughout their procurement cycle. The use of an effective procurement plan is essential for all procuring entities in the execution of their procurement objectives. Here are a few benefits of a procurement plan:
Enhances the predictability and transparency of the procurement process

Acts as a roadmap that guides procurement officials to achieve their tasks

Ensures compliance with regulatory and governmental policies
Key Components of a Procurement Plan Template
While in the initial phase of a project, it is not unusual to discover that you require sp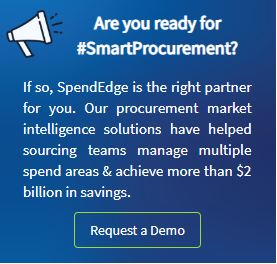 ecific materials of services to successfully complete the task. The development of a precise procurement plan template will help you fulfill those needs without compromising on other factors. According to our procurement experts, your best bet is to develop a 'Procurement Plan Template' that is easily transferrable to procurement management software. However, while developing a procurement plan template it is essential to consider the following aspects of procurement:
Procurement process

Assign roles and responsibilities

Identify procurement needs

List out contract requirements

Describe vendor processes

Review the procurement plan regularly
About the Client
The client is a leading player in the vegan market and started off as a food retailer in the U.S. However, a few years ago, the client ventured into the vegan market owing to the growing demand for vegan essentials across the globe. Also, in a bid to meet the growing demand for plant-based, vegan essential the client is now focusing on continuously growing their vegan ranges to a winning edge in the vegan market.
Continue reading to gain in-depth insights into the benefits of a procurement plan or request a free proposal.