Strategic Sourcing Best Practices
In today's technologically advanced world, doing what you've done previously is no longer acceptable- even if you are well versed in doing so. To reduce costs and produce the desired result in challenging circumstances, one must transform rather than just improving their strategic sourcing operations. This means organizations should adopt advanced methodologies, strategic sourcing best practices, and processes that will make them 'best-in-class.'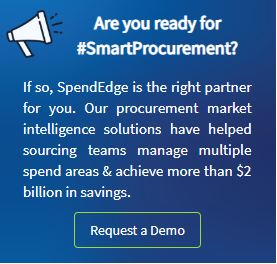 However, devising a precise roadmap for achieving the desired level of supply chain excellence in your organization might seem challenging. Here are a few strategic sourcing best practices adopted by leading players across industries:
Establish a governing supply chain management council

Align your procurement processes with your goals

Establish alliances with key suppliers

Devise strategic sourcing steps

Adopt inventory optimization techniques

Adopt green initiatives
About the Client
The client- is a world renown scientific equipment manufacturing company in the U.S.
Client's Challenge
The scientific equipment manufacturer wanted to achieve the desired efficiency by formalizing the way spend data was assessed, gathered, and factored into the procurement process. The challenges associated with their procure-to-pay operations brought in several challenges in achieving the desired bottom-line results and improving process efficiencies.
Also, the scientific equipment manufacturer's perpetuated, irregular buying patterns resulted in inconsistent reporting and internal tracking capabilities. The lack of vendor consolidation, long turn-around time frames,  and the inability to back-fill key sourcing and procurement positions were other areas of major concern.
Engagement Overview
The scientific equipment manufacturer realized the need to transform its organization into a cente

r-led function with advanced supplier management processes, sourcing capabilities, streamlined contract, and greater spend management capabilities. Following an extensive request for proposal (RFP) process with multiple vendors and a systematic assessment of their services and solutions, the scientific equipment manufacturer chose to collaborate with SpendEdge to address its challenges with end-to-end procurement transformation solutions- encompassing strategic sourcing best practices, technology, and managed services.
---
Key Findings
Our strategic sourcing experts worked closely with the scientific equipment manufacturer to help them understand the importance of strategic sourcing in bringing about major procurement transformations. The strategic sourcing steps suggested by our experts helped them centralize and standardize their procurement processes.
Leveraging the use of strategic sourcing best practices also enabled them to achieve a 70% reduction in turnaround time for processing purchase requisition requests, thereby helping then achieve better visibility and control over different spend areas. This further improved the scientific equipment company's capability to identify potential opportunities and translate them to hard-dollar savings.
---
Would you like to learn more about the benefits of strategic sourcing? Get in touch with our spend analysis experts Today!