Benefits of Strategic Sourcing:
Strategic sourcing helps procurement officials to fulfill their dual roles pertaining to cost management and supply management. This is possible because strategic sourcing adopts a proactive approach to procurement rather than a reactionary or fulfillment approach.  It also acts as a key driver for efficiency by formalizing the way spend data is collected, analyzed, and factored into the procurement processes.
Driven by evidence and facts the benefits of strategic sourcing are enormous; thereby, making it a continuous process that considers factors far beyond just cost of a service or product offering. Moreover, it is one such approach that allows procurement professionals to consolidate their purchasing power to secure the best value available in the global market.
The benefits of strategic sourcing:
Control procurement costs

Streamline procurement operations

Retain a competitive advantage in their marketplace

Build trustworthy relationships with new or existing vendors
Strategic Sourcing Steps: A Seven-Step Approach
We adopted a seven-step strategic sourcing approach to help the client accomplish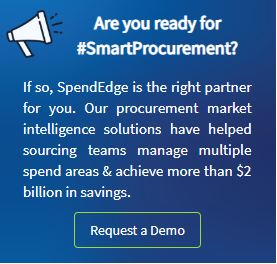 their goals. Here's a brief outline of the process flow:
Step 1: Category profiling
Step 2: Supply market analysis
Step 3: Strategy development
Step 4: Selection of the sourcing process
Step 5: Supplier selection and negotiation
Step 6: Implementation and benchmarking
Step 7: Result tracking
---
About the Client
The client- is one of the top players in the semiconductor industry in the United States. The organization is also one of the world's largest independent pure-play semiconductor foundry. Also, several leading semiconductor industry players outsource their manufacturing processes to our client' firm to reduce labor costs while investing capital in R&D.
Continue reading to gain in-depth insights into the benefits of strategic sourcing or request a free proposal.

Engagement Overview
Looking to gain a competitive edge in the increasingly complex market a prominent semiconductor industry player approached SpendEdge to engage in a strategic sourcing engagement and evaluate the benefits of strategic sourcing. To do so and help the client, the procurement experts at SpendEdge conducted a deep-dive analysis on various spend categories. They implemented precise strategic sourcing steps to help them identify opportunities to consolidate their supply base and pursue cost-reducing strategies.
Client's Challenge
Ongoing M&A activities and growing pressures from the C-Suite has prompted a leading

semiconductor industry player to decentralize their sourcing activities and realize effective cost savings across different spend categories. Additionally, the client wanted to implement tailored strategic sourcing steps to achieve significant cost savings across indirect and direct spend categories.
---
Key Findings
The offered solutions played a key role in helping the semiconductor industry player to realize the benefits of employing a proactive approach to sourcing. In addition to streamlining their procurement efforts, the client was able to achieve significant savings of 15-20% across their procurement processes. In fact, the total savings of the organization was identified to be around $10 million a year. Such huge savings turned out to be a key differentiator helping the client retain their market position as a true global leader within the semiconductor industry space.
---
Would you like to learn more about our strategic sourcing solutions? Get in touch with our procurement experts today!