Project Background
A client from the organic farming industry client wanted to cover sourcing, execute, monitor, and analyze the logistics services of their firm and understand the importance of supply management and its benefits to the organization.
To help the organic farming industry client, SpendEdge provided end-to-end visibility across the company's supply chain.
SpendEdge Advantage
As a global strategic partner for leading Fortune 500 firms and other leading companies across industries, SpendEdge's strength lies in delivering robust real-time procurement market intelligence solutions that help sourcing and procurement professionals to make informed decisions.
Adopt the best-in-class practices in procurement to contain costs and achieve better results. Start your 14-Day Free Trial Now
Client Profile
The company is a leading organic farming industry player helping to enhance global food safety by enabling millions of farmers to make better use of available resources. The company's members are working in over 60 countries to understand and transform how crops are grown organically. Also, the company is committed to saving the environment from degradation but improving biodiversity

and revitalizing.
Predicaments
One of the primary objectives of the organic farming company was to blend the existing landscape of different local and regional solutions into a single common platform that provides total visibility and facilitates further supply chain management.
Solutions Delivered
SpendEdge provided solutions based on the four pillars covering the sourcing, execution, monitoring, and analysis of logistics services while providing end-to-end visibility across the supply chain.
To know more about this engagement, request a proposal or continue reading to know about the importance of supply chain management for your business.

Importance of Supply Chain Management
Supply chain management (SCM) is a crucial part of any org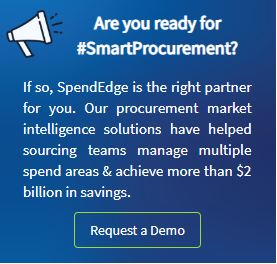 anization as it deals with the operative management of supply chain activities to maximize and guarantee customer value and accomplish a competitive edge in the market. Companies who make use of a robust supply chain management process can function at their peak capacity and dispense their products and materials efficiently. Here is a breakup of the benefits offered by supply chain management:
Decreases Operating Costs
Supply chain management curbs overall supply chain expenses as most of the companies often count on supply chain managers to generate networks that meet customer service goals at the most reasonable rates.
One of the most imperative characteristics of a business is its customer service. An accurate product assortment and quantity needs to be delivered to the customer on time and competently to ensure they are satisfied.
Augments Financial Position
A robust supply chain management process increases profit leverage for companies as supply chain managers help regulate and decrease the cost of the supply chain, which provides drastic increases in profits.
Organic Farming Industry Overview
Over the past two decades, organic farming has been a key trend in fresh food markets across the globe. Health conscious and environmentally conscious consumers in the United States are buying organic food at increasing rates. This is spurring the growth of the global organic farming industry. Furthermore, one of the main drivers for the organic farming industry are consumers who consider organically grown food to be healthier and more nutritious than conventionally grown food.
To know more about the importance of supply chain management for organic farming industry players