Ecommerce business Overview
The ecommerce business, which includes companies that sell merchandise online, is growing rapidly as more time-strapped and cost-conscious consumers are attracted by the ease of finding, comparing, and purchasing products online easily and quickly. From big-box retailers to specific niche stores, consumers can buy anything ranging from clothing, food, bulk home goods, and antiques from their computer or smartphone. Despite such growth trends, many ecommerce businesses fail to take off within their first year.
Some of the ecommerce business challenges include:
Attracting the perfect customer – Retailers must estimate where their audience is and how to draw them efficiently without killing their marketing budget.

Capturing quality leads – Retailers must craft the right message for the appropriate audience to convert them into leads with hopes of turning them into consumers.

Achieving profitable long-term growth – Online ecommerce business must always find ways to cut inventory costs, improve marketing efficiency, reduce overhead, decrease shipping costs, and control order returns.
Role of a SWOT Analysis Template in Developing a Business Plan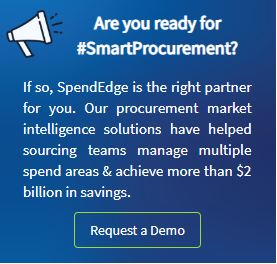 A SWOT analysis template is a useful tool for documenting internal strengths and weaknesses in a business, as well as external opportunities and threats. Essentially, a SWOT analysis template is a roadmap for how you should move forward with your business, which opportunities you're missing out on, and which challenges you should tackle.
Strengths – Identifying your organization's internal capacities and resources – things that you can control.

Weaknesses – Identifying your organization's internal weaknesses, including employee turnover, sales performance, branding strategy, cash flow, and others.

Opportunities – Identification of new trends that complement your products or services and new software that will help streamline your workflow.

Threats – These may include tough competition, strong branding by other companies, and an unstable economy.
Why SpendEdge? 
For over a decade, SpendEdge has been effective in providing sourcing and procurement strategies to 500+ companies across the globe. We offer in-depth insights that help our clients devise powerful procurement strategies.
---
Interested to know how SWOT analysis improves overall business outcome? Continue reading or request a FREE proposal.