The Future of the Transport and Logistics Industry
As digitization takes hold and customer expectations evolve rapidly transport and logistics companies are set to face an era of unprecedented change. The advent of new and advanced technologies are not only paving way for the development of more collaborative operating models but are also re-shaping the global market landscape in ways that are only beginning to become apparent. New entrants, whether they be start-ups or the industry's own customers and suppliers, are also shaking up the global landscape like never before.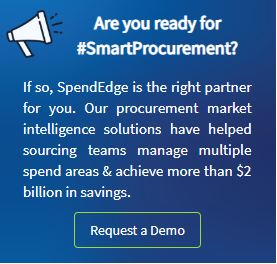 However, there are several ways transport and logistics companies can keep up with the changes and tackle challenges. According to our market experts, the future of the transport and logistics industry will witness major disruptions in the following areas:
Technological breakthroughs

Changing customer expectations

Collaboration and standardization

New market entrants
About the Client
The client– is Fortune 500 transport and logistics company, headquartered in the US.
Client's Challenge
The client- one of the world's leading transport and logistics companies, was on the lookout for procurement organizations that specialize in contract management. The client wanted to collaborate with such a firm who could help then devise a comprehensive list of contract management system tools, outline pricing strategies, and identify potential software providers to engage.
The client wanted to develop and implement recommendations to improve their procurement and contract management capability. Also, the transport and logistics industry player wanted to leverage the organizational and competency based on a detailed review of industry best practices and contract management strategies.
Want market-specific insights? Request a FREE proposal. 

Engagement Overview
The transport and logistics service provider wanted to perform a detailed review of their existing service contracts to identify shortfalls in their business processes and areas for performance and capability improvement. Our expertise in contract management aided the transport and logistics company to improve contract visibility and avoid shortfalls. The implementation of the new contract management strategy offered immense support to the company's procurement managers right from the agreement in principle to contract execution.
Key Findings
The implementation of capability gap analysis helped the client to gauge the existing procurement and contract management practice levels and compare them with the best standards adopted by leading players in the transport and logistics industry. The solutions offered included suggestions and recommendations for improved contract performance, along with details of clause variations and tasks to be undertaken for each reviewed contract. Moreover, the contract management framework offered the much-needed insights on the shortfalls of the current contract management practices adopted by the client.
---
What will the transport and logistics marketplace look like in five to ten years? That's still an open question. Get in touch for expert insights.