Factory output in the nearly $3 trillion global automotive market is seriously hamstrung by parts shortages, and, in particular, the chip crisis spurred by production hiccups in China and Taiwan will likely continue well into the future. This is just one of several threats to the automotive industry. Auto businesses lack enough visibility into inventory movement and associated fixed and variable expenses, and the inability to accurately put a dollar figure on specific procurement activities, going beyond mere purchase price, is having a significant cumulative effect on companies' bottom lines. Auto giants have recalled millions of vehicles for reasons ranging from leaking brake fluid to faulty air bags and even rust risk in one instance. Recalls earn brands public attention, albeit of the negative kind, besides costing them billions in retrofitting costs. Flawed quality control processes and use of substandard inputs, including at supplier sites, are hurting product quality to no end.
Top challenges in the automotive industry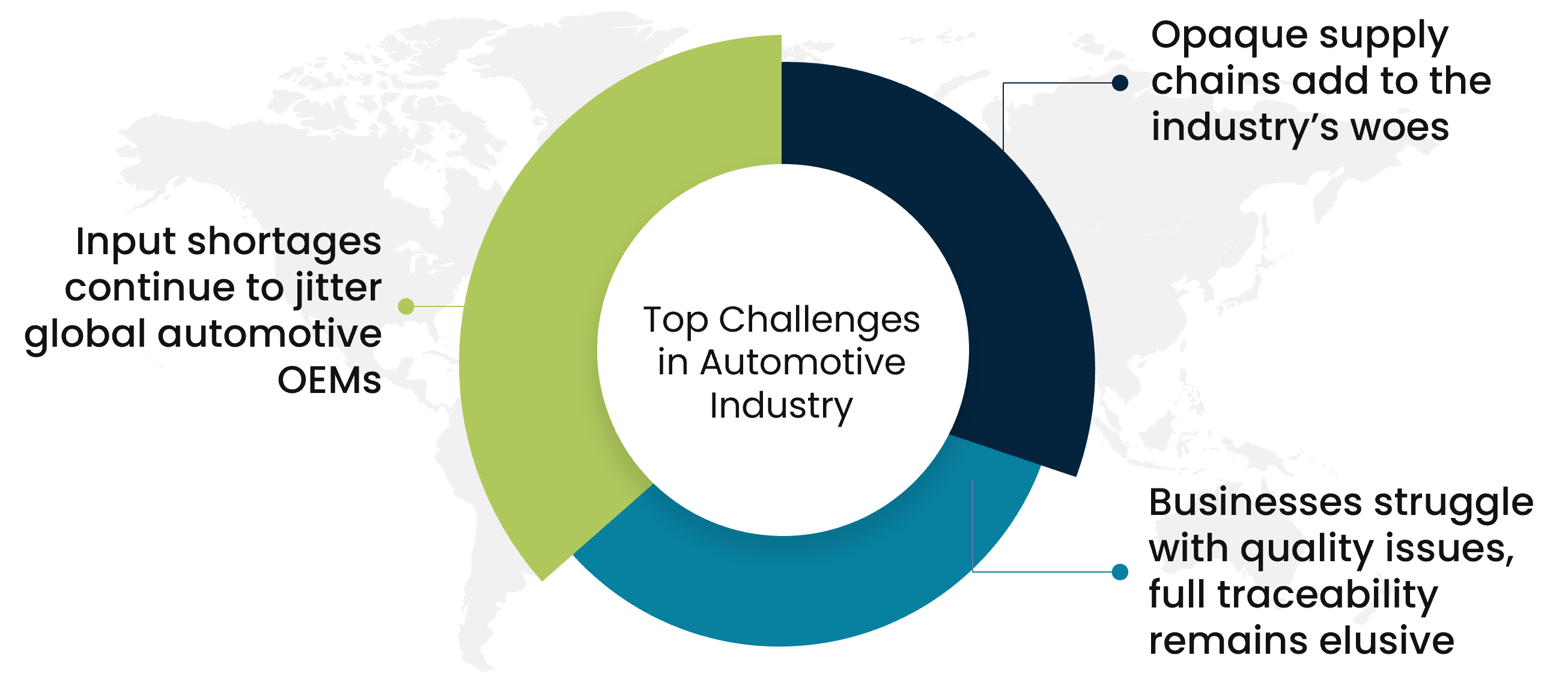 Input shortages continue to jitter global automotive OEMs
Automotive sales remain in the fast lane on the back of strong demand, so the need for components, such as semiconductors, is unlikely to ease anytime soon, though fabs worldwide are running at 70-80% capacity. The challenges in the automotive industry go beyond logic chips. Widespread dockworker shortages mean auto businesses will have to cope with supply chain slowdowns and parts shortages resulting from port congestion. Lithium battery packs most EVs run on are shipped over long distances from China, the world leader in battery modules. Five countries account for most of the world's lithium mineral output, and, despite a three-fold jump in production in the last decade, the demand-supply gap will likely be more than 1 million metric tons by 2035.
Opaque supply chains add to the industry's woes
Parts scarcity is not the only pain point for auto industry participants. A key thing that tends to hobble the best-laid plans of automotive players is that they very often lack a single unified view of goods movement, activities, tasks, and data from across their supply side. Inaccurate data elevates the risk of pilferage, unauthorized sale of genuine goods, as well as their substitution with spurious ones. Since businesses are hard put to capture the full depth and breadth of supply chain interactions, they are also unable to share information that is of practical value with suppliers. Missed business opportunities and frayed relationships with suppliers add to the automotive industry supply chain challenges, and these could potentially compromise business efficiency and profitability.
Businesses struggle with quality issues, full traceability remains elusive
Quality is a key issue plaguing most auto makers, and costly recalls are becoming all too common. On the one hand, tracing and tracking products back to suppliers is a weak spot in supplier quality management. Moreover, in the race to meet deadlines, at least some suppliers feel compelled to give quality concerns a wide berth. Even seemingly modest quality variations might necessitate reworking and error correction at the client site, leading to additional costs by way of parts sorting, inspection, reworking, and reshipment, and all this is unavoidable in the interest of brand reputation and user safety. Auto manufacturers are forever chasing daunting deadlines, and defective parts can only damper these efforts. So, this, without a doubt, figures among the biggest challenges facing automotive industry.
Solution for challenges and threats in Automotive Industry
In view of the threats to the automotive industry, and as chip shortage threatens to stretch into 2024, upsetting delivery schedules, auto business may choose to ship vehicles without certain add-on features (e.g., advanced driver assistance system powered by augmented reality). Buyers will still have the option to plug them in later. Rewriting vehicle software to get more out of available chips is the other possibility OEMs are exploring. Besides, automakers are securing access to critical materials (e.g., lithium) by inking exclusive contracts for battery-grade lithium with large producers of the metal. Adoption of more roll-on roll-off (RoRo) ships, which can easily onboard and discharge wheeled cargo, and large economy containers will help ease the pressure on ports. With web-enabled smart devices embedded with sensors, businesses can measure and monitor various aspects of the assets in transit (e.g., temperature, location, transit speed) in real time and gain deeper and clearer views of the supply chain to alleviate the risk of supply disruptions. In view of the spate of vehicle recalls, auto manufacturers must strive to not only meet quality management standards (e.g., ISO/TS 16949) but also ensure their suppliers embrace such defect-prevention specifications without fail.
Why Choose SpendEdge?

Improve demand forecasting accuracy to contain supply risks
Our experts help automotive industry participants identify the most cost-efficient supply markets without cutting corners on quality. By helping businesses engage with right-fit suppliers and paring back needless spending, we enable them to ride out roadblocks like price volatilities. Besides, by predicting customer demand more accurately, companies can get to grips with the risk of parts shortages.
Get direct line of sight to supply-side tasks and processes
With years of hands-on experience and expertise in procurement, IoT technologies, and market analysis in automotive industry, we offer robust solutions to help rejuvenate and bring more visibility to automotive supply chains. Our automotive clients rely on these platforms to get 360-degree views of the supply base and keep tabs on supply chain activities and data as they happen.
Track supplier performance to manage quality and compliance better
That's not all. Companies can effectively look through the supply chain end-to-end and pin down quality concerns – with our supplier quality management process, which is predicated on clearly defined metrics around not just quality but compliance as well. We have time-tested rubrics in place to continuously score supplier performance against industry peers for key parameters, including quality, delivery, and service to push the envelope of possibility.
Success Stories: SpendEdge helped Automotive firms achieve sourcing goals and ensure best value delivery
Incumbent auto industry majors have already undergone their "baptism of fire" on the electric vehicle circuit and are committed to phasing out gasoline and diesel-fired vehicles by 2040 worldwide. Meanwhile, born-electric startups, unrestrained by any preexisting fossil fuel baggage are busy cornering opportunities in the OEM and battery infrastructure space. Tougher emission standards for new fossil fuel vehicles are also accelerating the push toward electric mobility. So, the challenges in the automotive industry are many. Against this dramatically evolving backdrop, an automotive parts manufacturer in Southern Europe turned to our experts for assistance in evaluating how well its supplier base is faring in comparison with competitors on multiple parameters (like service quality, pricing, and more). Having first captured the client's expectations around the previously mentioned criteria, our specialists proceeded to vet the client's suppliers against industry standards and best practices to arrive at a short list of vendors that accurately answered these descriptions. We then narrowed down the field to the best-fit supplier by applying more rigorous metrics. Ever since onboarding, the supplier has been helping the client to stay on top of emerging technology trends, extend its product line, and enrich products with whole-new features. In sum, our experts helped the two businesses author a win-win relationship that is still paying appreciable dividends.
To know more about how we can help your automotive ancillary business secure its supply lines and stay ahead of automotive industry supply chain challenges, contact us now.
FAQ
What are the typical barriers to entry in the automotive industry?
This is an industry with huge entry and exit barriers. A car production plant might easily cost $9-10 billion to set up, while restructuring costs of a plant on the verge of shutdown could also run into several billion dollars.
What are the emerging risks and trends in the automotive industry?
Chip shortages, sharp slowdown in global economic growth, energy price shocks, and inflationary pressures imply future uncertainties for the sector. At the same time, the market is witnessing a general shift toward self-driving cars, connected mobility, fuel cell EVs, and pre-owned vehicles.
What parts are in short supply in the automotive industry?
The shortage of semiconductor chips continues to hobble global auto industry while the supply lines for battery inputs like nickel, cobalt, aluminum, copper, lithium, and manganese also remain stressed.
What are barriers to entry that help maintain the automotive industry structure?
About 12-13 large auto OEMs command nearly 99% of the global auto market across various categories of vehicles. The industry is considered capital and energy intensive and the two raise significant economic costs for newcomers, especially in the fossil fuel sector.
Author's Details
Vinodh Kumar Kshathriya
Associate Vice President, Sourcing and Procurement Intelligence
Vinodh manages a research team within Infiniti Research, working closely with some of the largest (Fortune 500 included) clients from the pharma, energy, F&B, and defence sectors. With a total of 16 years of experience in research and client services, he has majorly worked on solving business queries through various analysis including market, financial, risk, costing, etc.