By: George Mathew
The Active Pharmaceutical Ingredient (API) industry has witnessed impressive expansion in recent times, attributable to a variety of factors. A pivotal element in this growth is the rising incidence of chronic illnesses and the expanding global population, generating substantial requirements for both efficient and cost-effective medicines. Consequently, pharmaceutical firms are placing their emphasis on creating inventive APIs applicable in the manufacture of a diverse spectrum of pharmaceuticals. Moreover, technological progress and enhancements in manufacturing techniques have contributed to heightened API quality and cost-efficiency, which has in turn amplified their market expansion.
However, there is a growing global apprehension regarding shortages of medicines. The underlying causes for these shortages are multifaceted, stemming from the intricately interconnected nature of the global pharmaceutical value chain. In general, the factors contributing to these shortages encompass unanticipated, temporary spikes in demand, quality-related production challenges, supply chain disruptions, and issues encountered during transportation.
Every single stage conducted by pharmaceutical companies in the manufacturing of medications is of paramount significance, and one particular standout component is the incorporation of APIs. Typically, leading pharmaceutical corporations frequently rely on suppliers for these essential ingredients and their intermediate components. Evaluating suppliers in the global API market is crucial to ensure the quality, reliability, and compliance of the raw materials used in drug manufacturing.
Challenges for fostering innovation in pharmaceutical sourcing and procurement:
API price changes and raw material shortages impact end-product prices
Challenges in sourcing APIs, including price fluctuations, import dependency, and raw material shortages, have direct implications on pharmaceutical manufacturing. The pandemic and Ukraine war disrupted the global supply chain, increasing transportation costs and raw material expenses, affecting pharmaceutical ingredients and packaging. Approximately 70% of APIs are imported into the US. China accounts for roughly 10%–15% of the U.S. API market, while the EU, amid the Russia-Ukraine conflict, providing 20%–25% of API manufacturing facilities, leading to supply chain disruptions and raw material shortages. Effective mitigation strategies and resilient supply chain management are crucial to ensure consistent and affordable pharmaceutical product availability.
API contracts require specific clauses to mitigate risks and ensure reliability
In contracts pertaining to Active Pharmaceutical Ingredients (APIs), addressing challenges is paramount. Including specific clauses is vital to mitigate risks and ensure the consistency of supply, product quality, and pricing. Such clauses can encompass price adjustment mechanisms for market fluctuations, stringent quality control standards, and contingency plans for supply disruptions. By incorporating these provisions, pharmaceutical companies can effectively navigate API-related challenges, maintaining a reliable and cost-effective supply chain.
Supplier collaboration saves costs and ensures a stable supply of APIs
Effective handling of challenges related to Active Pharmaceutical Ingredients (APIs) can be achieved through collaborative supplier relationships. Pharmaceutical companies can efficiently manage input costs and secure lower raw material prices by partnering with suppliers. This collaboration improves supply chain stability, cost efficiency, and ensures a dependable API source, ultimately benefiting the entire pharmaceutical industry.
How SpendEdge can help to tackle challenges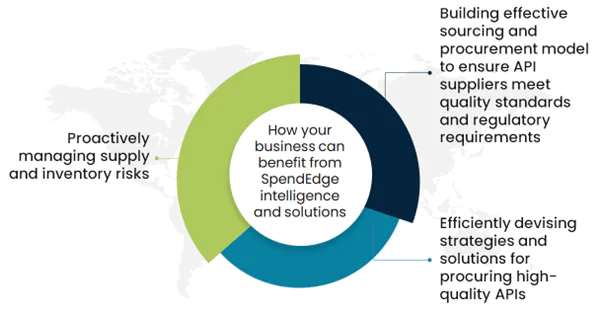 Building effective sourcing and procurement model to ensure API suppliers meet quality standards and regulatory requirements
Sourcing advisors are essential in the API sourcing and procurement process. Our experts assist in supplier identification, evaluate supplier capabilities, ensure compliance with quality requirements, and conduct supplier audits to adhere to cGMP and global regulations. Our specialist advisors play a crucial role in maintaining pharmaceutical supply chains' integrity and quality standards.
Efficiently devising strategies and solutions for procuring high-quality APIs
Our advisors helps clients in effectively source high-quality APIs, ensuring regulatory compliance, and promoting sustainability in the pharmaceutical contract manufacturing. Our experts conduct regular sustainability audits of API suppliers to ensure they are adhering to sustainable practices and continuously improving their environmental performance.
Proactively managing supply and inventory risks
Our experienced advisors helping pharmaceutical companies implement Low-Cost Country Sourcing (LCCS) or Best Cost Country Sourcing (BCCS) strategies for API procurement. Our experts offers invaluable insights to assist in pinpointing the optimal countries for sourcing APIs. They meticulously assess multiple variables, including production expenses, transportation costs, product quality, labor availability, and geographical proximity, to determine the most fitting sourcing destinations for the organization's medicinal products. These analyses empower informed decision-making and the formulation of cost-efficient procurement strategies.
Success story: How SpendEdge helped a pharmaceutical company to mitigate delayed API deliveries and regulatory issues
Our client is the German-based prominent pharmaceutical company, known for producing a range of life-saving medications.
The client has experienced consistent delays in API deliveries from multiple suppliers and regulatory scrutiny due to non-compliance issues related to some of their API suppliers. These delays and regulatory challenges disrupted the company's production schedules, leading to product shortages and potential revenue losses.
Our experts helped the client in assessing and analyzing potential API suppliers and onboard alternative API suppliers with a history of reliable deliveries. Our advisors conducted regular supplier audits to identify and address compliance issues proactively to ensure adherence to international quality standards and regulatory requirements.
The solution offered by our experts helped the client successfully mitigate the challenges related to delayed API deliveries and regulatory issues, which bolstered the company's reputation and market position.
.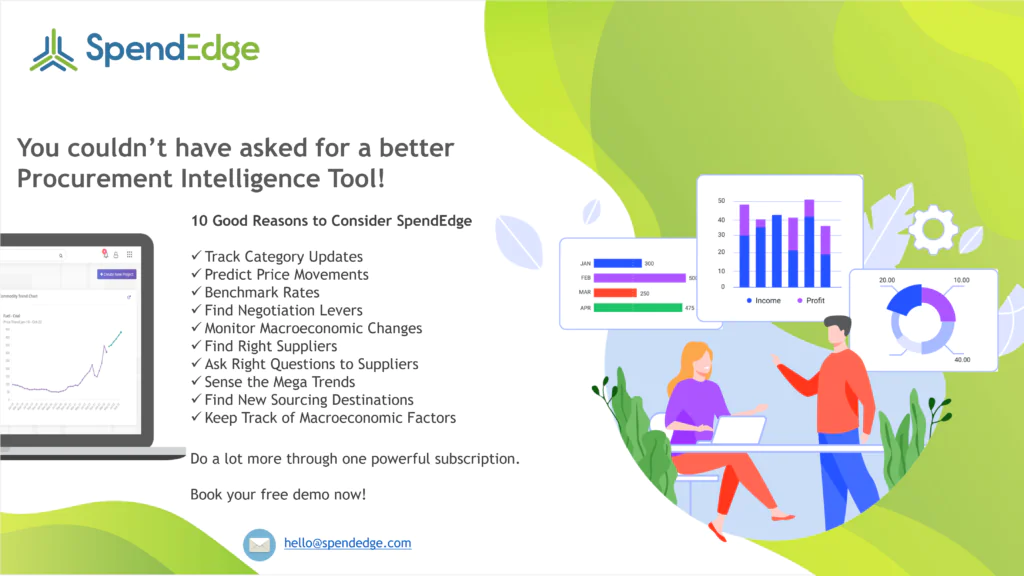 Contact us now to solve your procurement problems!
Author's Details
Arthi
Associate Vice President, Sourcing and Procurement Intelligence
Arthi is an Associate Vice-President with Infiniti Research. She leads one of the procurement intelligence groups within the organization supporting global life sciences and FMCG companies by proving data-driven procurement insights.