By: Manpreet Kaur
Effective healthcare procurement is a critical aspect of healthcare management and delivery. It involves the process of sourcing, purchasing, and managing healthcare goods and services to ensure that healthcare organizations can provide quality care to patients while controlling costs. The healthcare industry faces several unique procurement challenges due to its complex nature, regulatory requirements, and critical role in patient care and to address these challenges healthcare organizations often need skilled procurement teams, robust supply chain management systems, effective vendor management strategies, and a commitment to staying up to date with industry regulations and best practices. Additionally, collaboration between clinical staff, procurement professionals, and IT departments is essential to streamline processes and ensure that procurement decisions align with the organization's overall goals.
Challenges/Problems faced in the Healthcare procurement process:
Regulatory Compliance: Healthcare is one of the most heavily regulated industries, and procurement teams must navigate complex regulations related to sourcing, purchasing, and distributing medical products and services. Ensuring compliance with regulations such as the Health Insurance Portability and Accountability Act (HIPAA) in the United States, Good Manufacturing Practices (GMP), and various international standards can be challenging. Failure to comply with these regulations can result in severe legal and financial consequences.
Supply Chain Disruptions: Healthcare companies rely on a global and often intricate supply chain to ensure the availability of critical medical supplies, pharmaceuticals, and equipment. Disruptions in the supply chain, whether due to natural disasters, geopolitical tensions, or unexpected events like the COVID-19 pandemic, can lead to shortages of essential items. Procurement teams must develop robust supply chain resilience strategies, secure backup suppliers, and maintain sufficient inventory levels to mitigate these disruptions.
Cost Control and Price Volatility: Healthcare companies face constant pressure to control costs while maintaining high-quality patient care. The prices of pharmaceuticals, medical devices, and equipment can be volatile, and procurement teams must negotiate favorable contracts with suppliers to ensure cost-effective procurement. Balancing the need for quality products and services with cost control can be challenging, and healthcare companies often need to engage in value-based procurement strategies to optimize their spending
How SpendEdge can help the industry in overcoming the challenges
Risk Mitigation:
Supplier Risk Assessment: This is one of the key focus areas for our Healthcare clients and these studies help them identify, assess and mitigate supplier risks in their supply chain. We can evaluate suppliers based on different risk areas such as financial, operational, geopolitical, reputational, compliance, quality, cybersecurity etc.
Supply Chain Risk Analysis: It is crucial for healthcare companies to have better visibility on the risks associated with their supply chain as disruptions in the supply chain can have a significant impact on patient care and the overall operation of the organization. These risks can be related to natural disasters, pandemics and epidemics, regulatory changes, country level risks, supplier risks and many more. We help companies not only in identifying these risks but also provide recommendations on mitigation strategies that can help in reducing their impact on the overall supply chain.
Cost Savings and Optimization:
Price Benchmarking: We can conduct deep dive price benchmarking studies to compare the prices of specific products and services offered by suppliers based in different geographic locations. We can also provide visibility on the types of clients the suppliers work with, typical contracting terms, discount options and negotiation strategies. These studies help our clients to identify opportunities for cost savings and negotiate better deals with suppliers.
Cost Modeling: We possess expertise in developing deep-dive cost models for different products and services providing clear breakdown of the key cost components and visibility on the major cost drivers. These studies typically cover analysis of direct cost components (raw materials and inputs, labor, process, transportation etc.), indirect cost components (selling and administration, facility rental, utilities, shipping and handling etc.), TCO analysis, capex details, movement of key cost drivers, cost saving opportunities, negotiation levers and many more
Assessing Impact of Macroeconomic Factors:
Assessment of macroeconomic factors is crucial for understanding the industry's performance and making informed investment or strategic decisions. Healthcare companies are sensitive to changes in the broader economy, as these factors can affect demand for healthcare services and products, as well as the cost of doing business. We have capabilities of tracking macroeconomic factors on a regular basis for all the major geographic locations covering parameters such as Employment Rate, GDP Annual Growth Rate, Unemployment Rate, Interest Rate, Consumer Price Index, Inflation Rate, Manufacturing Index, Minimum Wages etc.
The success story of how SpendEdge was helpful to one of its clients.
One of the major pharmaceutical companies with more than USD 23 billion in revenue and operations across the globe approached SpendEdge to commission a supply market intelligence engagement to help them understand the supply landscape for legal services and improve their ability to benchmark current services and pricing. Additionally, this category procurement market intelligence study also helped the client in shortlisting the top suppliers based on their capabilities and understanding the average pricing levels.
Client had less visibility on the suppliers operating in North America and they were also keen to get better understanding of the procurement best practices, technological innovations in the category, prevalent engagement models, key factors influencing supplier pricing and their impact levels. 
To meet the specific requirements of the client, SpendEdge employed a team of procurement intelligence specialists with expertise in legal services category who identified and acquired information from various reliable sources and developed category-specific insights that helped the client's procurement teams with category planning and category management. Working directly under a project manager with considerable experience in conducting similar supply market intelligence engagements, our procurement experts also helped the client understand the key category essentials including the SLAs and contractual terms and the requirements of the buyers and the challenges they endure.
By analyzing information on the various aspects of the major suppliers in the industry including their operational capabilities, the positioning matrix, financials, and their major customers, this supply market intelligence engagement helped the client determine the top suppliers in this category. In a span of just four weeks, the solutions offered by SpendEdge helped them in assessing the industry trends and market drivers, and also in enhancing their ability to benchmark current services and pricing. By offering an overview of the various pricing models and their benefits, this supply market intelligence study also helped the client realize the merits of the various pricing models and also understand the average pricing levels.
.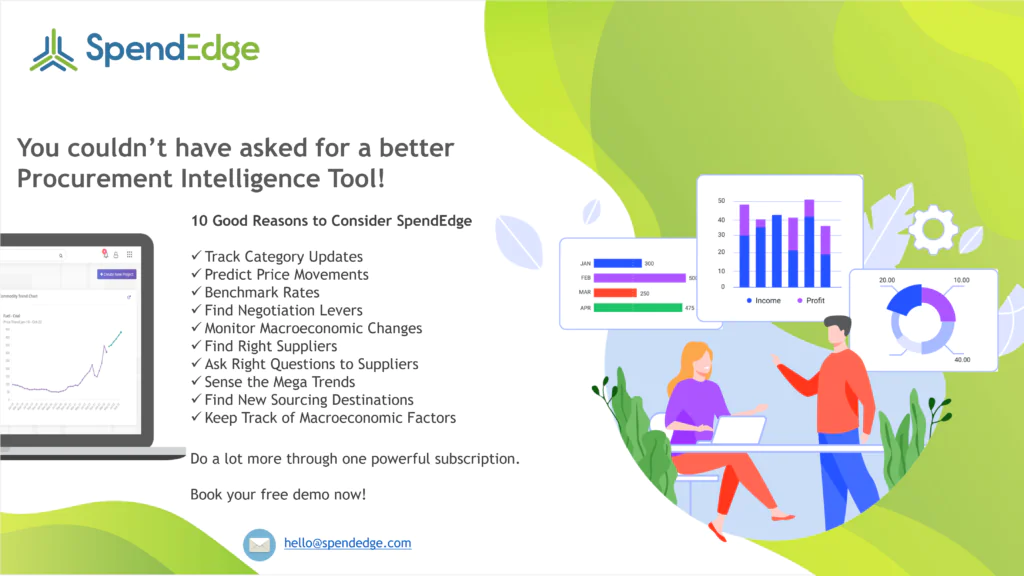 Contact us now to solve your procurement problems!
Author's Details
Manpreet Kaur
Assistant Manager Presales – Sourcing and Procurement Intelligence
Manpreet is a Presales Consultant at Infiniti Research and is responsible for designing best fit solutions for clients belonging to different industries such as BFSI, Chemicals, Retail & CPG, F&B, Pharma and Healthcare, Energy, IT & Telecom and Automotive sectors. She specializes in sales, business strategy execution, and innovative solution design.