Drones have become a trending topic recently as it has come a long way from being a recreational machine to a tool that can invaluably assist companies in different kind of tasks. In recent times, drones have been successfully used in aerial photography and videography, construction, search and rescue mission, mining activities, security, and scientific research. Apart from that, companies are planning to use drone technology to simplify their supply chains. For instance, last-mile delivery has always been a problem for logistics companies. Companies are spending a lot of money to satisfy their customers by burning valuable fuel and causing emissions in the process. Drone technology can bypass the traditional road network and deliver packages, saving companies fortunes in fuel costs and delighting the customer with instant deliveries. In 2015, FPS Distribution completed the first commercial drone delivery in Sheffield, UK. However, delivery is not the only way drones can help a company's supply chain function. Drones can be actively used for inventory management, building inspection, intralogistics, security, and yard management. Also, they are already being used where the supply chain starts, the raw materials phase, as it assists in prospecting for mining operations and mapping soil conditions and crop yields in case of farming.
Although drone technologies open up a world of possibilities to assist a company's supply chain, there are many problems and challenges that drone operators face before they can fully implement drones in the supply chain. Most of the problems are caused due to government intervention or drawbacks of drone technology. So, what are the things that are wrong with drone technology?
Government Regulations and Aviation Approval
The current regulations regarding drone operations in the United States are very complicated. Although the Trump administration is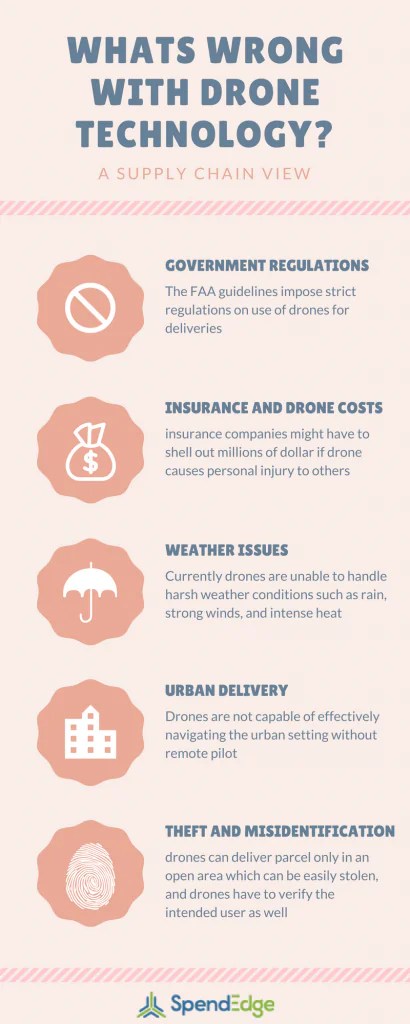 encouraging the use of drone technology with promises to fill the sky with drones, the FAA regulations have strict guidelines on the operation of drones. As per FAA's Part 107 Drone Regulations, air carriers such as UPS, DHL, USPS, or anyone crossing the state or national border cannot operate UAV's. The same regulation also stipulates the following:
Drones should be within the line of sight of the pilot-in-command (the farther from the line of sight, higher the economic impact)
Fully autonomous drones are prohibited, a remote pilot should always be present
Remote pilot can operate only one drone at a time
Drones cannot be operated from a moving vehicle (no moving delivery vans)
Such regulations increase the cost of operations and limit the potential applications of drones. Also, approvals from aviation authority and government bodies can also be a hassle.
Insurance and Drone Costs
Since drone technology is in its introductory phase, the cost of drones is very high. The idea that an unmanned vehicle would be flying hundreds of feet above the ground, carrying valuable goods to be delivered does not sit well with insurance companies. Also, the fact that such an idea is largely untested makes it harder for the insurance company to consider insurance of drones, let alone estimating a premium. Additionally, if drones cause personal injury, then the compensation can be in millions of dollars. In such cases, insurance companies will affix a high insurance premium. In the end, it can significantly drive the cost of using drone technology for deliveries, making it more expensive than traditional deliveries.
Weather Issues
Weather issues won't be much of a problem when it comes to traditional delivery systems using trucks and vans. It has sufficient cover against rain, wind, and other adverse weather conditions. But how will small drones fare against harsh weather conditions? Harsh weather can damage not only the drone but also the package it is carrying. Every country and every state has seasonal weather patterns with adverse weather condition occurring every now and then. The challenge for the drone technology would be to tackle this adverse weather condition. The question would also arise if drones can be operational only during optimal weather conditions, which is not very reliable.
Urban Delivery
The promising drone delivery videos from companies like Amazon, Dominos, and Google show a successful drone delivery in a rural setting, promising drone to be the future of deliveries. However, it is essential to note that a large majority of the population in the US and other parts of the world live in urban areas where high-rise buildings and other infrastructural monuments exist. Populating the skies with drones can be risky in such urban setting as they have to consider multiple obstacles. Since fully autonomous drones are not allowed, the future of drone technology currently rests on the question whether an unmanned pilot can maneuver drones in an urban setting with ease.
Theft and Misidentification
Traditional delivery systems use delivery personnel to deliver the parcel to concerned person in hand or drop it in a mailbox which will be secure. However, this convenience is not possible using drone technology, as it can only drop a parcel in a relatively open area. For instance, in an apartment setting, it cannot just drop the package right in front of the door. Although companies can use advanced technologies such as facial detection, it does not provide the flexibility that is available with conventional methods.
Although, numerous problems could be identified with drone technology, companies and authorities are working to implement this technology by considering safety and reliability. For instance, DJI unveiled a new drone identification technology calling an electronic license plate for drones. This feature can provide authorities complete information of the drone. Also, drone manufacturers are using advanced technologies such as precision optical tracking, GPS navigation, and 3D imaging and ranging systems to both accurately locate and identify the correct recipient.
To know more about drone technology, drone delivery, quadcopter, commercial drones, and professional drones: