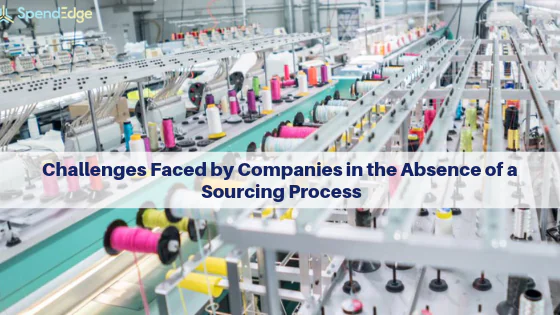 The textile industry which is usually characterized by intense competition and short product life cycles gradually shifting their focus towards retailing. While some retailers have started sourcing products internationally to achieve cost benefits,  others have chosen domestic markets assuming that the longer the chain, a more significant part of the merchandise bought must be cleared out through discounting with a significant impact on revenue.
The competition in the textile industry is between two different strategic groups in terms of production models. In the first group, companies set themselves the task of marketing a product designed and proposed long before the actual time of consumption. In the other group lies companies that compete against each other on the basis of their ability to rapidly adjust to the fashion trends imposed by others. In both cases, the pressure clearly acts as a challenge to supply chain management.
At SpendEdge, we understand the impact that sourcing strategies can have in the textile industry. Therefore, our experts have highlighted different types of sourcing strategies opted by companies in the textile industry and issues faced by them in the absence strategic sourcing approach.
Is the increasing market pressure negatively impacting the revenue of your organization? If yes,  get in touch with our experts and know how our sourcing strategies can help you address the needs in the textile industry.
Types of sourcing in textile industry
Companies in the textile industry employ various strategies for the procurement of raw materials. Therefore, here we are listing out types of sourcing process based on the requirements of fabric.
Local manufacturer – Fabric is manufactured locally with the aid of local infrastructure.
Traditional export – Local fabric is exported to garment manufacturing countries.
International sourcing – Fabric is made locally, but raw yarn or fiber is sourced from other countries.
Global sourcing – Fabrics are made with parts sourced from abroad as part of a global sourcing strategy.
Off-shoring – Raw material is exported first i.e., yarn or fiber, then fabric is re-imported to meet the demand.
Global manufacturing – Fabric is manufactured in other countries.
Issues faced by companies in the absence of a sourcing process and ways to overcome them
Availability issues
Being close to the customer has always been a goal of any market-oriented business, but in fashion retailing it is vital. Retailers need to capture trends as they emerge in the market. This requires companies in the textile industry to analyze point-of-sale data and determine replenishment requirements.
Lack of collaboration and flexibility in supplier relationships
Until recently, only a few retailers in the textile industry used to share point-of-sale data with their suppliers. With supply chain management in textile industry, retailers and suppliers are more closely connected through shared information. The information enables higher levels of on-the-shelf availability and reduces transaction costs for companies.
Lack of delivery tracking
There are usually many different entities involved in the process that begins with product design and end with the physical movement of product onto the retailer's shelf in the textile industry. Textile supply chain management enables the coordination and integration of the flow of information and helps in the delivery tracking of products and fabrics.
Stalled  production
Sourcing is a dynamic process and depends on different factors such as fabric type, the cost quoted by fabric supplier, and lead time. It can even result in a delay in production. With responsive supply chains, companies in the textile industry can create 'seamless' or 'boundary less' connections and avoid delays caused by hand-offs or buffers between the different stages in the chain.