The analytical technique of SWOT analysis helps companies to determine and define several critical characteristics: Strengths, Weaknesses, Opportunities, and Threats – SWOT analysis. What makes SWOT analysis particularly powerful is that, with a little thought, it can help companies uncover opportunities that they are well-placed to exploit. Also, through an understanding of the weaknesses of the business, firms can manage and eliminate threats that would otherwise catch them off-guard. Moreover, by comparing one's performance with that of the competitors using the SWOT analysis framework, companies can begin crafting a strategy that helps distinguish themselves from the competitors and compete successfully in the market.
Industry experts have stated that growing digitalization and advancements in technology will increase the automotive industry's investments to $82 billion by 2020. This also implies that there will be a rise in competition in the automobile industry like never before. We have dissected the SWOT analysis for companies in the automobile industry below: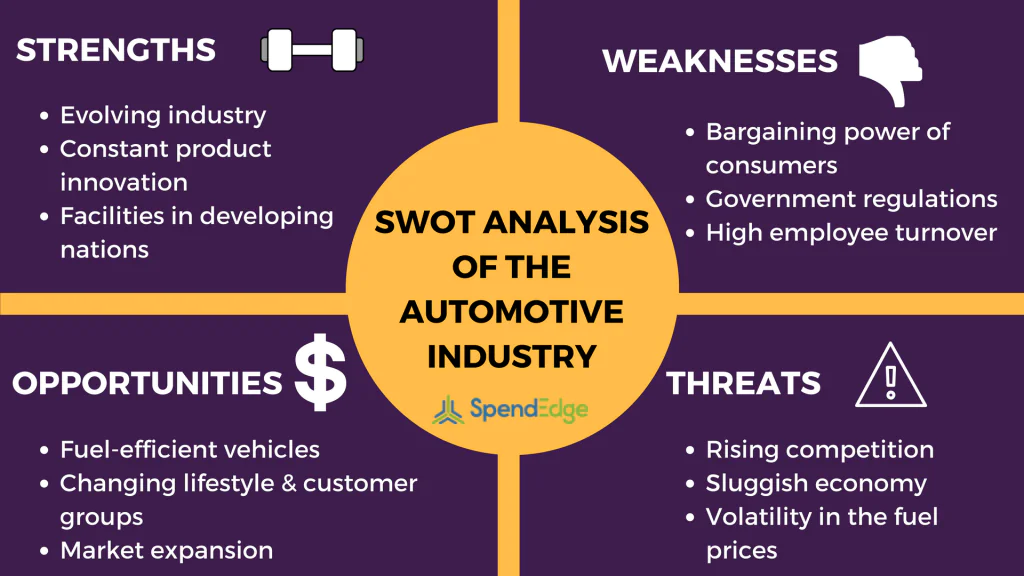 SWOT Analysis for Companies in the Automobile Industry
Strength
Evolving industry: The automobile industry is a highly growing industry, continuously contributing to growth and development. Automobiles give people the opportunity to live, work and travel in ways that were unimaginable a few decades ago. The ease and quality of life improvements the automotive industry brings will only increase the demand for vehicles in the future.
Constant product innovation & technological advancement: With the advent of E-vehicles & alternative fuel such as Shell gas, CNG, and others, automobile companies are increasing R&D expenditure to drive the next phase of growth through the use of renewable sources of energy which may be solar, wind, etc.
Manufacturing facilities in Asian nations to control cost: To monitor cost and to manage shrinking margins, automobile companies like Harley, Volvo, Bharat Benz, etc. are building their manufacturing facilities in developing nations like India and China. These nations have a cheap workforce, are high in resources, and are nearer to developed economies. These are ideal conditions for an emerging market.
---
---
Weakness
Bargaining power of consumers: Over the last 3-4 decades the automobile market has shifted from a demand to a supply market. Availability of a considerable number of variants, stiff competition between them, and a long list of alternatives to choose from has given power to customers to decide whatever they like.
Government regulations: Regulations like excise duty, no entry of outside vehicles in the state, decreasing number of the validity of registration period, and volatility in the fuel prices pose considerable challenges to automobile companies. These factors also affect the growth of the industry.
High employee turnover: The employee turnover in the automobile industry is found to be higher when compared to several other sectors. Furthermore, attracting and retaining employees in the automotive industry can be very challenging, especially in the case where competitors are doing what they can to lure the best talent.
Opportunities
Fuel-efficient vehicles: Optimization of fuel-driven combustion engines and cost efficiency programs are excellent opportunities for the automobile market. Emerging markets will be the primary growth drivers for a long time to come, and hence fuel-efficient cars are the need of the hour.
Changing lifestyle & customer groups: The increased availability of data and information, shift in consumer demand, and expanded regulatory requirements for safety and fuel economy will fuel the growth of this industry.
Market expansion: Entering new markets like Asian & BRIC nations will skyrocket the demand for vehicles. Furthermore, other markets are also likely to emerge soon.
Threats
Rising competition: Presence of a large number of players in the automobile industry results in intense competition and companies eating into other's share, leaving little scope for new players.
Sluggish economy: Macroeconomic uncertainty, recession, unemployment, etc. are the economic factors which will daunt the automobile industry for an extended period.

Volatility in fuel prices: For the consumer segment, fluctuations in fuel prices remains the determining factor for growth. Also, government regulations pertaining to the use of alternative fuels like CNG and Shell gas is also affecting the inventories.
---
To learn more about SWOT analysis and how it can benefit your company
---