Automotive Parts Manufacturing Industry Overview
The automotive parts manufacturing industry has grown substantially over the past few years, as automakers, the industry's largest customers, have benefited from rising sales. Higher consumer confidence and increased disposable income have resulted in an increase in car sales. Stronger new car demand has triggered higher production from vehicle manufacturers, which supports revenue growth for automotive parts manufacturers and automotive parts stores.
As the automotive industry adapts to a future that includes electric drivetrains, autonomous technology, connectivity, and mobility opportunities outside traditional car ownership, suppliers must evolve to meet these new challenges. New business entrants including tech firms and consumer electronics firms also present challenges to established suppliers. To remain aggressive, automotive suppliers must develop fresh strategies that address this wide host of rising challenges and opportunities.
Supply Market Assessment: Why is it Essential?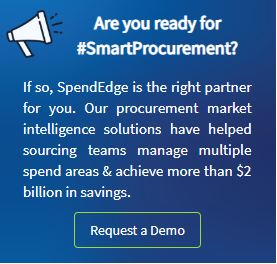 Today, brands are under relentless pressure to stay relevant in an increasingly crowded and competitive marketplace. To stay relevant, brands need to understand how to compare new products or services with the life of the consumer. By analyzing the supply market and maintaining a consistent awareness of the challenges or barriers to entry or growth, businesses will have the data they need to build accurate go-to-market strategies and business plans.
Supply market assessment helps to visualize the importance of leveraging intelligence in procurement decision making. Also, the strategic use of supply market assessment paves the way for organizations to confront the accelerating procurement challenges.
---
SpendEdge offers an intuitive yet powerful research platform, with robust analytics and data visualization capabilities that makes even the most complex market and opportunity assessment research easy. Request for a FREE demo!

About the Client 
The client is one of the world's foremost automotive parts stores, who manufactures and supplies automotive parts to various regions across the globe.
Predicaments Faced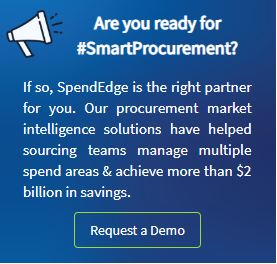 The increasing uncertainty in the global automotive market is compelling automotive parts store and automotive parts manufacturers to closely monitor market fluctuations and adopt precise supply chain strategies to prevent supply chain disruptions. As leading automotive parts store and automotive parts manufacturers devise precise procurement strategies that enhance profit margins, they are increasingly discovering major shortfalls in market intelligence and other such capabilities that form the basis for devising effective procurement strategies.
The automotive parts market client was facing similar challenges, which compelled them to leverage supply market intelligence to make precise decisions related to business functions, profit objectives, budgets, and pricing strategies.
Solutions Delivered 
With the help of SpendEdge's supply market assessment solutions, the automotive parts manufacturer was able to analyze the global supply market scenario and make holistic and unbiased business decisions. The fact that they leveraged supply market assessment throughout their procurement functions turned out to be a top differentiator in the company's performance. The developed supply market assessment template offered insights about the supplier's strategies. It also offered much-needed information on the key drivers influencing the client's sourcing strategies and the supply base. This further empowered the automotive parts store to thrive in a hyper-competitive environment.
---
Are you at par with the best-in-industry?  If no, get in touch with our experts. You definitely won't be disappointed!