By: Srinivas R
Chemical businesses across the globe are not in the same tight spot they were back in late 2022 as feed stock prices skyrocketed amid geopolitical saber-rattling. Ominous war clouds still dot the continent's horizon, but natural gas prices have sobered, thanks to alternative supplies, much to the relief of many market participants. Projections for 2024 look quite positive for the industry. Even so, this year, the chemicals landscape will likely see continued shortfalls in production across segments, despite improving China sales. The 2020 Green Deal might require businesses to change the molecular composition of thousands of made-in-Europe chemicals or formulate new green chemicals to replace them. Neither of these choices is going to be easy for any chemical business to put into action without sufficient R&D investments. Redoing a decades-old chemical procurement procedure is no cakewalk. However, the confluence of not-so-favorable factors around the European industry shouldn't discourage participants from pursuing growth along new inflexion points. The good part of the narrative is that cost containment is now the visible elephant in the room at many chemical businesses, helping reduce the rate or level of dollar increases in spending. Cost containment efforts, previously taken for granted, are now taking pride of place in the chemical procurement circuit at a lot of chemical enterprises. Digitization and indirect spend management are increasingly yielding results for chemical industry CPOs while leaving them with enough bandwidth to pursue top-line growth opportunities.
Chemical procurement: Blown almost off course by uncertain headwinds
Chemical businesses have a voracious appetite for energy among all industries. Not only is it the single biggest consumer of industrial energy, but nearly 50% of this energy is devoured as feedstock (raw material input). Globally, the $5 trillion industry belched out around 925 million metric tons (MT) of CO2 in 2021, in other words, nearly 2% of all emissions! In order to approach net-zero emissions by 2050, the sector's share of carbon footprint must come to a head by 2025, before plunging dramatically in the two decades thereafter. Chemical procurement teams have a lot of homework to do to establish straight-line connections between their environmental actions and the 2025 climate change goals. There isn't a lot of time left until 2030, so procurements organizations, including those in construction chemicals procurement, need to get on course with scope 1 and 2 emissions, which are easier to rein in, as well as scope 3 discharges, which tend to be a bit hazy and ill-defined. Scope 1 includes emissions from company-owned assets through combustion of fossil fuels, from the production process, as well as accidental or "fugitive" emissions during fossil fuel extraction, transportation, storage, and processing. Scope 2 is all about emissions from energy purchased by the business. All other emissions attributable to upstream and downstream operators fall under scope 3. Chemical businesses are scouting for alternative renewable energy sources and non-fossil feed stocks like biomass and waste. Besides, enterprises are redoubling R&D efforts to develop newer chemicals from the ground up that leave little or no waste behind while reducing or entirely doing away with environmental impacts across their lifecycle. Even so, as of now, key green chemicals (biofuels, bio-alcohols, bi-organic acids, bio-ketones, and biopolymers) constitute only a trickle (3%) of global chemical industry's trillion-dollar revenue. Besides, the share of renewables in the industry's energy mix is still stuck at a painfully low 2%!
Rising feedstock prices and thinning margins
The natural gas prices in the EU are expected to approach $38/MWh by first week of September 2023, down from the record highs of $220 (September 2022) and this year's high of $82 (January 2023). That said, natural gas is currently only 1.6x costlier in Europe compared to the US average of $23.30 and about 2-3x higher than before 2021. For comparison, in June 2023, the gas was nearly 5x more expensive in Europe than in the US. On the back of alterative LNG supplies from the US, Qatar, Nigeria, Norway, and Algeria, production in the chemical industry is now stabilizing. For now, European chemical industry has found its way out of trouble, but the margin squeeze is not going away anytime soon. Because the natural gas cost structure is unlikely to return to pre-2021 level since pipeline and LNG gas supplies from Russia were down to 25% (November 2022) from nearly 60% in late 2019. Moreover, the EU will likely experience a 14% gas shortfall this year, leaving chemical procurement organizations worried. Overall, chemical industry throughput is expected to drop 7.5-9% in 2023, compared to the previous year, and capacity utilization still hovers around 75-80% percent of pre-December 2020 levels.
Need chemical procurement best practices that work not simply preach
Inflation remains higher than central banks' targets in most G20 countries, which account for three-quarters of international trade. The consequent erosion in real incomes might dampen consumption and pose risks to chemical industry recovery. Traction in China, which accounts for 41% of global chemical sales, and the country's growing shift toward specialty chemicals, may not be sufficient for European chemical manufacturers to tide over the contractionary scenario this year. Besides, the 2020 Green Deal, which aims to make EU the first climate-neutral bloc on the planet, proposes to outlaw thousands of potentially harmful chemicals in consumer products by 2030. For now, these sweeping legislations are seeing some pushback from the industry as well as some law makers. Things have seldom been so hard for the chemical sector. These are trying times, no doubt, but these are also times when CPOs at chemical businesses can ask themselves: Could chemical procurement best practices move centerstage?
Spend management can rein in both costs and financial risks in a weak market for the majority of chemical enterprises. The fact remains that cost containment is almost always an afterthought and that might have to change. There are umpteen ways the industry can pare back costs by rewiring the chemical procurement procedure. It may not be hard-and-fast math. Nevertheless, a spend portfolio analysis can help trace which chemicals are claiming the bulk of the spend. Chances are that a small number of items might trump all else in the matter of spend dollars. The rule of thumb in the commodity chemical circuit is that about 15-20 products may account for up to 50% of the spend budget. By contrast, there could be, say, additives, running into their thousands, that represent 10-30% of annual spend. Then there are the so-called critical materials that constitute a small percentage of the overall spend but are, all the same, important to end products. Some of these materials might be prone to supply disruptions and price swings. Supplier bundling is a classic approach to taming tail spend and ensuring scale efficiencies. This leaves the chemical procurement organization with the bandwidth and breathing space to focus on high-stakes and critical products. There are other time-tested chemical procurement best practices that chemical businesses can latch on to realize incremental cost savings. By reducing errors, trimming labor costs, and reducing time and energy wastage, digitization, where properly implemented, could generate up to 30% in savings.
Coming to top-line growth, strong uptake of specialty chemicals in sectors like automotive, electronics, real estate, pharmaceuticals, and packaging is a clarion call for more chemical businesses to improve their R&D intensity in this burgeoning segment to boost sales. Likewise, the emerging green chemical segments might look like crumbs (worth, say, $150 billion) in comparison with trillion-dollar opportunities in legacy chemicals. However, green chemicals present avenues for appreciable and opportunistic growth and is more likely to weather disruptions posed by expanding ESG legislations as well as ESG-linked civil liability actions and criminal prosecutions, compared to the rest of the chemicals sector.
How SpendEdge can help with Chemical Procurement Strategies: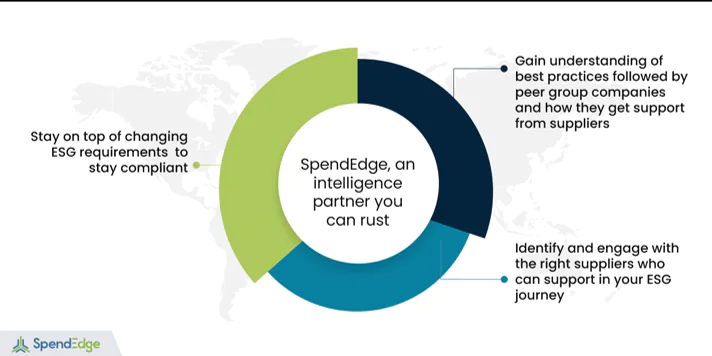 Stay away from supplier risks
Incorporating ESG in their procurement stream is perhaps the only way ahead for enterprises in an era of elevated stakeholder consciousness. At SpendEdge, our specialists help businesses identify the key sustainability initiatives their competitors have embraced to gain significant traction in the market.
Cascade the ESG mantra across the supply chain
Ensuring adherence to the ESG framework is a priority for medtechs seeking to decarbonize operations and improve ESG performance as reflected in the eyes of key stakeholders. At SpendEdge, we help businesses understand the ESG landscape better and implement right practices, select best-fit suppliers and remain compliant. Furthermore, our experts break down their cost implications and suggest what fits best for the client.  
Success story: A medical devices major leads the way in key supply-side sustainability metrics 
Our client is a leader in medical devices based in North America offering technologies and therapies including implantable electronic devices, robotic surgical systems, insulin pumps, and patient monitoring systems. Until the latest quarter 2023, the client has reported appreciable revenue growth, underpinned by resumption in medical procedures in the US and growth of cardiovascular devices, specialty therapies, and patient monitoring interventions. However, seen through the prism of ESG, the reliability of its supply-side is a key concern for the client, particularly since the supply chain weaves across multiple global regions with their own outlook on ESG as different from the client's home turf. Regulations around medical devices are tightening, and the client must meet regulatory mandates set down by a plethora of bodies, namely, the EPA, OSHA, and FDA, not to speak of voluntary ESG standards such as those recommended by the SASB. Many peers in the industry have come under regulatory scrutiny, including for improper practices by their suppliers in other regions. ESG regulations tend to be high-level, and developing a grassroots understanding of their implications is often hard for many enterprises. After all, that is not their core competence area. It is even harder to translate ESG ideas into affirmative action and roll these out across a distributed supply base.
In early 2022, our experts in procurement, with deep understanding of the nuanced medical devices industry, began to work with the client to help improve its sustainability road map leading up to the end of the decade. To start with, our experts set about gleaning the sustainability best practices of the client's peers, not just in medtech but in other sectors as well, which have yielded them shining results in the past. Having developed an in-depth understanding of their sustainability initiatives and goals, our experts proceeded to juxtapose these sustainability best practices with those of our client with a view to discovering and closing the gaps. As a next step, our experts developed risk scores for an already curated list of vendors across multiple parameters, covering all three pillars of ESG. These included factors like water conservation, GHG emissions, inclusive and equitable hiring practices, employee relations and labor rights, fiscal stability as well as bribery and corruption risks. By applying these stringent eligibility terms, our team arrived at a short list of vendors capable of helping the client to turbocharge its sustainability initiatives and live up to the ESG expectations of investors, shareholders, and key stakeholders.
The client is in advanced rounds of negotiation with one of the vendors on our shortlist. Besides, the client has retained our team to provide them with live updates and research insights from a dynamically evolving regulatory landscape and deliver advisory on how to stay ahead of changing legislation.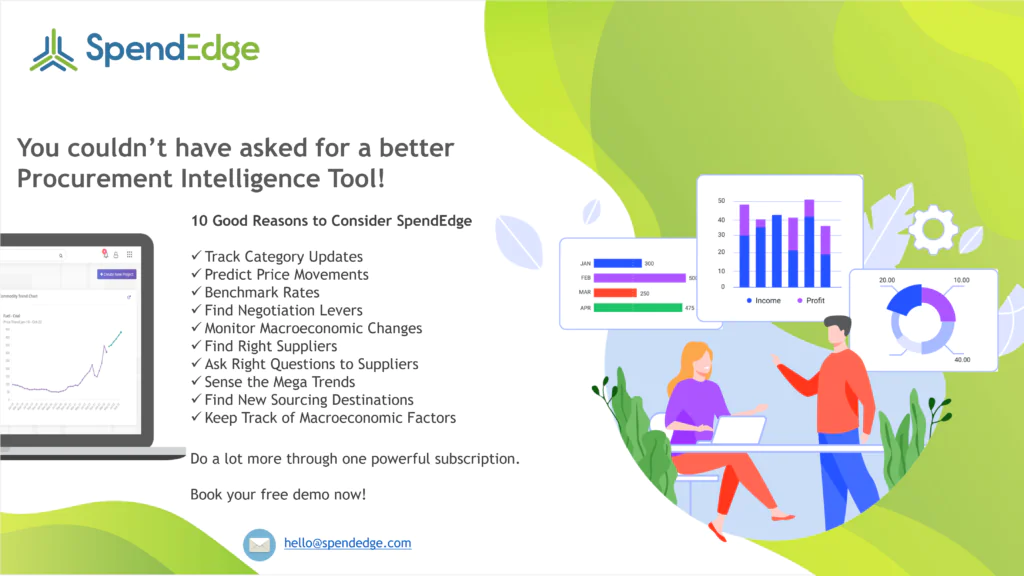 Contact us now to solve your procurement problems!
Author's Details
Srinivas R
Associate Vice President, Sourcing and Procurement Intelligence
Srinivas is a solution design specialist at Infiniti Research and provides advisory services to clients across the medical devices, pharmaceutical, CPG & FMCG, energy, and ICT sectors. He specializes in the procurement areas of industry benchmarking, cost modeling, rate card benchmarking, negotiation advisory, and supplier intelligence.