By: George Mathew
The current supply chain disruptions necessitate swift and adaptable logistics and procurement solutions. Electronic Sourcing (e-Sourcing) has gained prominence in procurement due to its cost-saving and operational benefits. e-Sourcing involves generating bids from both existing and potential suppliers through a centralized online portal.
The process of e-Sourcing involves identifying needs, finding suppliers, requesting bids, negotiating contracts, and managing orders.
The adoption of e-sourcing software solutions delivers a significant Returns on Investment (ROI) in the procurement field. It enables efficient supplier discovery, negotiation, and collaboration, leading to better sourcing decisions and cost savings. Additionally, e-Sourcing tools often provide data analytics and insights, enhancing strategic sourcing efforts for a competitive edge.
Challenges in effective implementation of e-Sourcing software for procurement:
The absence of standardized sourcing processes
e-Sourcing tools offer a valuable resource for enhancing consistency in the organization's sourcing process. However, to for this to be effective, there needs to be a universally accepted sourcing process consistently adhered to across the organization. Many organizations lack a standardized sourcing process. Even in cases where organizations have a documented sourcing process, it is often infrequently followed or inconsistently applied.
Implementation e-Sourcing software requires significant investment
e-Sourcing implementation typically involves a high initial cost, which includes expenses for software, customization, training, integration, security, and ongoing maintenance. This cost can be significant challenge for organizations, especially smaller businesses with limited budgets. However, the benefits of e-Sourcing, such as improved supplier management and cost savings in the long run, often outweigh these initial expenses.
Legal and regulatory compliance in procurement
e-Sourcing process in procurement are subject to various legal and regulatory requirements, such as data privacy laws, anti-corruption regulations, and industry-specific standards. e-Sourcing tools must have robust security measures in place to safeguard information from cyber threats and data breaches. Ensuring compliance with data protection laws such as GDP or HIPAA creates an extra layer of complexity. Contract management and supplier compliance monitoring are also vital for process improvement.
How SpendEdge can help in tackling the e-Sourcing tool adoption challenges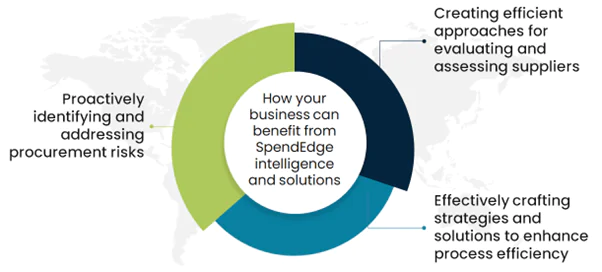 Creating efficient approaches for evaluating and assessing suppliers
Our sourcing advisors play a crucial role in helping businesses to navigate complex procurement problems. Our specialists offer expert guidance on supplier assessment which involves a through evaluation of potential or existing suppliers, considering factors such as quality, reliability, financial stability, and ethical standards. This assessment helps our clients in mitigating risks and ensuring proper supplier alignment with a company's requirements and values.
Effectively crafting strategies and solutions to enhance process efficiency
Our experts analyze the data to identify any bottlenecks, redundancies, or inefficiencies in the current process. This involves looking at areas such as supplier selection, negotiation, and procurement. Furthermore, our advisors work client to develop recommendations for improving the sourcing process. These recommendations are tailored to address the specific inefficiencies in the client's procurement practices.
Proactively identifying and addressing procurement risks
Our experienced advisors assist clients in identifying and minimizing potential project or business risks. These include financial, operational, supply chain disruptions, regulatory challenges, geopolitical factors, and market fluctuations. Our experts also help in understanding the potential consequences and making informed decisions related to both security and compliance of law to protect sensitive information and avoid legal issues.
Success story: How SpendEdge helped a global oil and gas company to optimize their procurement processes
Our client is a prominent player in the global oil and gas industry, engaged in exploration, production, and processing crude oil and natural gas.
The client has recognized the need to optimize their procurement processes to active cost-efficiency, enhance supplier relationships, and mitigate risks associated with their supply chain.
Our experts at SpendEdge conducted a thorough analysis of client's existing procurement process, collaborated with key stakeholders to identify pain points and opportunities for improvement, and developed a customized procurement strategy focused on cost savings and supplier relationship management. Furthermore, our experts conducted a comprehensive supplier assessment to evaluate performance, reliability, and compliance.
Our experts also conducted market research to identify the most suitable e-sourcing tools and software client's requirements and assisted in the selection and procurement of e-sourcing solutions.
The solution offered by our experts helped the client successfully transform its procurement operations in the oil and gas industry, achieving cost savings, supplier relationship improvements, and enhanced risk mitigation capabilities.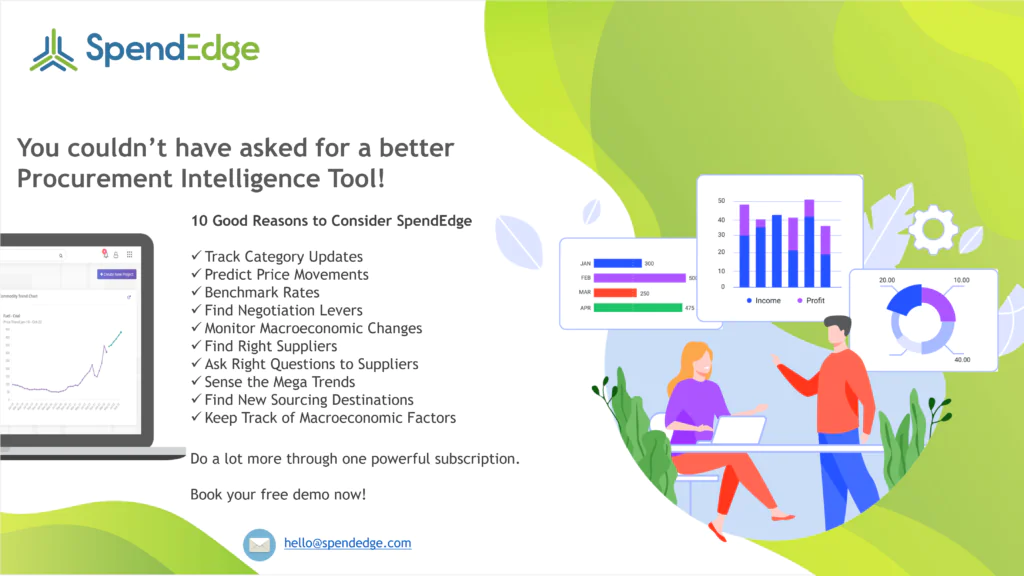 Contact us now to solve your procurement problems!
Author's Details
George Mathew
Associate Vice President, Sourcing and Procurement Intelligence
George is a procurement specialist at Infiniti Research and provides advisory services to clients across the pharmaceutical, CPG & FMCG, energy, and automotive sectors. He specializes in the procurement areas of industry benchmarking, cost modeling, rate card benchmarking, negotiation advisory, and supplier intelligence.