By: Manpreet Kaur
Achieving transparency in the food supply chain is indeed a complex endeavor due to several factors. The food and beverage industry involves a wide range of products, suppliers, processes, and regulations, making it challenging to ensure transparency and traceability throughout the supply chain. This industry often involves intricate supply chains, where multiple suppliers at different levels contribute to the final product. This complexity can make it challenging to track the origin, quality, and safety of all ingredients and components. Transparent supply chains enable manufacturers to identify potential vulnerabilities and ensure that each component meets the required standards. It also enables them to meet consumer demands, adhere to regulations, promote ethical practices, maintain quality, and build customer trust.
Challenges/Problems faced in the food and beverage industry procurement process.
Supplier Diversity: Food and beverage companies often source ingredients from a diverse range of suppliers, each with their own production methods, quality control measures, and levels of technological sophistication. This diversity can make it difficult to standardize transparency practices across the supply chain.
Globalization and Long Supply Chains: Many ingredients used in the food industry are sourced internationally. Different countries have varying regulations, standards, and practices related to food safety, labeling, and sourcing. Ensuring transparency across borders requires navigating these differences.
Complex Supply Chains: The food value chain is often quite complex, involving multiple stages such as farming, processing, packaging, transportation, and distribution. Each of these stages involves various actors, adding to the complexity of traceability efforts.
Lack of Technology Adoption: Some suppliers, especially smaller ones, might lack the technological infrastructure to provide real-time data about their processes. This can hinder efforts to track and monitor products effectively.
Risk Management: Transparency is crucial for identifying and managing potential disruptions, such as shortages of raw materials, geopolitical issues, or transportation challenges. Without a clear view of the supply chain, it becomes challenging to respond quickly and effectively to mitigate such risks.
Consumer Expectations: Consumers are increasingly concerned about the provenance and quality of the food they consume. Meeting these expectations requires companies to provide detailed information about the products' journey from farm to fork.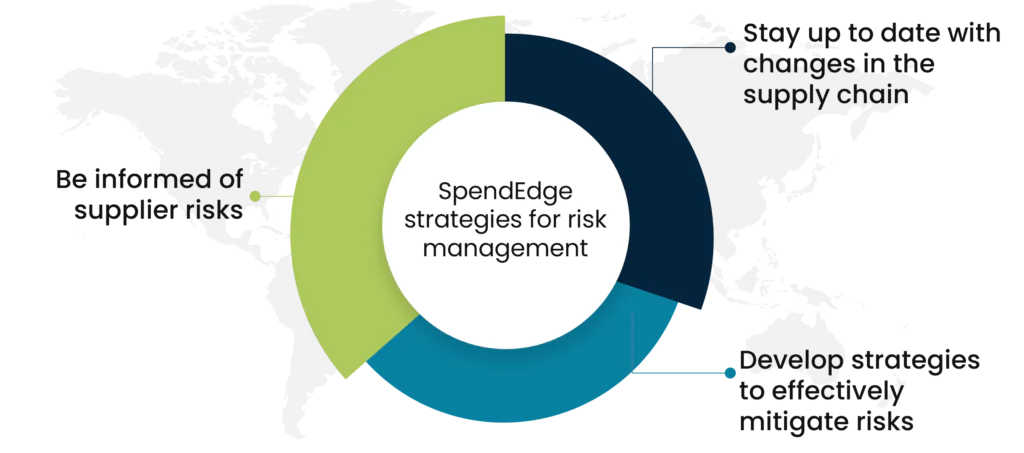 How SpendEdge can help the industry in overcoming the challenge
Finding, Evaluating and Selecting Right Suppliers: We can help you in identifying suppliers across tiers and can evaluate them based on different parameters such as capability in manufacturing different products/ingredients, service capabilities in different geographies, quality certifications, regulatory compliance, technological innovations etc. We can also track risks associated with the suppliers and the kind of impact that they may have on the overall supply chain and your business.
Supply Chain Risk Analysis: Its critical process for businesses and organizations to identify, assess, and mitigate potential disruptions and vulnerabilities within their supply chains. We can provide you with a robust supply chain risk analysis that can help you make informed decisions to enhance the resilience and sustainability of the supply chain. Our experts can support you in identifying all potential risks that could impact different aspects of your supply chain, including suppliers, logistics, transportation, production, distribution etc. and assess these risks based on their probability of occurrence and potential impact on the supply chain. This assessment would help you prioritize risks that require immediate attention.
Identifying Optimal Sourcing Destinations: Identifying the right sourcing destinations in the F&B industry involves careful consideration of various factors that can impact the quality, cost, and reliability of your supply chain. We can help you in choosing the right locations by assessing different geographies of choice based on your product requirements, quality and safety standards, supply chain infrastructure, cost competitiveness, labor availability and skills, political and economic stability, trade agreements and tariffs, sustainability and ethical practices and many more.
The success story of how SpendEdge was helpful to one of its clients.
To better understand the risks associated with the supply chain, the client – a multinational F&B company approached SpendEdge to commission a comprehensive supply chain risk assessment engagement that would help them in obtaining periodic reports focused on tracking and assessing potential supply chain risk factors. These risk factors were associated with specific geographies, raw materials or commodities, suppliers, and adverse events.
Because of less visibility on the above risk factors, the client was facing difficulties in anticipating and addressing supply disruptions, quality and safety issues, increasing operational costs, regulatory compliance issues etc.
To help the client overcome these challenges, we deployed a team of procurement analysts with experience in conducting similar supply chain risk assessments for a wide array of clients. The analysts gathered detailed insights on the suppliers, supply landscape, and different risk factors associated with geographical regions, raw material components, commodities, supplier and site, and political, labor, terrorism and environmental aspects.  We also provided clarity on the defects and shortcomings associated with the equipment and materials provided by specific suppliers. By tracking the demand for specific commodities, we predicted possible changes in the availability and pricing of commodities and helped the client understand its subsequent impact on their business.
Based on our analysis, we provided recommendations on alternative sourcing destinations and suppliers. We also helped them to devise the right approach to manage future risks.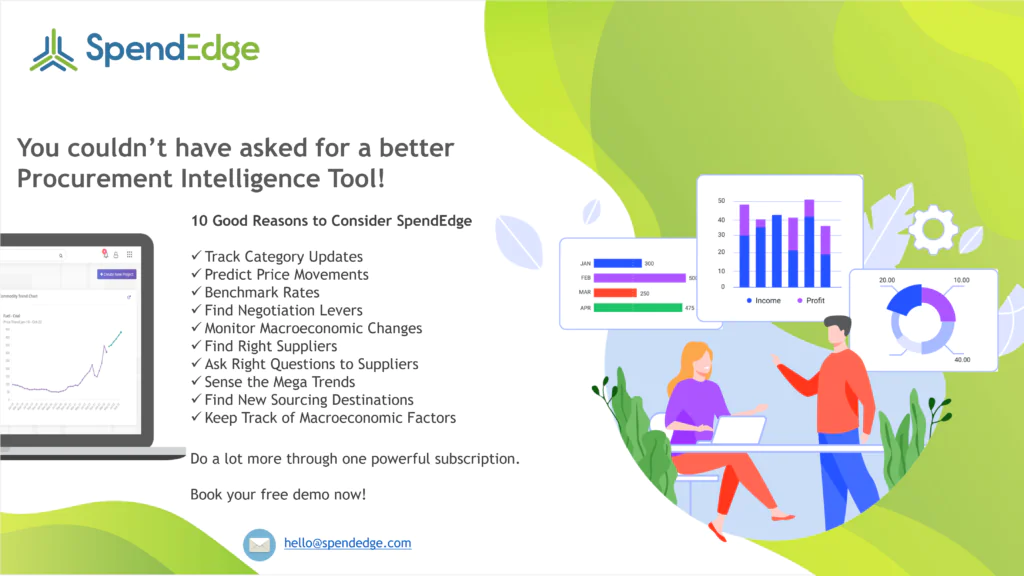 Contact us now to solve your procurement problems!
Author's Details
Manpreet Kaur
Assistant Manager, Sourcing and Procurement Intelligence
Manpreet is a presales specialist at Infiniti Research and has expertise in sales, business strategy execution, and innovative solution design. She is actively involved in supporting clients from F&B, CPG, Healthcare, Pharma, Chemicals, BFSI, Oil & Gas and Automotive sectors.