By: Ankur Rishi
The need for businesses to source energy, be it electricity, natural gas, or renewable energy, is usually accompanied by a wide array of complications. Energy prices and related risk have escalated to unprecedented highs, driven largely by pandemic-induced factors. Organizations are increasingly taking a strategic approach to procure energy and realize benefits such as protection from unforeseen market changes and hidden costs, supply assurance, and better control over costs. While energy prices are staging a gradual recovery on one hand, the focus on renewable energy adoption has gained serious momentum simultaneously. Fossil fuels are well on their way to obsolescence, and companies will have to substantially reshape their energy procurement models to stay competitive and drive profits with a clear focus on sustainability.
Recent trends in the Energy Procurement Market
Decarbonization at the forefront of energy transformation initiatives:
With the impact of climate change becoming more pronounced each day, governments and organizations alike are quickly reemphasizing the importance of decarbonization on their agenda by setting ambitious yet achievable emission goals. China, responsible for the highest emissions globally, aims to become fully carbon neutral by 2060, while the US has rejoined the Paris Agreement post the election of President Biden. Not to be left behind, the EU too has increased its reduction target to 55% by the end of this decade and has set aside about 30% of its COVID recovery budget for green energy initiatives.
Improving visibility into scope 3 emissions:
This emission type accounts for the largest share in a company's emission chart and is usually attributed to upstream and downstream operations along the value chain (i.e., associated with production and usage). Unlike scope 1 and 2 emissions, organizations have little control over these emissions and are thus difficult to manage, but the contribution of these emissions to climate change impact is large. Leading global corporations such as Amazon, Google, Apple, and Microsoft have already implemented programs to address this concern, and with their supplier base following suit naturally, large-scale positive effects are expected to be witnessed soon given the size of their supply chains.
Looking at sustainability beyond renewable energy procurement:
With organizations increasingly seeking ways to measure the impact their renewable deals have on the environment and society, the decision-making process related to supplier selection is evolving continuously. It is crucial for green energy purchase agreements to not only guarantee the obvious outcome of emission reduction, but also ensure that suppliers' processes are ethical, responsible, and positively impact employees, nature, as well as local communities. From a distance, RE plants may seem to operate in similar ways, but only a deep-dive sustainability analysis will help reveal those that displace more fuel than others or provide clean energy to the detriment of local communities.
Large corporations accounting for a big chunk of re procurement deals:
No doubt the number of renewable energy deals is growing exponentially, but it's also found that only big companies have emerged as the leading contributors in this regard. Some of them have made extremely bold commitments in terms of emission reduction and have gone on to fulfill them as well. They're also well on track to reaching 100% carbon neutrality within the specified timelines. Despite the lack of strong contributions from smaller players, the comforting prospect lies in the fact that many of these large organizations are taking steps to ensure sustainability along their supply chain, which will see more initiatives bloom among startups and small-scale organizations.
Impact of energy procurement trends on the business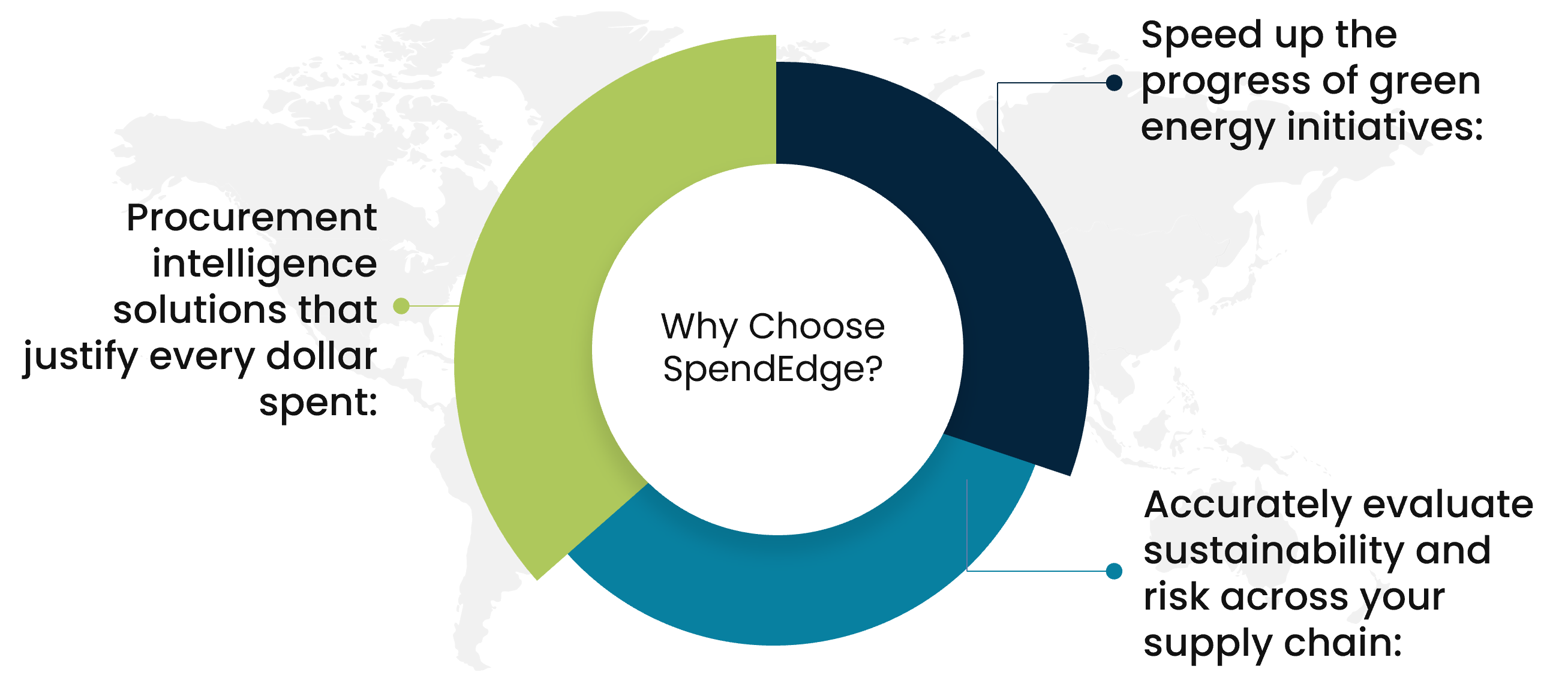 Improved customer satisfaction and brand loyalty:
With the revamping of contract and engagement models driven by recent trends, companies are better positioned to evaluate the impact of energy procurement services on not just their business outcomes, but also how it affects customer perception as well as the broader communities in which they operate. Supporting agendas such as diversity, job creation, and equity helps organizations project a positive image to both customers and clients, who in turn are motivated to stay loyal to the company and take pride by virtue of mere association. This is a vastly significant additional benefit besides leaving a lasting ecological impact that future generations can reap.
Protection from cost hikes:
Energy accounts for a sizable portion of the total cost of a company, and due to market volatility and constant fluctuations in electricity and natural gas prices, energy procurement companies often suffer severe financial losses due to poorly drafted contracts or absence of proper price hedging mechanisms. However, prudent energy procurement solutions can offer relief by ensuring that companies are equipped with intricate insights into energy markets to forge favorable deals with their suppliers and maintain continued supply even in the face of market disruptions. Employing such strategies also helps organizations improve their bottom line by capitalizing on cost-saving opportunities and staying ahead of their competition.
Why Choose SpendEdge?

Procurement intelligence solutions that justify every dollar spent:
For procurement teams to ride out treacherous market conditions, having actionable market intelligence as the foundation is a prerequisite. With several years of experience in catering to the procurement demands of energy customers, our experts possess the knowledge and skill to help you transform your procurement strategies with highly customized solutions, including supplier and category intelligence, TCO analysis, best practice evaluation.
Speed up the progress of green energy initiatives:
Setting lofty energy goals is an unavoidable need in the current scenario, but to achieve the same, organizations must provide their procurement teams with valuable know-how. This is where SpendEdge steps in and helps you gain a deeper understanding of the latest green energy trends, best practices adopted by leading industry players, and prevalent engagement models.
Accurately evaluate sustainability and risk across your supply chain:
Supply chain efficiency can be drastically hampered when your suppliers lag behind in adopting sustainability initiatives and appropriate risk management processes. Our insights cover a wide range of factors relevant to your supply chain, including supplier risk and sustainability analysis, which will put you in the driver's seat to proactively identify potential bottlenecks and develop corrective action plans.
Success Stories: SpendEdge helped a client achieve sustainability goals with market intelligence and saves costs.
An industry leader wanted to improve its understanding of the regulatory landscape across its regions of operation and maximize returns on green energy procurement. It was also looking for a detailed cost analysis, including a comprehensive study covering the impact of regulations on procurement costs. Facing great difficulty in assessing regulatory changes across many countries (52), the client struggled to come to terms with the importance of RECs/GoOs and iRECs to be able to make effective procurement decisions and achieve favorable business outcomes.
Our team of experts worked in close collaboration with the client to study each focus area and proposed a reliable methodology to develop a comprehensive energy procurement consulting solution that could help set it on the fast track to procurement excellence. Right at the outset, we analyzed the global regulatory landscape, highlighting countries that present favorable opportunities for energy procurement. We also presented a snapshot specifying the certification requirements (REC/GoO/iREC) of each country under focus. In the next phase, our experts conducted a deep-dive analysis into the procurement complexity associated with each major region/country, which helped the client comprehend the level of regulatory stringency as well as price caps on renewable energy at a granular level.
Following the delivery of our market research solution, the client was able to quickly identify the vulnerabilities in its procurement processes across various regions as well as the shortcomings in its contract models. By understanding the regulations and procurement complexity more clearly, the client was able to redesign unviable strategies and identify the best-fit countries for business energy procurement. As a result, benefits in the form of significant cost savings and strong risk mitigation practices were realized within a relatively short period.
Energy is likely to be the largest overhead component in your total cost, so procuring energy needs for the right price and at favorable contract terms necessitates a well-defined sourcing strategy. Connect with us to understand what we can do to help you!
FAQ
What is the future of energy procurement?
Energy procurement is set to become a strategic function that will help businesses gain a competitive edge.
What are the fundamentals of commercial energy procurement?
Goods and services are typically grouped into five procurement categories based on their similarities, and these categories are administrative support, travel, professional services, insurance, information technology.
What are the solution offerings for the chemicals industry?
Spend analytics, category analytics, and price forecasting are some of the solutions for the chemical industry.
Author's Details
Ankur Rishi
Vice President, Sourcing and Procurement Intelligence
With more than 12 years of advisory experience, Ankur manages platform content and services within the sourcing and procurement vertical. Over the years, Ankur has provided consulting services to category leaders from chemicals, energy, and packaging industry, on varied topics, such as category strategy, spend analysis, commodity pricing, and clean-sheet analysis.