By: George Mathew
The sheet metal fabrication equipment market involves the production and sale of machinery and tools used in shaping and forming sheet metal for various industries such as automotive, construction, and aerospace. Key equipment includes laser cutting machines, CNC presses, and welding systems. Demand for such equipment is influenced by industrial growth and technological advancements in those industries. The global sheet metal fabrication equipment market size was valued at US$ 15.3 billion in 2022 and is estimated to grow at a CAGR of 2% over 2023-2028. The sheet metal equipment industry demands an improved procurement function due to the increase in labor expenses and growing desire for top-notch and cost-efficient products. The profit margin for sheet metal processing has been falling due to the rise in labor expenses.
Challenges faced by procurement teams in sheet metal fabrication equipment market
The complexity of sourcing the right supplier partner:
Sourcing the right metal fabrication supply partner is complex due to internal and external factors. Suppliers are often chosen solely based on cost driven by corporate procurement's emphasis on cost reduction above all other KPIs. Sourcing the right metal fabrication partner involves a multifaceted evaluation process. While cost considerations are pivotal, other critical factors like quality, lead times, capacity, and supplier reliability must not be overlooked. The challenge lies in balancing cost reduction goals with the need for consistent quality, timely delivery, and a collaborative partnership that aligns with long-term business objectives. Successful sourcing decisions require a holistic approach that integrates both internal cost targets and external supplier capabilities.
Difficulties in recruiting and retaining skilled welders, finishers and assemblers:
The metal fabrication sector encounters difficulties in recruiting and retaining skilled welders, finishers, and assemblers due to the intricate nature of the tasks, demanding extensive expertise and training. The complex and precise nature of their work demands extensive expertise and training, making it difficult to find qualified individuals. Additionally, the aging workforce in this sector exacerbates the talent shortage, as experienced craftsmen approach retirement. As a result, companies are increasingly investing in apprenticeship programs, upskilling initiatives, and competitive compensation packages to attract and retain a highly skilled workforce which increases the costs of recruitment and training and stands as a challenge.
Increasing maintenance cost of sheet metal fabrication equipment:
Another major challenge can be the increase in maintenance costs for sheet metal fabrication equipment, including repairs and production downtime, impacting revenue. Factors such as equipment age and usage also influence expenses. Increasing maintenance costs raise the total ownership cost, which can be a hurdle for small and medium-sized buyers. In addition to maintenance costs, it is important to consider the availability and cost of spare parts for sheet metal fabrication equipment. Regular maintenance and timely repairs can help minimize production downtime and maximize equipment lifespan. Small and medium-sized buyers may also need to factor in the cost of training their staff in equipment maintenance and troubleshooting.
How can SpendEdge help in enhancing the procurement function?
---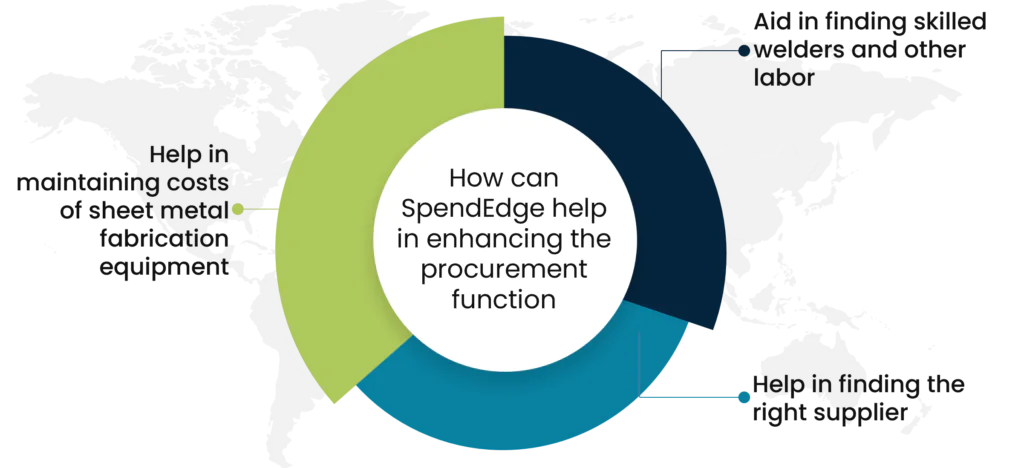 ---
Help in finding the right supplier:
SpendEdge maintains extensive databases and networks of suppliers from a variety of sectors. Companies can make use of these resources to find possible suppliers who satisfy their particular needs. Our supplier intelligence solutions enable you to build up your diverse pipeline and onboard certified vendors, which will not only improve business outcomes but also demonstrate your workforce commitment. You can prevent billing fraud and check forgery with our thorough vendor onboarding procedures, regular vendor data verification, and other robust controls included in our solution.
Aid in finding skilled welders and other labor:
SpendEdge can assist in the development of workforce planning methods, including predicting the need for skilled laborers and preparing to guarantee a steady supply of talent. We help you by leveraging cutting-edge analytics and industry expertise to help organizations anticipate their skilled labor requirements. Our data-driven approach ensures accurate predictions, enabling clients to proactively secure a consistent talent pipeline. By optimizing workforce planning methods, we empower businesses to adapt to evolving market dynamics and maintain a competitive edge in talent acquisition and retention.
Help in maintaining costs of sheet metal fabrication equipment:
SpendEdge offers comprehensive analyses that go beyond just the upfront costs and take into account the long-term maintenance expenses associated with various equipment options. By considering the above, we enable users to make more informed purchasing decisions. This approach ensures that users have a holistic understanding of the total cost of ownership, allowing them to evaluate the true value and potential savings associated with different equipment choices. With our thorough analysis, users can confidently select the most cost-effective and sustainable options for their specific needs, optimizing their purchasing decisions for long-term success.
The success story of how SpendEdge helped a machine and tools company
In the sheet metal fabrication industry, various equipment and materials are procured. This includes machinery like laser cutting machines, CNC presses, welding equipment, and other specialized tools used in the fabrication process. Additionally, raw materials such as sheet metal of different types (steel, aluminum, etc.) are procured for shaping and forming into finished products. During the procurement of this equipment, the industry faces issues due to its complexity.
A manufacturer of metal sheet fabrication equipment based in the US was struggling with rising maintenance costs for its machinery due to frequent failures and unscheduled downtime. Their profitability and client satisfaction were being negatively impacted by these charges.
SpendEdge offered two valuable services to the client. Firstly, we assisted them in identifying reputable suppliers who are known for manufacturing durable and reliable machinery. This ensured that the company could source equipment from trusted suppliers, minimizing the risk of purchasing subpar or unreliable machinery. Secondly, SpendEdge helped the company in developing a procurement strategy that focused on investing in higher-quality equipment upfront. By doing so, the company could reduce its maintenance needs in the long run, leading to cost savings and improved operational efficiency.
By investing in higher-quality equipment and implementing predictive maintenance, our client experienced a significant reduction in maintenance expenses and unplanned downtime.
Author's Details
George Mathew
Associate Vice President, Sourcing and Procurement Intelligence
George is a procurement specialist at Infiniti Research and provides advisory services to clients across the pharmaceutical, CPG & FMCG, energy, and automotive sectors. He specializes in the procurement areas of industry benchmarking, cost modeling, rate card benchmarking, negotiation advisory, and supplier intelligence.