By: George Mathew
Blockchain technology was first introduced in 2008 to support the use of Bitcoin. The technology creates a decentralized record of all transactions in a network, which can be managed by multiple members simultaneously. Blockchain technology enhances procurement and supply chain management by providing transparency, traceability, and security. It enables real-time tracking of products, reducing fraud and errors.
Blockchain technology allows participants in the network to confirm transactions independently, without the need for a third-party intermediary. Smart contracts automate agreements, streamlining processes and reducing costs. Immutable records enhance trust among stakeholders, fostering collaboration. Overall, blockchain increases efficiency, reduces fraud, and improves accountability in procurement and supply chain operations.
How can blockchain technology benefit business supply chains?
Improved transparency: a supply chain benefit
Supply chain transparency can be achieved through visibility into supply chain activities, which is one of the key factors. Blockchain technology provides a clear and transparent record of all transactions in one place. It ensures trust and transparency when multiple agents are involved in various stages of the supply chain process. Moreover, it empowers the buyer by ensuring the traceability of all goods throughout the purchasing cycle. Additionally, data on product origins, quality, and handling can be securely recorded, bolstering product safety and consumer trust. Ultimately, blockchain's transparency improves efficiency, reduces costs, and enhances overall supply chain integrity.
Smart contracts: a major benefit of blockchain technology
Smart contracts are executable codes that operate on top of the blockchain. Their purpose is to manage contracts and facilitate deals across the supply chain. By enabling the creation of tamper-proof smart contracts, blockchain technology allows these contracts to self-verify their conditions. These new possibilities in contract management offer the potential for increased efficiency and improved business operations. Smart contracts are self-executing agreements that automatically trigger actions when predefined conditions are met, reducing the need for intermediaries and minimizing the risk of disputes. Overall, they streamline operations, increase security, and promote trust in various industries, from finance to supply chain management.
Greater opportunities to save cost
The increased trust and transparency brought about by blockchain technology can lead to reduced costs for organizations. They will no longer have to rely on expensive intermediaries or third-party verification systems. Just like cloud technology, blockchain can improve business operations. It is important to note that blockchain technology does not replace traditional procurement tools, but instead enhances their effectiveness. It is evident that blockchain technology can boost efficiency and lower the costs of procurement. This is just a glimpse into the potential long-term benefits of blockchain technology in procurement.
SpendEdge expertise: How can businesses get help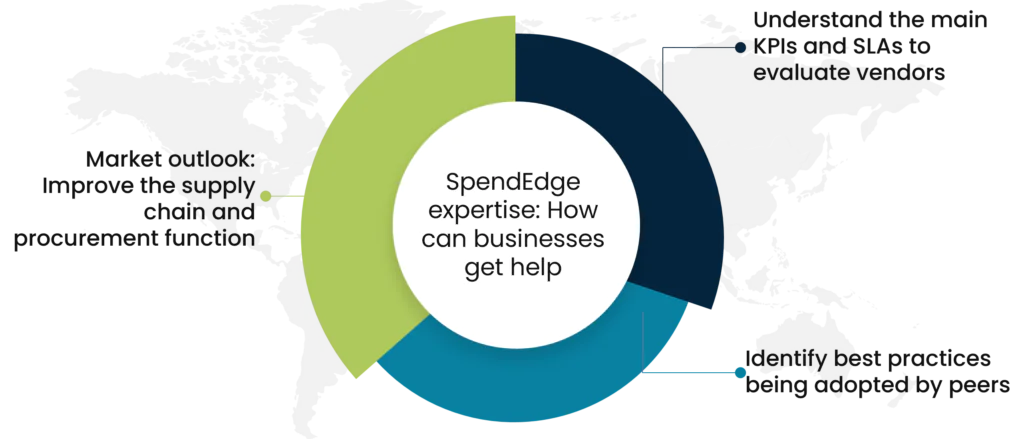 Market outlook: Improve the supply chain and procurement function
Our team at SpendEdge specializes in analyzing how blockchain technology can enhance procurement and supply chain functions across various categories. We keep you updated with the latest developments related to the use of blockchain technology in the supply chain and explore the blockchain technology-based solutions being developed by vendors to improve supply chain efficiency. We help you find and manage suppliers who deliver blockchain technology, stay up to date about adverse events at supplier organizations, and make relevant supplier insights your bargaining chip in future negotiations.
Understand the main KPIs and SLAs to evaluate vendors:
We can help you to identify the KPIs and SLAs of the suppliers you work with. The data collected for KPIs can be analyzed to determine if outcomes meet expectations. This analysis is useful in understanding what needs to be prioritized or corrected to achieve the pre-defined outcomes. SLAs can be used as written references in case of disagreements. These tools help businesses manage their operations efficiently, avoid disruptions, and meet customer expectations for turnaround time.
Identify best practices being adopted by peers:
At SpendEdge, we can assist in identifying best practices adopted by peers through its comprehensive data analytics and industry expertise. By analyzing vast datasets and market trends, we can pinpoint patterns and strategies that are yielding successful outcomes for similar businesses in your industry. We offer benchmarking services that compare your performance against industry peers, highlighting areas where you may need improvement or where you excel. Our experts also conduct competitor analysis to uncover strategies and practices that give your peers a competitive edge. By leveraging these insights, you can make informed decisions and adapt best practices to enhance your own business operations.
The success story of how SpendEdge was helpful to a specialty chemicals manufacturer
The specialty chemicals industry is a subset of the chemical industry that produces a wide range of valuable chemicals and materials for various applications. These chemicals, also known as performance or effect chemicals, are specifically formulated to provide desired functions, improve product performance, or meet specific customer needs.
Our client is a specialty chemicals manufacturer based in the US. The client has been using historical data to identify trends in order to predict demand for its products and consequently the need for raw materials to make these products. However, since the client has a huge number of SKUs, managing the procurement function efficiently is a huge task. Hence the client wanted to know how other companies with large amounts of data utilize the information to more accurately forecast the need for raw materials.
SpendEdge analysts conducted a best practices analysis wherein the processes being followed by global companies typically dealing with huge volumes of demand-supply, procurement, etc. data were checked. The technologies and tools being used by these companies were analyzed. Based on the processes being followed by other companies, the client was able to identify areas of improvement in how they were using their data.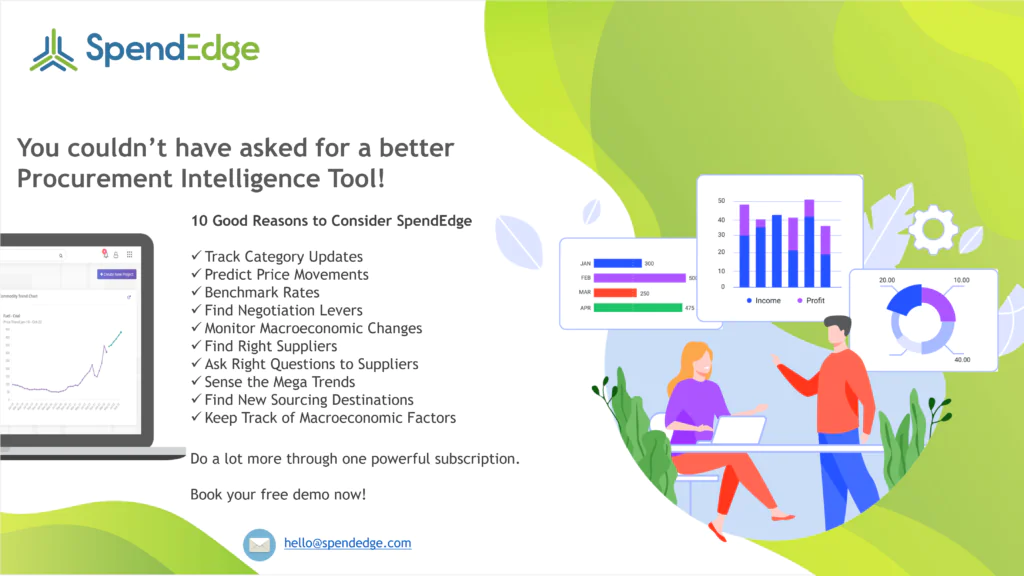 Contact us now to solve your procurement problems!
Author's Details
George Mathew
Associate Vice President, Sourcing and Procurement Intelligence
George is a procurement specialist at Infiniti Research and provides advisory services to clients across the pharmaceutical, CPG & FMCG, energy, and automotive sectors. He specializes in the procurement areas of industry benchmarking, cost modeling, rate card benchmarking, negotiation advisory, and supplier intelligence.