By: Srinivas R
Sustainable packaging is the design, development, and use of packaging products and processes that, over the course of their useful lives, have no detrimental influence on society and the environment. It tries to strike a balance between the need to save resources, limit waste, and cut carbon emissions with the necessity to preserve items, provide information, and enhance convenience. There are three types of sustainable packaging, the first is Recyclable packaging which is made of materials that can be used again, usually after processing, and covers packaging materials such as glass, steel, aluminum, cardboard, paper, and certain plastic. Flexible packaging is a type of product packaging that uses malleable product containers made from non-rigid packaging materials like paper and plastic. Compared to conventional rigid packaging techniques, this kind of packaging uses less material and gives businesses more customization options. The last one is Biodegradable packaging which uses naturally disintegrated and decomposable materials for packaging. Businesses are now observing a shift in consumer purchasing habits, with consumers favoring sustainable production methods and even packaging. This has compelled corporations to integrate sustainability into their operations.
Major trends in sustainable packaging
Usage of innovative materials such as biodegradable plastics, compostable, and recycled materials:
Companies are shifting towards compostable, recyclable materials and biodegradable plastic instead of harmful plastic. The production of harmful plastic releases dangerous gases into the atmosphere, resulting in serious consequences. Bottles and lids of food products are now made from healthier and more easily degradable materials such as bamboo, rice husk, and gelatin films, which are inherently less hazardous to the environment. Increasing adoption of non-plastic materials such as glass, paper, hemp, PLA-based, and bagasse-based packaging has resulted in a lower carbon footprint with cheaper manufacturing costs.
Usage of Life Cycle Assessment Software:
Suppliers are utilizing software tools to conduct life cycle assessments (LCAs) of their packaging solutions. LCAs help identify environmental impacts throughout the entire lifecycle of a product, from raw material extraction to end-of-life disposal. Life cycle assessment plays a crucial role in evaluating and improving the sustainability of product packaging. By considering the entire life cycle of packaging materials and designs, it helps reduce environmental impacts, optimize resource use, and promote eco-friendly choices for consumers and businesses alike. This software often involves collaboration with suppliers and partners in the supply chain, which fosters a more holistic approach to sustainability.
Adoption of robotics, automation, and smart packaging:
Smart packaging is a fresh trend that is being implemented globally to automate the packaging activity and make the process efficient. Automation improves production efficiency, reduces errors, and minimizes energy consumption. In addition, robotic systems can precisely measure and cut materials, thereby reducing waste, and optimizing resource usage. Some sustainable packaging suppliers are integrating technology into packaging to enhance its functionality. Smart packaging can include features like temperature monitoring, freshness indicators, and QR codes for recycling information. These innovations not only minimize environmental impacts but also enhance efficiency and consumer awareness, contributing to a more sustainable and eco-conscious approach to packaging, all in line with environmental conservation goals.
Major challenges faced by companies in adopting sustainable packaging
Higher upfront costs:
When starting or expanding a business, there are often substantial upfront costs involved in setting up infrastructure, purchasing equipment, hiring staff, and marketing. These expenses must be covered before the business generates revenue, which can strain finances. This includes costs related to adapting production lines and processes to accommodate new sustainable materials and designs. Overcoming the challenge of higher upfront costs often requires careful financial planning, access to capital through loans or investors, and a clear understanding of the long-term benefits or returns on the investment.
Cost of raw materials:
The increase in the price of raw materials such as resin, lumber (timber), EVOH, and kraft paper is resulting in an increase in the manufacturing cost of sustainable packaging materials. This rise in the cost of raw materials has underscored the imperative for sustainable packaging solutions. As traditional packaging materials become more expensive, businesses are seeking alternatives that not only mitigate cost pressures but also address environmental concerns.
Steady and reliable supply of sustainable materials:
Sourcing suitable sustainable materials can be challenging due to the limited availability of vendors who provide sustainable materials at reasonable costs and ensure the same premium quality at times of volatile market conditions. Finding environmentally friendly alternatives that meet functional requirements is crucial as relying on one supplier may cause supply chain delays. Ensuring a steady supply necessitates robust supplier relationships, investment in resource development, and resilient logistics networks. Sustainable materials sourcing requires careful planning to overcome these hurdles and maintain a reliable supply chain while meeting eco-conscious objectives.
Compliance with varying regulations:
Global companies face challenges in complying with varying regulations and standards for sustainable packaging across different regions due to the ever-changing business world and the increasing need for alterations in the current laws. Different regions and countries have their own sets of rules and standards regarding packaging materials, recycling, labeling, and environmental impact. Navigating this complex regulatory landscape can be daunting for businesses that operate across borders. Moreover, regulations related to sustainability are continually changing as governments respond to environmental concerns.
How SpendEdge can help with sustainable packaging
Supplier Intelligence:
We help you identify the best-fit sustainable packaging suppliers and understand supplier KPIs and SLAs that must be included in contracts to ensure the smooth functioning of the supply chain. Measure supplier performance against set standards and renegotiate terms of contracts based on performance. Our experts leverage statistics and modeling techniques, besides large, curated data sets, to make accurate predictions for multiple supplier risks and assign risk scores based on probability and severity. These scores will help you to find the best vendors with minimum risk.
Best practices:
We help you achieve a comprehensive understanding of the best practices and innovations being followed by peers in your industry, and what measures they are taking to keep costs under control. Enforcing best practices streamlines processes and brings in standardization of operations which reduces confusion in choosing an appropriate sustainable practice. Our intelligence and analysis will help you get introduced to the newest packaging technologies that are known for their eco-friendliness. Ensuring adherence to best practices will aid businesses in portraying themselves as a reliable, trustworthy, and competent firm.
Market intelligence:
SpendEdge provides detailed insights into the performance of sustainable packaging, including potential supply chain risks associated with sourcing sustainable materials. You can get early warning alerts about impending supply chain risks. This will help you frame risk mitigation plans to respond to specific packaging risk scenarios. For example, packages may be at risk due to weather conditions or careless drivers during transportation. These risks can be prevented if predicted in advance.
Cost components and price drivers:
You can effectively manage costs and improve business outcomes by leveraging our proficient breakdown of key cost components and price drivers. Identify major cost components for the product and understand the percentage contribution of each component to the total cost. Get a better understanding of the factors that drive costs and evaluate industry trends related to cost components. Obtain accurate insights into components such as sustainable raw materials, labor, wages, overheads, etc.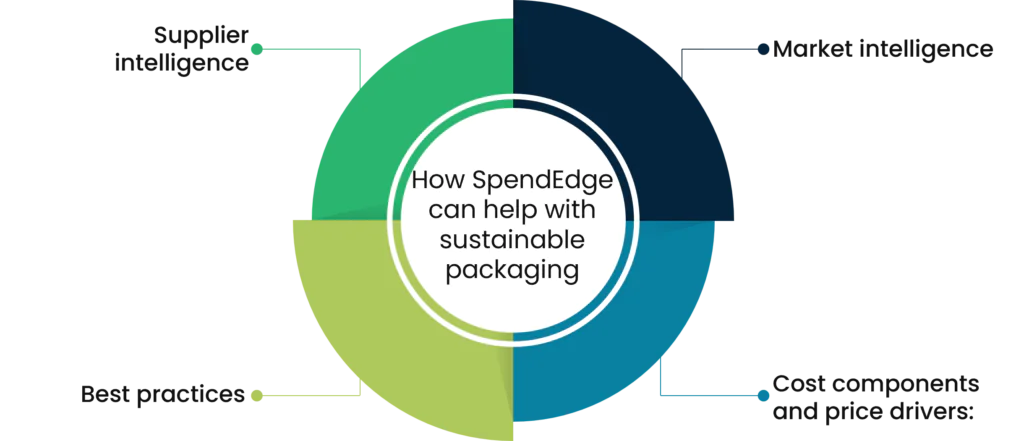 Contact us now to solve your procurement problems!
The success story of how SpendEdge helped one of its clients with sustainable packaging
As the globe advances to more sustainable and organic practices of living, businesses also recognize a need to shift toward producing eco-friendly products by implementing sustainable processes. Like many industries, the glass industry also started with sustainable production practices, but they were facing some problems during the implementation process.
Similarly, a leading packaging manufacturer for the glass industry wanted to get a clear understanding of the overall glass sustainable packaging market which included analyzing the trends, challenges, drivers, and best practices adopted by the competitors.
SpendEdge's market intelligence experts engaged with various key stakeholders, manufacturers, and suppliers to analyze the factors affecting the growth prospects. The experts also compiled information from reliable sources such as trade shows, paid industry databases, and company presentations to help the client assess the overall market landscape of the glass sustainable packaging industry.
The market intelligence helped the glass packaging client obtain a clear understanding of the current market trends in the sustainable packaging industry across the target regions. The client also gained insights into the competitor's market share and key distributors in the glass packaging industry. Furthermore, with the help of this market intelligence engagement, the client gained a holistic overview of the current distribution structure, regional product portfolio and pricing trends, and the global standards for the target regions.
Author's Details
Srinivas R
Associate Vice President, Sourcing and Procurement Intelligence
Srinivas is a solution design specialist at Infiniti Research and provides advisory services to clients across the medical devices, pharmaceutical, CPG & FMCG, energy, and ICT sectors. He specializes in the procurement areas of industry benchmarking, cost modeling, rate card benchmarking, negotiation advisory, and supplier intelligence.