Optimizing business operations by ensuring smooth supply and delivery of products requires effective transportation procurement services. However, the scope of transportation procurement goes beyond simply trying to secure the most cost-effective options available, and organizations must take into consideration a range of other factors, including risk, capital, etc. This function serves a vital cog in maintaining overall supply chain health by helping buyers save time and money while achieving desired results. Besides the obvious benefits, organizations are also focusing on incorporating sustainability initiatives into their freight transportation service systems to reduce their carbon footprint and alleviate associated regulatory and reputational concerns. Transportation delays are inevitable given the unpredictable nature of external factors as well as infrastructural defects, but fine-tuning the procurement process will enable companies to stay one step ahead of these disruptions and ensure business continuity.
Major challenges in the transportation procurement
Pandemic-driven disruptions:
The outbreak of the pandemic left procurement teams to deal with a whole new set of obstacles, some of which included sudden supply-demand imbalance, border closures, and severe shortage of personnel. With transportation playing a crucial role in keeping supply chains operational across industries, the credibility of procurement teams in organizations fell under heavy scrutiny, forcing them to entirely reevaluate their strategies. Tackling issues such as transport under-capacity, manpower shortages, shipping delays imposed an enormous amount of strain on sourcing teams.
Effectively managing time and assets:
With the rapid increase in costs and inflation, it is imperative that companies maximize the use of their transport resources to achieve cost and resource optimization. To do this, they need to increase visibility across the board so that they can assign fleets for deliveries in a manner that makes perfect business sense. In addition, organizations are also met with hurdles posed by natural calamities, accidents, and route deviations, which can hamper visibility into vehicle movement and negatively impact TAT.
Coping with cost hikes:
The cost of transportation procurement solutions can vary significantly based on a number of factors, including fuel prices, driver salaries, warehousing & storage, and distance. Considering the market is subject to continuous developments in these regards, organizations must ensure their procurement contracts are rock solid in order to mitigate unforeseen cost constraints. This requires an exhaustive evaluation of the supply base to identify suppliers that are best equipped to provide quality services without compromising quality even in the face of market volatility.
Lack of technology coupled with poor communication structures:
Even in a vastly technology-forward era, several companies are found wanting in terms of crucial technological capabilities. An outdated and manual transportation procurement process can be highly prone to costly errors; for instance, some companies still rely on communicating with their trucking service providers via telephone for scheduling and truck arrangements, which significantly increases the probability of scheduling conflicts, and thereby, delays in delivery. This can have a cascading effect on the entire supply chain and result in massive losses, not only in terms of cost but also reputation. Absence of real-time updates on the status of fleet movement is another major challenge that is known to cause serious damage.
Growing need for sustainability risk assessment:
Mounting regulatory pressures and latest developments in the fight against climate change have driven procurement teams to rethink their views on supply chain sustainability entirely. Transport procurement, dealing with directly linked bottlenecks such as fuel usage, carbon emissions, etc., naturally finds itself under the spotlight. Procurement teams have an ethical responsibility to ensure that both internal processes as well as those of their supply base are environmentally and socially sustainable. This includes keeping a close watch on resource usage, carbon footprint, corruption, and human rights violations, which in turn can drive up costs significantly.
Solutions for the challenges in transportation procurement
The unpredictability and severity of some of the challenges highlighted above can overwhelm procurement functions but they're mostly rectifiable. Here's how organizations can increase their preparedness to deal with them.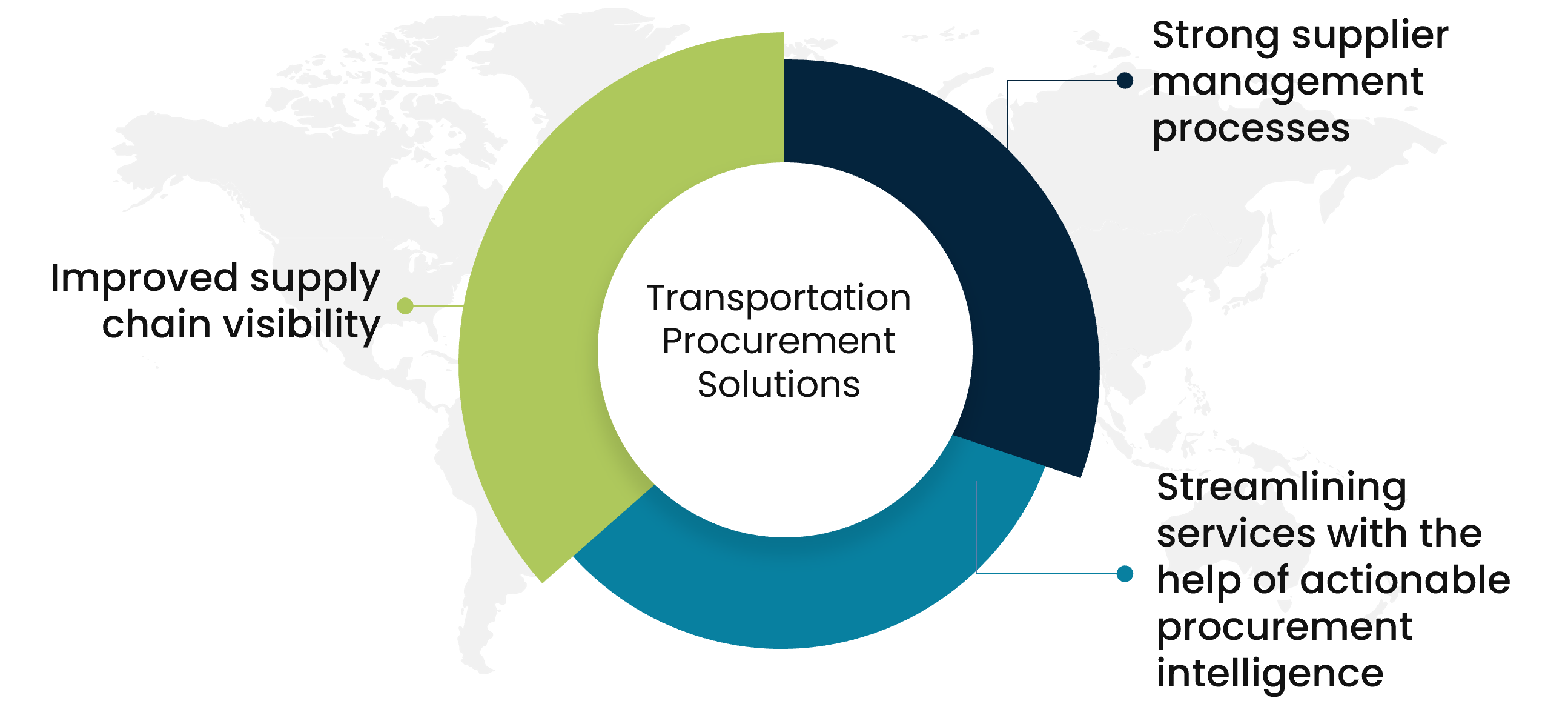 Improved supply chain visibility:
Transportation procurement processes can be significantly improved by ensuring full visibility into vehicle management, as it will allow for seamless freight management and smooth supply and deliveries. Reinforcing this parameter will have a direct impact on the organization's operational efficiency and result in substantial cost savings. Better planning of loading and unloading operations will also help reduce TAT and avoid 'empty mile' scenarios. Standardizing internal frameworks can help gain end-to-end visibility, better regulate dispatches, and reduce the number of unnecessary miles through route optimization.
Strong supplier management processes:
Most organizations tend to engage with multiple transportation and logistics service providers that can fulfill their transport requirements depending on the location and type of vehicle fleet needed. In this case, they must make sure that the process of handling multiple suppliers is made easy and hassle-free so that they can place orders for vehicles with the right supplier depending on the distance, type of shipment, etc. Digitizing this process with the support of technological advances is a fail-safe approach to increase placement efficiency and SLA compliance.
Streamlining services with the help of actionable procurement intelligence:
Easing the procurement process through reliable intel plays a vital role in reducing management burdens and enhancing overall efficiency. Buyers must compare suppliers based on not just cost, but also other key factors such as resource availability and timeliness to improve the procurement transportation process. Leveraging supplier analysis enabled by technology expertise will help speed up the selection process and better estimate costs by improving decision making capabilities.
Why Choose SpendEdge?

Realize tangible benefits besides cost reduction:
Using their extensive industry knowledge and research expertise, our experts will help you identify the best-fit suppliers based on specific parameters and provide recommendations that will allow you to maintain smooth supplier relationships. Having a supplier base that is characterized by the right balance of cost, skill, and reliability will play a vital role in achieving desired outcomes in addition to cost savings, such as better contract management and greater supply chain efficiency.
Improve your understanding of market pricing for better budget planning:
We provide transportation procurement teams with valuable market insights, including latest trends and developments as well as accurate pricing insights, to help them make informed decisions related to budgets and supplier engagements. Our benchmarking analysis will help you evaluate your standing in the market as well as in supplier negotiations to devise suitable strategies and achieve cost efficiency. Services also include a sound sustainability and risk analysis of your suppliers, which will enable you to proactively respond to risk and protect business outcomes.
Success stories: SpendEdge helped transportation clients to achieve business transformation with market intelligence for cutting edge procurement services.
A leading pharmaceutical company was looking to understand the dynamics of the distribution and logistics market globally and identify suppliers that could provide reliable inbound distribution services across major regions, including Eurasia, Africa, and the Middle East. It required suppliers that could handle customs clearance in addition to these services and wanted to evaluate the impact of COVID-19 on the regulatory landscape in the focus regions in order to adapt its procurement processes and enhance cost efficiency. Realizing its competitors were already ahead in terms of their responsiveness to sudden market changes, the company was keen to obtain information on their strategies and overall industry best practices, including a thorough analysis of rail transportation as an evolving mode of distribution for the global pharmaceutical industry.
Our team of analysts was deployed to study the scope and challenges faced by the client and develop a strong research methodology that could help address all of their concerns in a timely manner. We analyzed the latest developments in logistics infrastructure for all the regions under focus and helped the client gain a clear understanding of the capabilities of leading suppliers in these markets. A thorough comparative analysis of the prevalent pricing models was also conducted to highlight the various pros and cons associated with each. Furthermore, our experts delivered a detailed breakdown of the latest trends and challenges in the market post the outbreak of COVID. Then, we conducted the supplier identification and shortlisting process based on relevant KPIs to help the client kickstart its engagement plans with the backing of reliable and actionable supplier intelligence. Through this engagement, the client was able to quickly identify the bottlenecks associated with its processes and systems and address the same. With an improved understanding of the changes in market dynamics and actionable insights into logistics capacity and rates, the client was able to revamp its contracts and achieve cost optimization. Our solution also helped in route optimization as the client could make informed decisions supported by knowledge of changes in trade routes globally. Also, regulatory insights across the focus regions enabled the client to mitigate risk effectively and improve supply chain efficiency. A country-wise breakdown of the logistics and distribution market for these regions provided the client with valuable insights to make future plans aimed at fostering exponential business growth.
Navigating the complex landscape of transportation procurement can put unnecessary strain on your organization, especially in the absence of expert procurement intelligence. Connect to understand what we can do for you!
FAQ
What is the function of transport management procurement?
The primary objective of this function is to ensure effective and timely movement of goods and people through the most cost-effective means.
What is the transportation procurement process?
This refers to the process in which organizations obtain products and services to smoothly conduct business operations.
What are the solution offerings for the transportation industry?
SpendEdge offers market outlook analysis, supplier and category intelligence, cost modeling, sustainability, and risk analysis, among many others for the transportation industry.
What is the relationship between logistics and procurement?
These two functions are very closely linked, wherein they work together to ensure that products or services are made available as and when needed while lowering costs.
Author's Details
Vinodh Kumar Kshathriya
Associate Vice President, Sourcing and Procurement Intelligence
Vinodh manages a research team within Infiniti Research, working closely with some of the largest (Fortune 500 included) clients from the pharma, energy, F&B, and defence sectors. With a total of 16 years of experience in research and client services, he has majorly worked on solving business queries through various analysis including market, financial, risk, costing, etc.