By: Ankur Rishi
The global auto parts aftermarket is in the throes of a thorough-going transformation, and this is significant since the sector accounts for up to four-fifths of the auto parts manufacturers' margins! The fast-paced transition to electrified transportation, vehicle sharing and fractional ownership services, as well as the inevitable adoption of digital technologies represent the hurricane-strength winds shaping the landscape of the aftersales market. On the face of it, all these are positive and decisive trends that should lead humanity toward net-zero pathways by the end of the decade. However, amid most market-shaping shifts some existing product lines might find themselves overwhelmed and rendered nearly obsolete ("creative destruction"). The case of the auto parts aftermarket is hardly anything different. The shifting sands could bode well for the after-sales sector overall, but there could be a few bumpy stretches ahead that might put the perseverance and skills of auto parts manufacturers to the test. For instance, the transition to electric vehicles is expected to reduce consumption of various internal-combustion engine parts, starters and alternators, and various vehicle fluids (e.g., engine oil, brake fluid). Personalizing autonomous vehicles is quite a challenge. So, widespread adoption of driverless, crash-avoiding fleets might dwindle demand for unique vehicle accessories. So, auto parts manufacturers must brace themselves to ride out the rough with the smooth and turn those few hassles around the corner into opportunities to grow their business.
Electrification might give mild shocks to the automotive aftermarket
The shift to electrification in the automotive space is arguably a positive development since electric vehicles are known to discharge only half as much greenhouse emissions as gasoline cars. However, even breakthroughs that are considered beneficial, by general agreement, could have a disruptive impact on existing markets. Since an EV is an entirely new paradigm that pivots around an electric motor, the conventional engine goes out of the window, and so does engine maintenance in the historical sense. The electrification revolution, for instance, means the lifespan of brake pads gets extended by 6x to 12x, compared to those of fossil fuel vehicles, and this has the effect of lowering demand for such automotive components!
The growth of shared mobility comes with a few downsides
The explosive rise of shared mobility, wherein fleet operators own vehicles that users can rent, is making transportation more affordable. By the end of the decade revenue from shared mobility is expected to hit $1 trillion! Moreover, shared mobility options, like mass transit, private shuttles, buses, taxis, auto-rickshaws, car, and bike-sharing, increasingly make use of electrified fleets with self-driving capabilities. Furthermore, by replacing multiple vehicles with a single shared means of transport, such services ensure fewer carbon emissions per mile of commute. Even so, pooled riding based on self-driving or largely autonomous EV fleets in not altogether an unmixed blessing for the auto aftermarket. Because electrification, coupled with intelligent driverless features, will dampen demand for internal-combustion engine accessories and other auto parts previously discussed.
Digitization will step up competition and pricing pressures
Digital enablement is rapidly suffusing all segments of the automotive value chain, extending all the way up to aftermarket and service. Though digital distribution of aftermarket auto parts is currently progressing at a modest pace, with large participants like eBay Motors ($411bn in net sales) dominating the market and smaller niche players like carparts.com ($559m in net sales), advanceautoparts.com ($400m), carid.com ($350m), discounttire.com ($210m) and tirerack.com ($200m) trailing way behind. That said, nascent players in specialized segments could turn up the heat on bigger incumbents by progressively refining the cost structure, customer experience, and product features. This may well be true of even the automotive IoT market that is currently the preserve of digital biggies.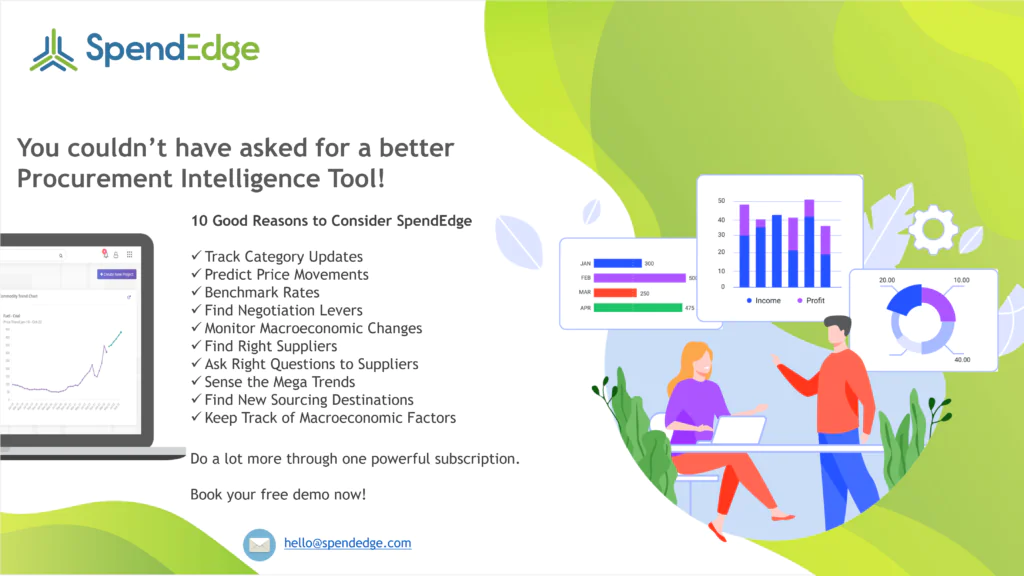 Contact us now to solve your procurement problems!
Author's Details
Ankur Rishi
Vice President, Sourcing and Procurement Intelligence
With more than 12 years of advisory experience, Ankur manages platform content and services within the sourcing and procurement vertical. Over the years, Ankur has provided consulting services to category leaders from chemicals, energy, and packaging industry, on varied topics, such as category strategy, spend analysis, commodity pricing, and clean-sheet analysis.