Semiconductor and microcontroller shortage is among the latest and most critical challenges faced by automotive players. Some of the largest automotive parts manufacturers planned production stoppage due to shortage of raw materials. To mitigate it, it is suggested to invest in data-driven solutions and automated tools. For instance, suppliers can improve the transparency of the entire supply chain process, wherein advanced analytics is used to forecast demand and ensure accurate allocation of resources.
The pandemic and the geopolitical risks experienced in the recent past have brought out the instabilities in the procurement process in automotive industry. Automotive procurement specialists have shifted their focus from just-in-time manufacturing strategy to short-term and long-term demand planning.
Major procurement & sourcing trends (best practices) in the automotive industry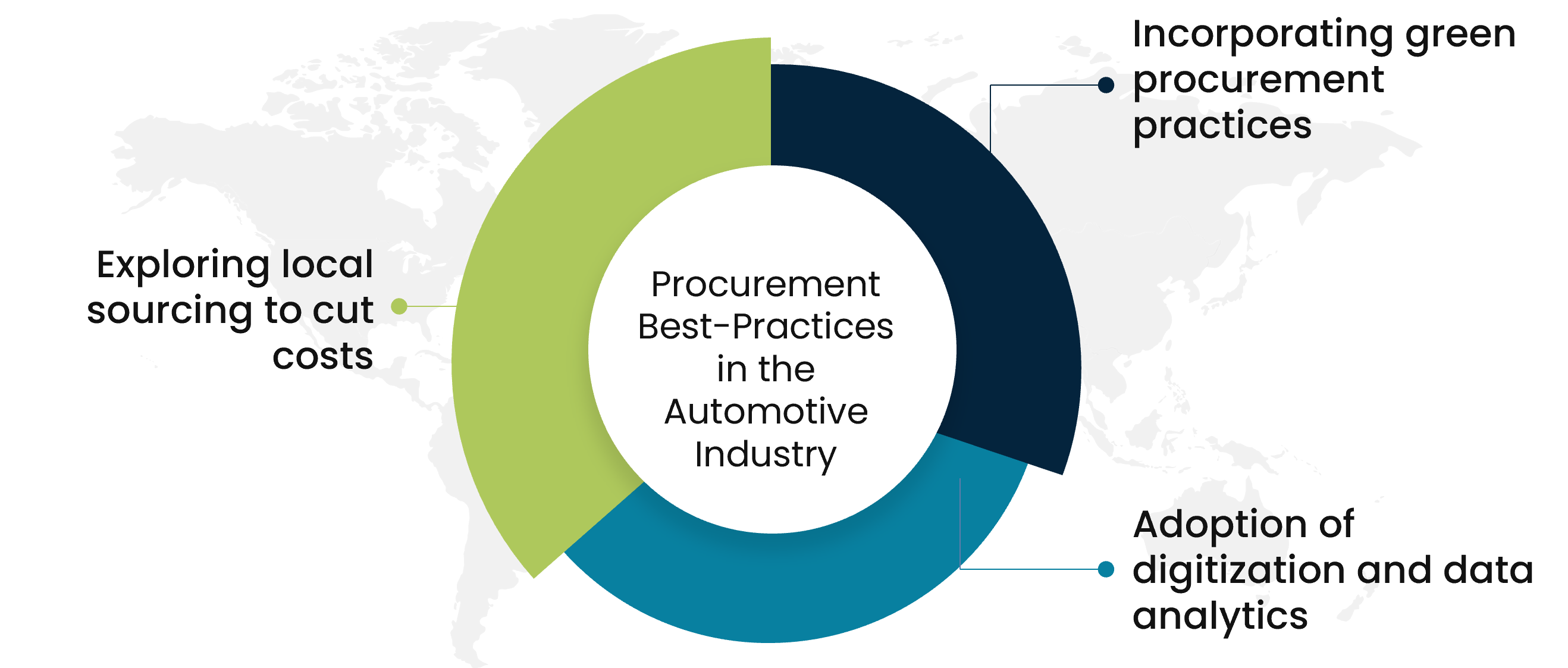 Exploring local sourcing to cut costs:
Cost optimization is a key focus area in the automotive procurement process. Companies operating in the automotive supply chain are indulging in strategies such as renegotiating contracts, implementing lean manufacturing, and leveraging economies of scale to reduce costs. The companies are shifting to low-cost local sourcing to reduce dependence on single source or region and to avoid transportation disruption in procurement in automotive industry. It also improves efficiency by reducing lead time and transportation costs. For instance, several companies are shipping their vehicles as semi-knocked down, completely knocked down, or built-up for export to save tax.
Other strategies that can reduce costs include renegotiating contracts, implementing lean manufacturing principles, optimizing transportation routes, and leveraging economies of scale.
Incorporating green procurement practices:
Emphasis on adopting sustainability initiatives has been increasing across industries worldwide, and the automotive industry is no different. Players in the automotive industry are incorporating green procurement practices to reduce their environmental impact. They are also selecting suppliers based on the latters' environmental credentials such as the use of renewable energy and waste management.
Shifting to electric vehicles and ensuring they are truly sustainable are other trends in the automotive industry that are gaining momentum. It is estimated that electric vehicles will reduce greenhouse gas footprint by close to 40% for passenger vehicles and operating emission by less than 80% when the renewable energy source is used.
Adoption of digitization and data analytics:
With electrification, shared mobility, autonomous vehicles, and connectivity gaining popularity, some of the largest automotive parts manufacturers are accelerating their digital transformation. They are adopting IoT, real-time connectivity, and data management and analytics to enhance their operations. For instance, automating and standardizing the purchasing processes can improve margin-based sourcing.
The adoption of such technology-driven procurement practices will improve flexibility and agility, i.e., automotive companies can respond quickly to market changes and adapt to emerging trends, thus staying ahead of competition.
How and why should your business adapt to these automotive procurement trends?
An average car has over 30,000 parts in it, and no manufacturer can produce all these parts in house. Also, the tiniest of issues in these parts can have a Bullwhip effect, including product recall. Therefore, sourcing and procurement of parts can never be only about speed and price, but equal weightage must be laid on quality.
Using technology-driven solutions to streamline their procurement process will help players in the automotive industry to ensure quality and thereby avoid recalls. These solutions will also help players improve their supplier intelligence and performance management, as well as refine supplier information.
Road map for organizations to automotive procurement
The pandemic and geopolitical uncertainties have caused disruptions to supply chains and transportation, as well as impacted demand. This has led automakers to rethink their supply chain structure, and many automotive benchmarking companies are rooting for localization to avoid global supply risks and regulatory stipulations.
Along with this, the industry is facing cost hike due to inflation and raw material price increase, among others. Since, in the current economic scenario, the hike in price cannot be passed down to the customers, the focus must be on reducing discretionary spending and undertaking other cost-control initiatives.
The companies should also restructure their procurement model to reduce costs, develop capabilities to tackle green materials sourcing and target net-zero goals across the value chain. The adoption of Industry 4.0 will help automotive companies to streamline their operations and improve their responsiveness to market changes.
Why Choose SpendEdge?

Engage with best-fit suppliers:
When an average car requires over a thousand parts and a slight defect in these can result in product recalls, selecting the right supplier, i.e., a reliable, trustworthy, and one that provides quality products at a competitive price, becomes critical.
An automotive manufacturer must deal with multiple raw material suppliers and logistics partners, among others, to ensure the smooth rolling out of their products. We not only help automotive manufacturers to select the best-fit suppliers but also offer strategies for cost cutting.
Improve procurement efficiency:
While just-in-time inventory management is essential to control spiraling costs, recent semiconductor and chip shortage has brought out the flaw in it. Our team of experts can help suggest the best SRM system and technology solutions, among others, that can be used to improve procurement efficiency while keeping the manufacturing cost in check.
Success Stories: SpendEdge helped automotive clients achieve procurement transformation to stay ahead of the curve in the automotive industry.
A leading automotive parts manufacturer was looking for benchmarking of its peer organizations, with special focus on the functioning of their purchase departments, their spending efficiency, and the metrics used.
We used KPIs such as cost, quality, service, and operational metrics, along with cost of procurement, to assess them. We also identified key procurement trends. Based on our assessment, we suggested centralization of indirect goods/services to improve procurement efficiency and the adoption of big data and blockchain technology to automate supplier negotiations and improve traceability.
These suggestions helped the client to strengthen its purchase department and gain a competitive advantage when compared to its peers within a year.
Worried about the recent supply chain disruption that has hit the automotive industry hard? We can help you to identify and collaborate with the best-fit suppliers, customize sourcing strategies to meet your requirements, and offer methods that can help achieve cost efficiency while ensuring quality. Talk to our experts now.
FAQ
What are the key success factors of automotive procurement?
In the current scenario, automating the procurement process to improve efficiency and profitability while keeping the cost and error rate low would be the key success factor.
What are the challenges in automotive aftermarket supply chain?
Semiconductor crisis, the need to shift to electric vehicles, and shortage of raw materials and parts due to geopolitical crisis and COVID are some of the challenges faced by the industry.
What are the 5 main things to consider in automotive procurement?
Supplier selection, quality control, cost management, logistics and supply chain management, and regulatory compliance are the 5 key criteria to consider in automotive procurement.
Author's Details
Vinodh Kumar Kshathriya
Associate Vice President, Sourcing and Procurement Intelligence
Vinodh manages a research team within Infiniti Research, working closely with some of the largest (Fortune 500 included) clients from the pharma, energy, F&B, and defence sectors. With a total of 16 years of experience in research and client services, he has majorly worked on solving business queries through various analysis including market, financial, risk, costing, etc.