In the tire industry, supply chain management is of paramount importance. Procurement practices that are efficient are necessary to secure raw materials from suppliers in a timely and cost-effective manner. Tires are composed of several materials, including rubber, steel, fabric, and chemicals. By guaranteeing a consistent supply of high-quality raw materials, tire manufacturers can prevent production setbacks and fluctuations. Effective supply management involves evaluating supplier performance regularly, negotiating favorable terms, and collaborating on new product development. In a highly competitive market, cost control is crucial to maintain profitability, which includes tire professionals needing to analyze the market trends and identify cost-saving opportunities.
Risk mitigation in tire supply chain management
Visibility to supply chain risks:
End-to-end visibility of the supply chain is necessary for the tire industry since it is susceptible to risks like raw material shortages and input price spikes. The purchasing organization must search for suppliers who can provide resources like steel, rubber, and petroleum. To lessen the danger of shortages, they must keep an eye on market trends and look to diversify their supply base. It is important to make sure that the suppliers never compromise on quality. Circumstances like trade conflicts or changes in rules might interrupt the supply chain.
Moving toward sustainable material sourcing:
In today's market, there is a growing demand for sustainable products. The tire industry needs to keep up with this trend and prioritize sustainable sourcing. This means seeking out suppliers who offer renewable materials and use sustainable processes. Renewable materials like rubber can be replaced with synthetic rubber or bio butadiene which is another type of synthetic rubber that is processed from green plants. Finding a supplier who meets this requirement has become a challenge, as very few vendors comply with it.
Measures to soften the inflationary blow:
The tire industry has been impacted by rising procurement costs due to inflation in the prices of raw materials such as energy, steel, and rubber. It is important to find ways to mitigate the impact of inflation on the tire industry, as steep price increases may lead to a significant reduction in production costs and harm the tire market. To make an informed decision, the company needs to conduct a thorough analysis of the supplier market, compare prices, and choose the most suitable option.
Solutions to risk management in automotive industry (How SpendEdge can help you)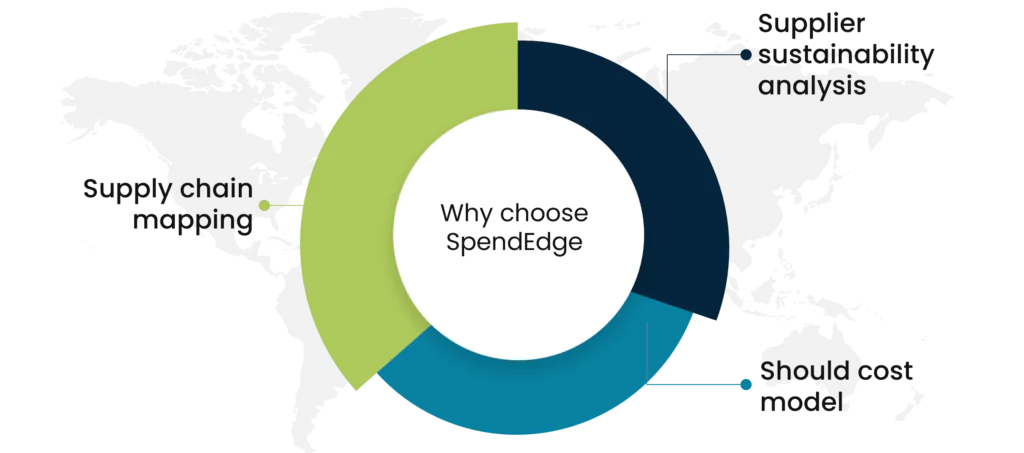 Supply chain mapping:
Gain a complete understanding of the supply chain processes with our 360-degree view. Learn about the origin of supplies and identify potential bottlenecks. Our comprehensive supply chain insights can help you determine supplier responsibilities and assess risk factors and categorize them based on their impact and probability. This will allow you to develop effective strategies to proactively address potential risks before they impact your operations. We provide you with risk scores to ensure full compliance across the supply chain and enable you to assess the risk profiles of each segment and prioritize the most damaging risks and focus resources on them.
Supplier sustainability analysis:
You can evaluate supplier practices regarding environmental, social, and governance factors. Guard and boost your reputation by learning about socially conscious practices, and attract investors based on sustainability achievements. Establish short-term and long-term goals for suppliers in all tiers, identify modern sustainability practices adopted globally, and address existing potential sustainability gaps. Make informed decisions and pave the way for a sustainable future for your organization by utilizing relevant insights. Mitigate social and environmental risks and enhance your brand image by assessing the sustainability practices of your suppliers through our detailed sustainability analysis.
Should cost model:
Our comprehensive cost models provide accurate details on each cost element, giving you an edge in your business. With this information, you can respond quickly and effectively to risk scenarios, predicting the impact of price volatility in advance. By knowing the genuine cost of a product or service in advance, you can strengthen your negotiations with suppliers. Complete visibility of the product cost break-up will help you identify the best-fit suppliers for long-term engagements. You can increase cost savings by analyzing detailed cost break-ups. Also, our should cost model can help you understand current and future market trends, which will enable you to optimize your budget planning. Finally, you can find alternatives to products/services that have high-profit margins or are not cost-effective.
Success Stories: How SpendEdge helped automotive company enhance procurement function
The tire industry's supply chain is fraught with risks, particularly due to inflated prices that impact procurement costs. To address these challenges, tire companies are acknowledging the need to implement measures to mitigate risks.
In a similar vein, a tire company knocked on the door of SpendEdge with the aim to achieve complete visibility of its supply chain activities in order to anticipate and resolve potential risks before they arise. Additionally, they sought to alleviate the impact of rising energy and raw material costs and decrease inflationary pressures. The company also aimed to transition to sustainable sourcing through the identification of sustainable vendors.
Our expertise enabled a 360-degree view of the supply chain activities of the company, and the client was able to anticipate risks and resolve them before they caused any harm to the operations. Our supplier sustainability analysis provided the client with the best suppliers in the market who comply with their sustainability goals. Our cost model assisted the client in forecasting the effects of price fluctuations beforehand, and enabled them to effectively negotiate with potential suppliers.
The client was incredibly pleased with the results of our recommendations as they were able to reduce risks and maintain a smoothly functioning supply chain.

Click Now!, to avail of all our services
Author's Details
Vinodh Kumar Kshathriya
Associate Vice President, Sourcing and Procurement Intelligence
Vinodh manages a research team within Infiniti Research, working closely with some of the largest (Fortune 500 included) clients from the pharma, energy, F&B, and defence sectors. With a total of 16 years of experience in research and client services, he has majorly worked on solving business queries through various analysis including market, financial, risk, costing, etc.