By: George Mathew
Organizations can strategically improve customer service and enhance the overall customer experience, while also increasing operational efficiency, reducing costs, and gaining a competitive edge by outsourcing their customer service. This is especially true in the Banking, Financial Services, and Insurance (BFSI) industry, where outsourcing allows organizations to benefit from the expertise and experience of third-party providers.
Many banks choose to outsource their services to experienced providers to reap several benefits. By doing so, they can quickly enhance the quality of their services, increase operational and financial efficiencies, and potentially lower costs.
Additionally, banks mostly outsource customer services to reduce costs, access specialized expertise, scale operations efficiently, focus on core activities, tap into a global talent pool, ensure regulatory compliance, and maintain high service quality standards, ultimately improving efficiency and customer satisfaction.
Benefits and advantages: customer service outsourcing
Greater expertise enhances the quality of service:
Outsourcing customer support services to experienced entities with the necessary resources can be the most effective solution. Additionally, with the convenience of digital services across multiple devices and the increasing knowledge of customers, it is ideal to have dedicated customer service teams to handle their inquiries and issues. Furthermore, access to a pool of skilled professionals means consistent and high-quality service, fostering customer satisfaction and loyalty. In essence, better expertise in customer service outsourcing enhances overall service quality, resulting in positive customer experiences and a strengthened brand reputation.
Timely resolutions to customer issues:
In today's banking industry, customers anticipate a smooth and tailored experience when interacting through email, phone, chat, and social media. According to a recent study, a significant number of customers prioritize timely service as the most crucial aspect of effective customer support. When organizations promptly address customer concerns, they earn their appreciation. Advanced technologies like voice recognition and natural language processing can be utilized by outsourcing customer service to providers. Additionally, outsourced providers may employ advanced technologies and specialized tools to streamline issue-resolution workflows. This results in quicker problem-solving, improved customer satisfaction and reduced customer churn.
Lead generation: outsourcing makes the process easier
Outsourcing can streamline lead generation, increase efficiency, and potentially yield a higher return on investment, making it a valuable strategy for many businesses. Lead generation through outbound calling services is an integral part of reaching new and existing customers and informing them about new or improved services. Outsourcing partners have well-trained teams to manage such calls and handle customers. They would know how to ensure the right prospects are contacted at the right time with the right information. Further, providing the right information at the right time is sure to boost customer loyalty.
How SpendEdge can help companies with solutions for outsourcing activity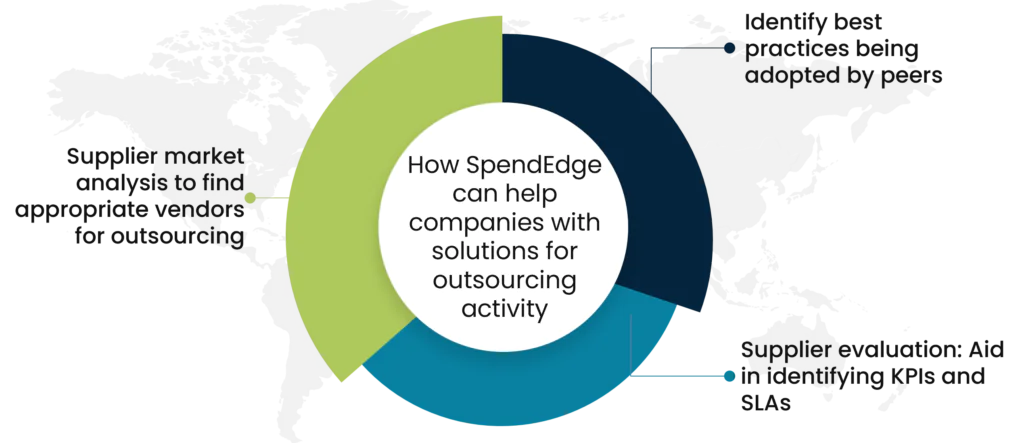 Supplier market analysis to find appropriate vendors for outsourcing:
With the aid of SpendEdge, you can assess the skills of companies that offer customer service assistance and gain a comprehensive understanding of the technology they employ and the risk management procedures in place. In order to give you access to all the best vendors with industry-recognized competence in offering customer services, we limit our pool of suppliers by examining the historical performance of the available suppliers and using criteria like revenue and profitability, sustainability requirements, and service quality. Our solution incorporates strong controls, such as vendor data verification and onboarding due diligence, to prevent supplier malpractices.
Supplier evaluation: Aid in identifying KPIs and SLAs
Our specialists at SpendEdge give their hundred percent to make you understand the main key performance indicators to measure the performance of vendors and understand the key service level agreements to add in the contracts to ensure customers get the highest quality service. When a disagreement arises, SLAs can be used as a written reference to resolve it. KPIs aid in understanding what should be prioritized or require course correction to ensure pre-defined outcomes are achieved. These tools assist businesses in efficient operations management, avoiding disruptions, and meeting customer TAT expectations.
Identify best practices being adopted by peers:
Gain a comprehensive understanding of the procedures that are widely used by BFSI companies to engage with customer service vendors and the engagement models they use, which will aid in improving the efficiency and end results of sourcing and procurement activities. By following established guidelines outlined in best practices, you can uphold superior standards in product, service, and processes while minimizing errors. This will help your sourcing function make informed decisions and maintain a competitive edge. Adhering to these best practices will also enhance your business's reputation as a dependable, trustworthy, and competent organization, which can foster greater customer trust and loyalty.
Success Story: How SpendEdge helped a bank with its market intelligence
A European banking company has been using a customer service vendor for a while, but there was concern about the pricing. It was unclear if the vendor was charging market-standard rates or overcharging. To address this issue, the client enlisted SpendEdge to conduct a cost structure analysis. The goal was to identify how the main cost elements add up and determine if the vendor was charging excessive margins.
SpendEdge analysts conducted a thorough analysis of the cost structure at a cost-per-customer service representative level. Various cost elements such as labor cost, technology cost, other costs (overheads), management costs, etc. were analyzed. The analysis was done for three different geographies based on where the current vendor was located and other countries the client was interested in. Also, negotiation levers to get a better deal from vendors were also shared with the bank.
Based on our findings, it was determined that there was scope for a reduction in the CSR billing rate from the current vendor. In addition, if the client wanted further savings, they could move to one of the low-cost countries for which the cost structure was analyzed. Eventually, the client went ahead with their existing vendor but was able to use the cost structure as a negotiating tool to get better billing rates. Also, the negotiation levers shared by SpendEdge helped the client in effectively negotiating for better rates.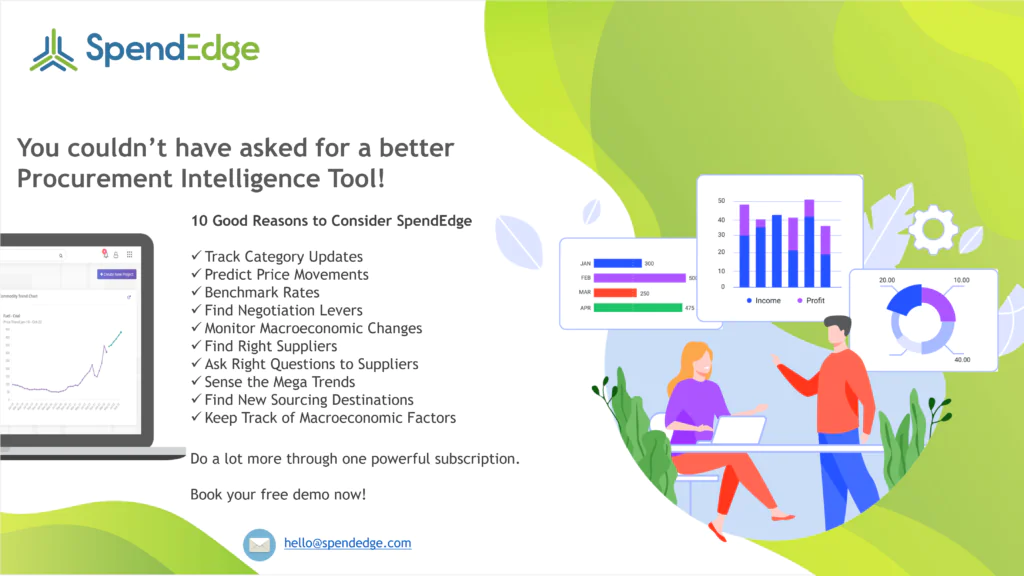 Contact us now to solve your procurement problems!
Author's Details
George Mathew
Associate Vice President, Sourcing and Procurement Intelligence
George is a procurement specialist at Infiniti Research and provides advisory services to clients across the pharmaceutical, CPG & FMCG, energy, and automotive sectors. He specializes in the procurement areas of industry benchmarking, cost modeling, rate card benchmarking, negotiation advisory, and supplier intelligence.