Financial service businesses have increasingly turned to procurement to enhance supplier relationships. This shift is driven by a desire for cost efficiency and risk management. By negotiating favorable terms, financial firms can reduce expenses and ensure regulatory compliance. Moreover, procurement helps secure reliable suppliers and minimize operational disruptions. Strengthening these relationships ensures a steady supply of essential services and fosters collaboration for innovation, ultimately benefiting the financial industry's competitiveness and sustainability. The procurement function in financial services has evolved from a cost-centric approach to a strategic one. It now emphasizes supplier collaboration, risk management, and innovation. Digital tools and analytics have enhanced efficiency and transparency, enabling better supplier relationships, cost savings, and regulatory compliance.
How procurement teams can help establish strong buyer-vendor relationships
Effective cost management and focus on innovation:
One crucial aspect of achieving savings is effective cost management in supply chain management. Procurement teams can assist by gathering and analyzing data to suggest reliable suppliers and prices, which can help lower ongoing costs and reduce operational risks. In the financial services industry, outsourcing has long been viewed negatively as a mere cost-cutting tactic that shifts responsibilities to external parties. However, this attitude is changing as industry professionals adopt new terminology like 'co-sourcing' and 'embedded support.' In this new approach, organizations view their suppliers as valuable partners who can provide more than just cost savings.
Efficiently use data and insights:
The role of procurement is critical in both cost savings and the provision of comprehensive data for affordability assessments to credit risk teams. A recent example of this is the integration of Buy Now, Pay Later (BNPL) data into credit risk engines by credit bureaus. This integration provides a wealth of new insights that benefit both credit providers and consumers. Procurement teams, particularly in financial services, are becoming increasingly data-driven, intelligent, and agile. To achieve full enterprise value, procurement requires a combination of expertise, efficient processes, and enabling data and technology.
Undertake digital transformation:
Financial services are particularly impacted by digital transformation, as procurement plays a crucial role in driving performance. However, many businesses that attempt to carry out digital transformation projects alone find that the costs can become exorbitant. This is especially challenging as liquidity and the bottom line are already under pressure. Co-sourcing and procurement practices can help financial services by enabling a more coordinated allocation of resources. Procurement specialists can assist in sourcing the appropriate products and services to ensure a smooth and efficient implementation of digital transformation projects. This highlights how procurement is becoming increasingly important across various business areas and is no longer just a back-office function.
How SpendEdge can help with financial service procurement
---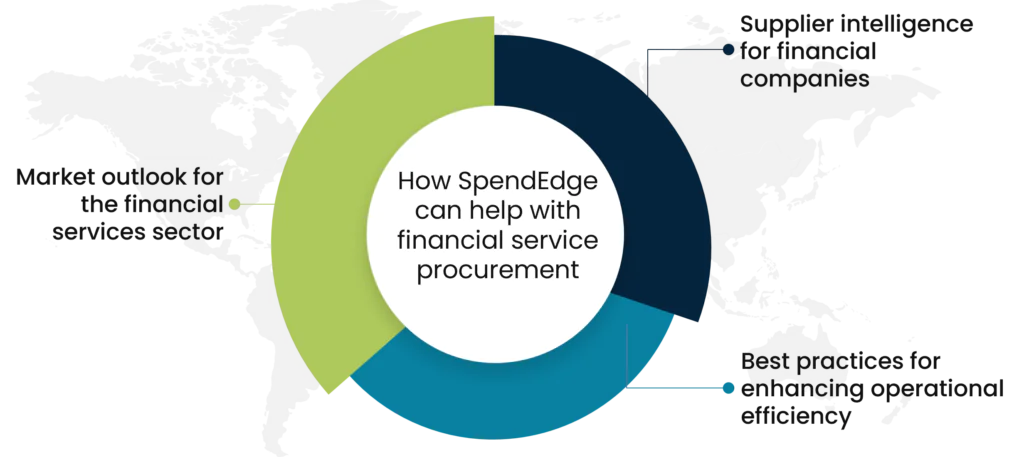 ---
Market outlook for the financial services sector:
SpendEdge's team of experts can provide market outlook reports tailored to the financial services sector. These reports include insights on industry trends, regulatory changes, and economic indicators. We offer risk assessment and mitigation services, helping procurement managers identify and address potential risks in their supply chain. Our experts help financial services companies achieve better demand/supply equilibrium by optimizing supply chain KPIs, improving the accuracy of market predictions, and delivering efficiency.
Supplier intelligence for financial companies:
At SpendEdge, we offer supplier evaluation and vendor risk management solutions that can help financial service companies assess the capabilities and stability of their suppliers. We also provide vendor performance benchmarking and analysis to help companies make informed decisions about their supplier relationships. Our supplier intelligence solutions will enable you to build up your diverse pipeline and onboard certified vendors, which will not only improve business outcomes but also demonstrate your workforce commitment.
Best practices for enhancing operational efficiency:
At SpendEdge, we can provide expert guidance and advice on how to improve procurement and sourcing processes in the financial sector. Our team can also share insights on cutting-edge solutions and technologies that can boost operational efficiency, such as market analytics and digital procurement platforms. By adopting best practices commonly used in the financial services sector, businesses can align with regulatory requirements, demonstrate compliance, and meet legal obligations. Furthermore, implementing best practices can help mitigate risks that may arise from non-compliance.
The success story of how SpendEdge helped a banking firm procure third-party risk management services
Procurement in the financial service industry encounters challenges such as regulatory compliance, vendor risk management, and digital transformation, hindering efficiency and cost-effectiveness. In a similar vein, a global banking firm headquartered in the US wanted to improve its third-party risk management process as it was unsure whether the services and measures being used by its current service provider were sufficient. The client felt vulnerable to data breaches and reputational damage since the current service provider was not sufficiently transparent about risk management measures being used.
SpendEdge did a thorough benchmarking of the capabilities of several suppliers in the market. Factors such as years of experience, previous experience managing security issues and data breaches, the type of clientele served, etc. were considered to determine a list of alternate suppliers the client could engage with. Our insights helped the client to shortlist three third-party risk management service providers who were invited to the RFx stage. Eventually, the client changed its existing vendor and was able to gain better visibility on the processes being followed by the new vendor to manage risks.