By: George Mathew
The adoption of Artificial Intelligence (AI) in the banking and financial services industry has been steadily increasing over the past few years. The industry is actively leveraging AI in sourcing and procurement to streamline processes, reduce costs, enhance customer experiences, manage risks, and strengthen overall efficiency and competitiveness, while addressing regulatory and security needs. As AI technologies continue to evolve, we can expect even greater applications and innovation in this sector. However, along with the benefits, AI adoption also presents challenges related to data privacy, ethical considerations, and regulatory compliance, which need to be carefully addressed.
Banks and financial service providers are proactively bolstering their digital strategies by incorporating innovative automated solutions, aiming to enhance efficiency and deliver superior experiences for both customers and staff members. According to the global real estate services company, JLL's Banking and Finance Outlook report published in April 2023, the banking and financial services industry is expected to make the most substantial AI investments in 2023, with these service providers projected to increase their worldwide spending by an additional US$31 billion by 2025.
The incorporation of AI presents a significant challenge for both banks and financial service providers:
Issues surrounding data privacy and security are a growing concern in today's digital landscape
Banks and financial service industry manage extensive volumes of sensitive customer data, underscoring the paramount importance of prioritizing data privacy and security. Generative AI relies on substantial datasets for training models, which may encompass personally identifiable information (PII) and financial particulars, necessitating vigilant safeguards.
Ensuring the protection of this data against breaches and unauthorized access is a top priority. Banks need to invest significantly in strong security measures and compliance frameworks to guarantee data security and meet regulatory standards. This adds complexity and cost to the adoption of AI.
Establishing regulatory frameworks is crucial for ensuring adherence to fundamental standards
The banking and financial services sector functions under a rigorous regulatory structure aimed at upholding transparency, equity, and safeguarding the welfare of customers. Integrating AI necessitates compliance with these regulations, which frequently struggle to keep pace with the swift advancements in AI technology.
Banks and financial service providers must exercise careful consideration of the ethical dimensions when implementing AI, including the prevention of biased results, ensuring explainability, and maintaining algorithmic transparency. Complying with existing regulations and adapting to evolving ones presents significant challenges, necessitating thorough planning and specialized expertise.
Skill gaps are hindering the seamless integration of AI
The effective adoption of AI requires a workforce with advanced skills capable of comprehending and harnessing this technology. The Banking and financial services sector is encountering difficulties in either enhancing the skills of their current employees or recruiting new talent proficient in AI and Machine Learning (ML).
The scarcity of skilled professionals in the job market further complicates the implementation process. Additionally, the banking and financial service providers must cultivate a culture of AI adoption and establish an environment that motivates employees to embrace the transformations ushered in by AI.
Trust and explainability are crucial elements in the adoption of AI and ML systems
Trust and explainability in AI are vital for ensuring the reliability and transparency of AI systems. Trust involves reliability, transparency, accountability, fairness, and privacy, while explainability focuses on making AI decisions understandable through interpretable models, feature importance, visualizations, and clear rules. These principles are crucial for AI adoption across various domains and must be balanced with model performance. Achieving trust and explainability is supported by research and regulatory efforts, promoting responsible and ethical AI development and deployment.
How SpendEdge can help to mitigate supply chain obstacles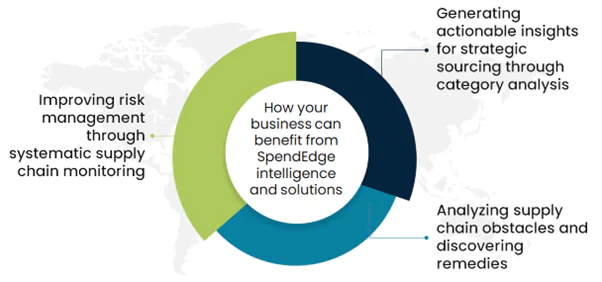 Generating actionable insights for strategic sourcing through category analysis
Our experts perform category analysis, scrutinize cost drivers, monitor market trends, assess supplier capabilities, and implement robust engagement practices. Our experienced advisors, analyze cost structures, and help in stay informed about industry shifts. Scrutinize suppliers for quality, reliability, and financial stability, and foster transparent, collaborative relationships. Our experts periodically review and adapt client's strategy to ensure efficiency and competitiveness in procurement.
Analyzing supply chain obstacles and discovering remedies
Our experts offers real-time insights into your supply chain, presents relevant information through industry updates, evaluates potential supply chain risks, fosters supplier relationships, and emphasizes ongoing enhancements. This proactive strategy will enable companies' to reduce disruptions and enhance the efficiency and performance of supply chain.
Improving risk management through systematic supply chain monitoring
Our sourcing advisors play a crucial role in supplier risk management by assisting supplier selection, risk assessment, geopolitical insights, diversification strategies, continuous monitoring, contingency planning, and technology integration.
Success story: How SpendEdge helped a leading financial institution in managing supplier risk effectively within their supply chain.
Our client is the US-based leading financial institution, which provides central banking, commercial banking, and investment banking. services.
Our client faced the challenges in managing supplier risk effectively within their supply chain. They wanted to mitigate potential disruptions, ensure compliance, and optimize costs associated with their extensive network of suppliers.
Our advisors developed robust risk assessment framework, taking into account supplier financial stability, compliance history, and performance metrics. Our experts also conducted in-depth category analysis, identifying opportunities for cost saving and supplier related issues impacting the bank's operations and streamlined the procurement process.
Our assessment and solutions helped the client to improve operational efficiency, enhanced risk management capabilities, and improved supply chain visibility and procurement efficiency.
.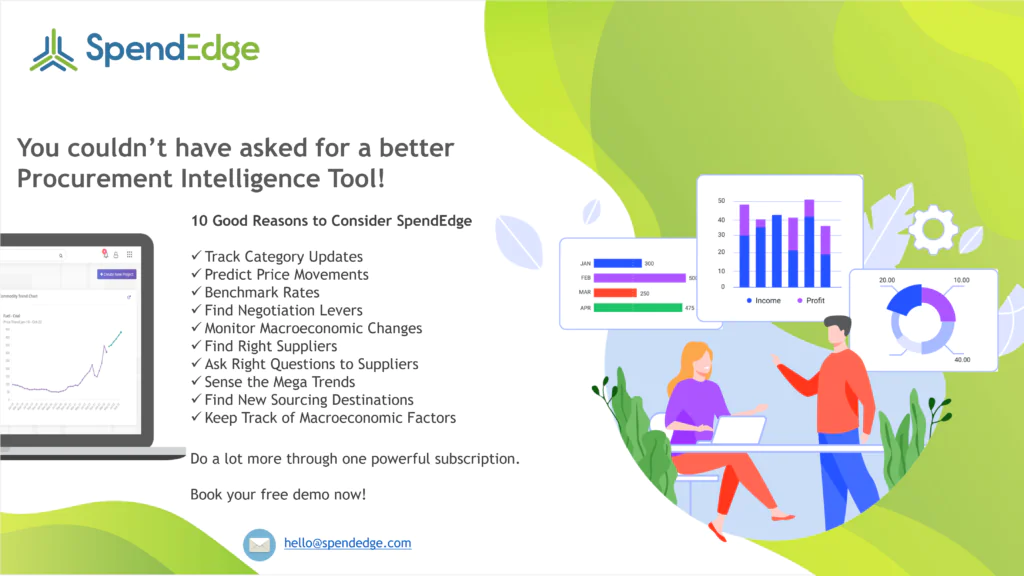 Contact us now to solve your procurement problems!
Author's Details
George Mathew
Associate Vice President, Sourcing and Procurement Intelligence
George is a procurement specialist at Infiniti Research and provides advisory services to clients across the pharmaceutical, CPG & FMCG, energy, and automotive sectors. He specializes in the procurement areas of industry benchmarking, cost modeling, rate card benchmarking, negotiation advisory, and supplier intelligence.