By: George Mathew
New developments and advances in biotechnology are profoundly impacting the procurement process. Cutting-edge technologies like CRISPR-Cas9 are revolutionizing genetic engineering, enabling more precise and efficient research tools. Additionally, breakthroughs in AI and machine learning are streamlining drug discovery and clinical trials, thereby optimizing resource allocation. Moreover, the rise of synthetic biology is driving demand for custom DNA synthesis services. This necessitates strategic procurement partnerships with suppliers capable of delivering high-quality, cost-effective genetic materials. AI and machine learning will continue to enhance the efficiency of drug discovery, leading to the development of novel therapies at a faster pace. This can potentially reduce drug development timelines and costs. Genetic engineering and personalized medicine will become more commonplace, tailoring treatments to individual patients based on their genetic profiles. Furthermore, sustainability concerns are reshaping procurement priorities, favoring eco-friendly sourcing of materials and reducing environmental impact. In essence, the biotech procurement landscape is evolving rapidly, with innovation at its core.
Challenges faced by procurement teams in the biotechnology industry
Concerns about supplier diversity:
While the industry is driven by innovation and scientific breakthroughs, it can be challenging to find diverse suppliers that meet specific quality and regulatory requirements. Biotechnology companies often require suppliers with specialized expertise and certifications, which can limit the pool of diverse suppliers that can meet these stringent criteria. Biotechnology involves strict regulatory standards and ensuring that diverse suppliers meet these requirements can be complex. Diverse suppliers may have limited experience in the highly technical and regulated biotech sector, making it difficult to identify suitable partners.
Continuous advancement in personalized medicine and devices:
Establishing long-term procurement plans is difficult because of the ongoing review of suppliers and products necessitated by quickly changing technologies. Customized treatments necessitate a wide variety of specialized tools and supplies, adding to the complexity of supplier relationships and procurement. In the purchase of tailored medicines, getting regulatory permissions and guaranteeing data protection can be challenging. To effectively support the developing landscape of personalized medicine and devices in biotechnology, procurement teams must remain flexible, encourage partnerships with creative suppliers, and stay current on regulatory changes.
Maintaining reliable and sustainable supply chains:
Maintaining a dependable and sustainable supply chain poses a significant challenge for procurement teams in the biotechnology industry. The need for a continuous flow of specialized materials, stringent quality control, and adherence to ethical and environmental standards adds complexity. Supply chain disruptions, whether due to natural disasters or global events, can severely impact biotech operations and research timelines. Balancing cost-efficiency with sustainability goals can also be challenging. Sustainable materials like bioplastic, biofuel, and bio-composites are used for production. Procurement teams must actively diversify suppliers, implement risk mitigation strategies, and embrace sustainable sourcing practices to ensure a resilient and eco-friendly supply chain, critical for the long-term success of the biotechnology industry.
How SpendEdge helps biotechnology firms in effective procurement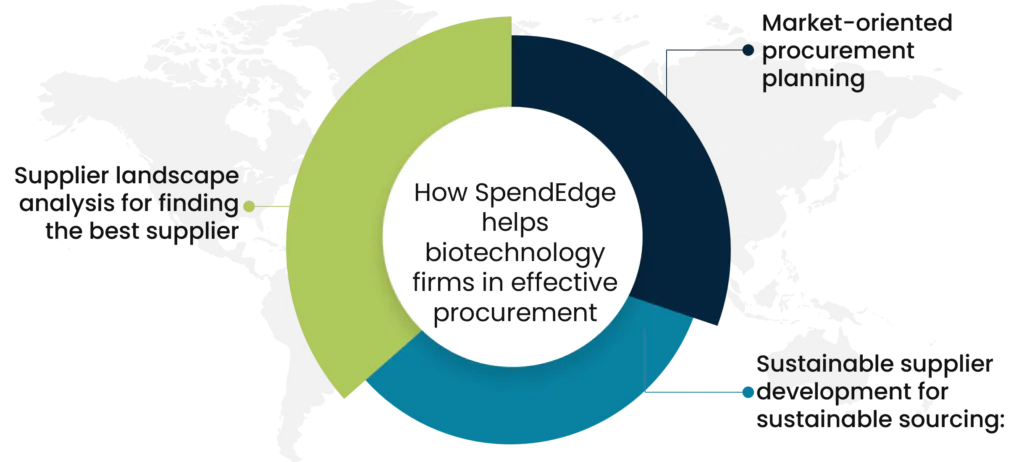 Supplier landscape analysis for finding the best supplier:
At SpendEdge the experts help you get all the information possible about each supplier. These suppliers are sorted into quadrants based on operational and functional capabilities and then ranked to identify best-fit suppliers. In the biotech sector, the quality of the chemicals and solvents utilized is essential and cannot be compromised. We assist you in locating the ideal supplier who upholds quality even during volatile market situations. We update you on the most recent information regarding potential and current suppliers, such as the top chemical suppliers and market price trends.
Market-oriented procurement planning:
With the aid of market analysis and information, we assist you in gaining a thorough awareness of current trends, demand, and the overall landscape of the biotech business. You can keep up with new technology, chemicals, and regulatory changes with the help of our expertise. We assist you in creating strategic alliances with major suppliers. Utilize the most recent data we have on price trends and the actual cost of the raw ingredients required to make pharmaceuticals to reduce your costs. With the aid of our services, you can create and establish a procurement plan that is both effective and efficient and ensure a constant supply of products from suppliers to the sector.
Sustainable supplier development for sustainable sourcing:
We assist in assessing the sustainability practices of suppliers throughout the value chain to mitigate social and environmental risks. Our service helps to identify contemporary sustainability practices utilized worldwide, allowing you to identify potential sustainability gaps. By utilizing this information, you can make informed decisions to resolve any issues in a timely manner. Monitor the challenges that arise during sustainability implementation; these challenges include limited supplier options or variations in sustainable chemical quality.
The success story of SpendEdge experts helping a biotech company with procurement
The biotechnology industry has been experiencing technological advancements in procurement. However, companies face obstacles when procuring chemicals and ingredients for drug discovery, resulting in slow procurement. In the same manner, a leading biotech company based in the US was facing challenges in maintaining a stable supply of raw materials and their product development timelines. The client also needed to balance cost-effectiveness with the need to secure consistent supplies.
Our experts conducted a thorough analysis of potential diverse suppliers within the biotechnology industry. They prioritized suppliers that aligned with the client's organizational values and had a track record of quality and reliability. Our experts also provided insights into long-term contract solutions and flexible pricing arrangements to ensure stable costs and reliable supplies.
Our solutions enabled the client to effectively manage the sourcing of rare raw materials, reducing the risk of delays in product development and ensuring consistent supply for their therapies.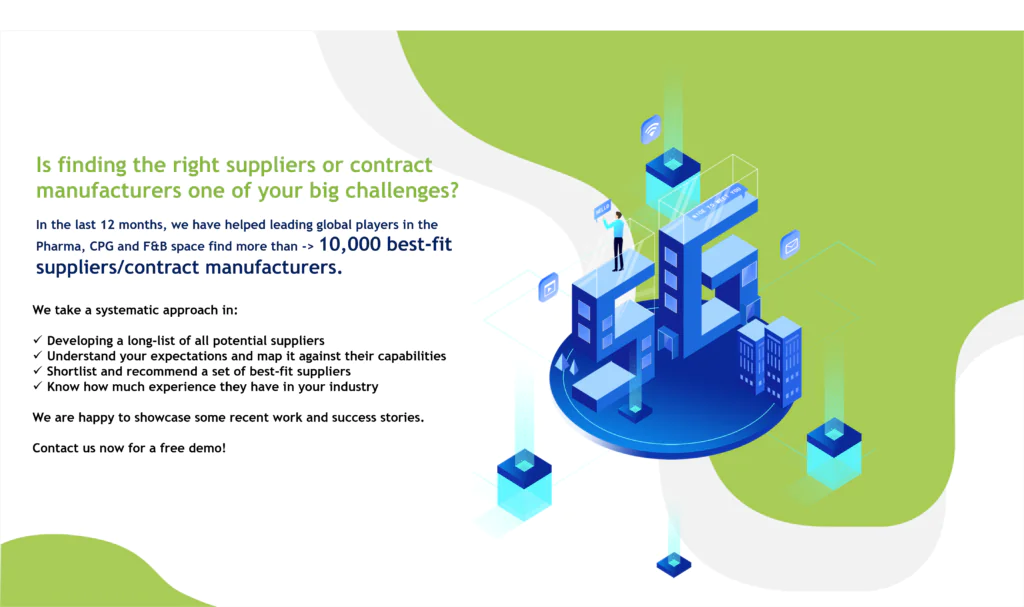 Contact us now to solve your procurement problems!
Author's Details
George Mathew
Associate Vice President, Sourcing and Procurement Intelligence
George is a procurement specialist at Infiniti Research and provides advisory services to clients across the pharmaceutical, CPG & FMCG, energy, and automotive sectors. He specializes in the procurement areas of industry benchmarking, cost modeling, rate card benchmarking, negotiation advisory, and supplier intelligence.