By: George Mathew
When procuring materials, there are several risks that can arise during the flow of goods from suppliers to companies. To ensure safety and regulatory compliance, it is important to thoroughly evaluate the quality of the products and the reputation of the suppliers. Companies should implement a comprehensive risk management plan that identifies potential risks, such as supply chain disruptions, product quality issues, or regulatory non-compliance. Developing contingency plans and alternative sourcing options can help mitigate these risks and ensure a smooth supply chain. Overall, a biotech company should prioritize thorough supplier qualification, robust contractual agreements, comprehensive risk assessment and mitigation plans, and ongoing monitoring and evaluation of suppliers' performance.
Risks involved in biotech procurement
Delayed purchase order process:
One of the biggest causes of order processing delays is when the vendor is unable to deliver orders on time during times of turbulent market circumstances. The purchasing business must identify the suppliers who, despite increased demand, guarantee on-time delivery. A supplier that is committed to his job will never miss a deadline for processing an order and will always make sure that their customers' needs are satisfied. The purchaser must go through the past performance of the supplier to gain a detailed understanding of their service quality and select the finest service provider.
Ineffective vendor onboarding:
There is a risk of disruptions in procurement because of inefficient suppliers hired owing to an ineffective vendor onboarding process. Biotech companies must ensure that vendors meet stringent quality standards and adhere to regulatory requirements. Effective communication and collaboration with vendors are vital for the biotech industry as it involves complex scientific concepts and specialized knowledge. The purchaser should focus on developing a robust vendor onboarding process that includes the evaluation of vendor capabilities, clear communication of expectations and requirements, and ongoing monitoring of vendor performance. This ensures that the vendor's products meet the company's needs and quality standards, thereby minimizing potential risks.
Supply chain risks:
Biotech companies heavily rely on a complex network of suppliers and vendors to obtain materials and other critical components necessary for the development and manufacturing processes. Supply chain disruptions lead to delays or shortages of essential materials, which can directly impact manufacturing schedules and product availability. It is crucial for the business to minimize the risk by identifying the threats and the extent of those threats to curtail the impact on business. By addressing supply chain risks, biotech companies can enhance their procurement processes, thus ensuring a reliable supply of critical materials.
Keys strategies and solutions for biotech procurement risk management (SpendEdge services)
Supplier risk analysis:
To mitigate the risk of delays in orders you must identify the risks that can cause them. We can assist you in assessing the likelihood and seriousness of risks. You may also group the risks into broad categories, such as financial, operational, strategic, and ESG. To create effective action plans, consider how each risk category will affect the development and reputation of your company. Recognize the risk-mitigation strategies used by suppliers and evaluate suppliers according to how quickly they respond to risk-related situations. Utilize technology-enabled risk insights to get an advantage over your rivals and create incisive, sensible strategies for handling interruptions.
Supplier onboarding:
Due diligence in the vendor onboarding process, frequent verification of vendor data, and other strong controls baked into our solution will prevent supplier malpractices like overcharging. With the help of our knowledge of the most recent developments involving potential suppliers, you may improve your vendor onboarding procedure. Get the best deals from suppliers, give discounts to players farther down the supply chain, and monitor your suppliers' brand reputation indicators just as you would your own. You can engage with certified vendors that we sort out from emerging markets.
Supply chain risk analysis:
You can get early warning alerts about impending supply chain risks for you to frame risk mitigation plans to respond swiftly to specific risk scenarios. We give risk scores that you can use for making effective supply chain decisions. We provide you with supply-side big data which can be utilized to gain timely insights and enhance operations. Get dashboard insights into the precise performance of your supply chain with the aid of our reports. This will help you examine supply network efficiency measures. Obtain unified, enterprise-wide perspectives of risk to start remediation. You can focus on the most dangerous hazards first and concentrate resources there. Identify how much a critical vulnerability may potentially affect how a firm operates.
Success Stories: How SpendEdge helped a biotech company enhance procurement function
An interruption in the materials procurement process in the biotech industry might have an impact on how smoothly products move through the supply chain. Companies must put in place some steps to lessen the impact of these interruptions in order to reduce these risks.
A biotech company settled in the US came to the doorstep of SpendEdge to get alerts on the supply chain risks and address the issue of delays in order processing. One of their key issues was ineffective vendor onboarding.
Our experts at SpendEdge provided risk scores to the company with the aid of which the client was able to make effective decisions. Our expertise helped the client to determine the risks associated with the supplier and how the vendors react to these risks and make effective decisions. Due diligence in the vendor onboarding process, frequent verification of vendor data, and other strong controls helped them with selecting prospective suppliers.
Our professionals were able to please the customer and deliver the greatest outcomes and accomplishments for them.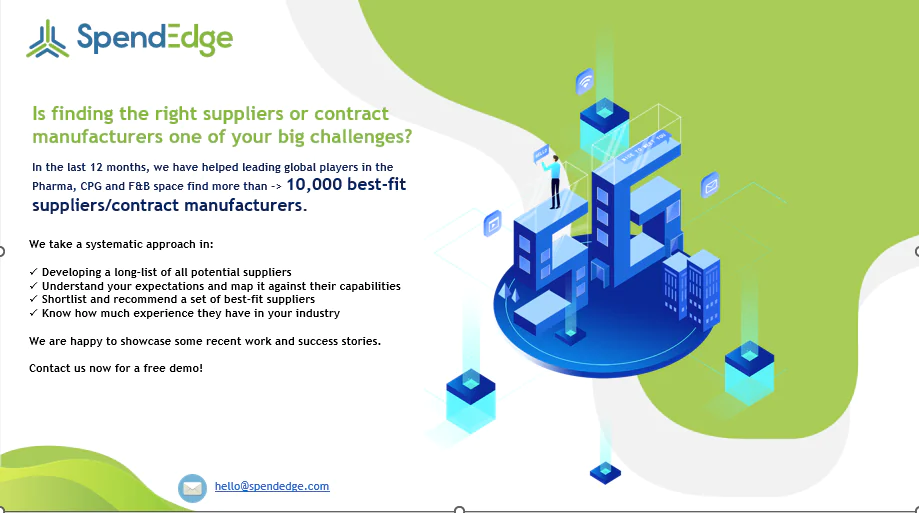 Contact us now to solve your procurement problems!
Author's Details
George Mathew
Associate Vice President, Sourcing and Procurement Intelligence
George is a procurement specialist at Infiniti Research and provides advisory services to clients across the pharmaceutical, CPG & FMCG, energy, and automotive sectors. He specializes in the procurement areas of industry benchmarking, cost modeling, rate card benchmarking, negotiation advisory, and supplier intelligence.