By: George Mathew
Hospital and health system procurement refers to the process of acquiring goods, services, and equipment necessary for the operation of healthcare facilities. This includes sourcing and purchasing medical supplies, pharmaceuticals, equipment, technology solutions, and various services required to support patient care. Effective procurement ensures the availability of high-quality products and services that meet the specific needs of patients and healthcare providers. This involves suppliers and thorough research, evaluating suppliers, and negotiating contracts to obtain the best value for the organization. By negotiating favorable pricing, and implementing strategic sourcing strategies, hospitals, and health systems can reduce expenses. Hospitals and health systems must adhere to strict regulatory standards and guidelines when procuring medical supplies and equipment. This includes verifying the authenticity and quality of products, ensuring compliance with safety regulations, and maintaining proper documentation and traceability.
What are the main challenges associated with sourcing hospital products?
Sourcing sustainable products is a challenge:
Developing and producing sustainable products can present several challenges. One of the primary challenges is ensuring that the entire lifecycle of the product, from sourcing raw materials to disposal, is environmentally friendly. This requires careful consideration of the materials used, manufacturing processes, energy consumption, and waste management. Another challenge is balancing sustainability with cost-effectiveness. Sustainable materials and production methods can sometimes be more expensive, making it necessary to find innovative solutions. When purchasing goods, the healthcare industry should seek out vendors who adhere to the sustainability standards of the facility and offer sustainable products at reasonable prices.
High procurement cost:
High procurement costs can indeed pose a challenge for hospitals and healthcare systems. The expenses associated with acquiring medical equipment, supplies, and pharmaceuticals can significantly impact their budgets and financial sustainability. These costs can be influenced by various factors such as market demand, supplier pricing, and technological advancements. Healthcare organizations often strive to find cost-effective procurement strategies, negotiate favorable contracts with suppliers, and explore alternative sourcing options to mitigate this challenge. When healthcare facilities make a purchase, it's important for them to analyze the market prices to find the actual cost and search for suppliers who offer competitive pricing.
Lack of quality assurance:
The lack of quality assurance in procurement for hospitals and health systems can be a significant concern. Ensuring the quality and reliability of medical equipment, supplies, and pharmaceuticals is crucial for patient safety and effective healthcare delivery. Without proper quality assurance measures in place, there is a risk of procuring substandard or counterfeit products. To address this challenge, healthcare facilities can implement robust quality assurance protocols throughout the procurement process. This may involve conducting thorough supplier evaluations, verifying certifications, and regulatory compliance. Collaborating with reputable suppliers and engaging in transparent communication can also contribute to enhancing the overall quality assurance in procurement.
How SpendEdge helps mitigate these challenges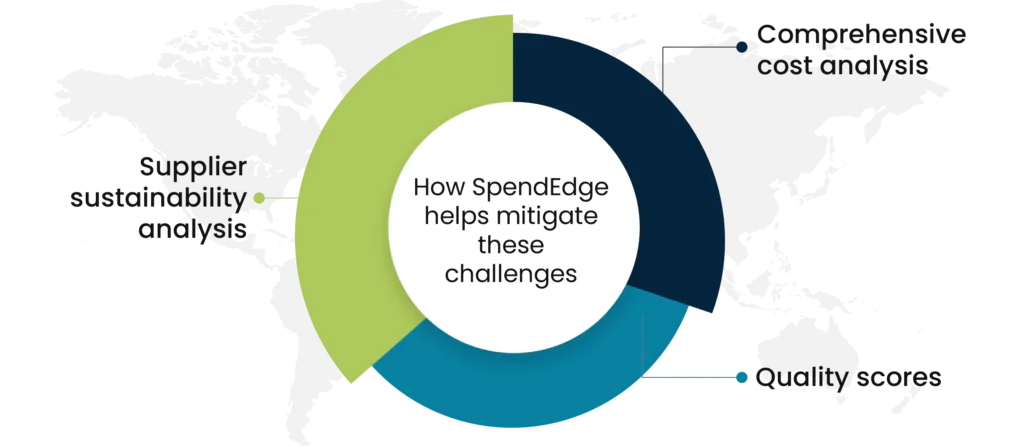 Supplier sustainability analysis:
Our supplier sustainability analysis helps you reduce social and environmental risks while enhancing your brand image by assessing suppliers' sustainability practices throughout the value chain. You can discover modern sustainability practices that are being implemented globally, as well as in regions where your company operates. We identify existing and potential sustainability gaps to help you address them proactively. We evaluate each supplier's social and environmental risks to help you monitor compliance challenges in the supply chain. Our insights are tailored to help you make the best decisions for creating environmentally friendly products.
Comprehensive cost analysis:
Our cost models are designed to analyze each cost component and improve budget forecasting and planning, while also managing the risks of price volatility. Our comprehensive cost models accurately detail each cost element, giving you an edge in responding to risk scenarios quickly and effectively. With the ability to predict the impact of price volatility in advance, you can strengthen negotiations with suppliers and know the true cost of a product or service before making any decisions. Our complete visibility of product cost breakup will assist in identifying the best-fit supplier for long-term engagements.
Quality scores:
We analyze the past performance of available suppliers and provide quality scores for each one. This allows you to easily identify the best-fit suppliers based on their service quality and reasonable prices. To identify the best suppliers, you can sort them into quadrants based on their operational and functional capabilities and rank them accordingly. Moreover, you can obtain additional information about the most appropriate suppliers for further engagement. You will be able to identify suppliers that can withstand volatile market conditions and equip yourself with essential know-how on recent supplier market developments.
Success Stories: How SpendEdge helped a hospital enhance procurement function
The hospital procurement process is critical and complex as it involves a comprehensive study of the supplier market as the vendors are the providers of highly sensitive equipment that needs thorough research and development. So, it is important to select suppliers carefully.
A UK-based Healthcare facility asked SpendEdge to help in enhancing the procurement process. They wanted to shift to sustainable procurement for which they needed information of suppliers that could support their initiative. Additionally, they were facing high procurement costs, and the expected quality of products was also not being met by the existing vendors.
Our expertise provided a thorough overview of the historical performance of the suppliers that were available, including their processing practices and whether or not they used sustainable resources in their manufacture. We gave our client information about the market prices through our cost model with the help of which they could identify the actual competitive cost. Our cost model also provided the client with a detailed breakdown of the cost including supplier margins for them to take effective measures.
With our expertise, the client was able to fancy a smooth-sailing procurement process.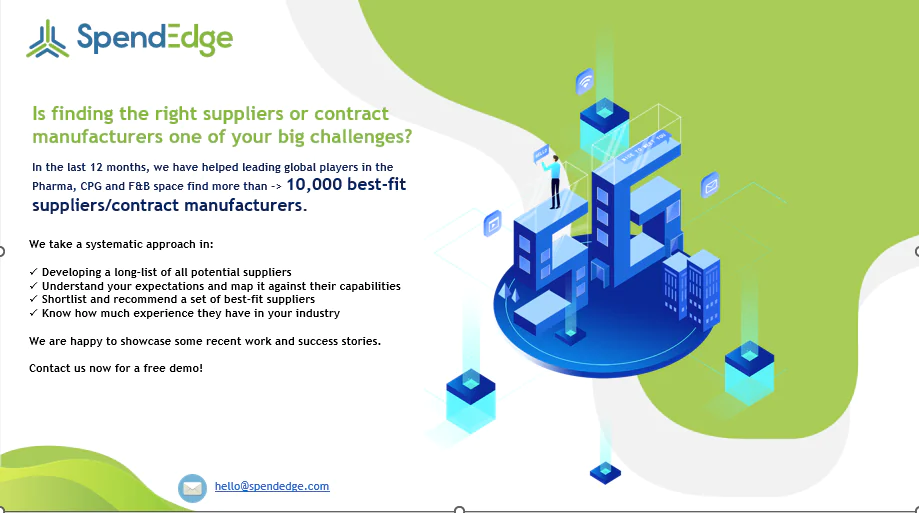 Contact us now to solve your procurement problems!
Author's Details
George Mathew
Associate Vice President, Sourcing and Procurement Intelligence
George is a procurement specialist at Infiniti Research and provides advisory services to clients across the pharmaceutical, CPG & FMCG, energy, and automotive sectors. He specializes in the procurement areas of industry benchmarking, cost modeling, rate card benchmarking, negotiation advisory, and supplier intelligence.