By: George Mathew
The pharma industry combines research, development, manufacturing, quality assurance, and regulatory compliance to bring innovative and safe drugs to the market. This involves rigorous testing, clinical trials, and adherence to strict regulations to ensure the efficacy and safety of pharmaceutical products. Risk refers to the possibility of encountering unexpected events or circumstances that could have a negative impact on achieving financial goals or operational success. It can arise from various factors such as market volatility, economic fluctuations, competition, regulatory changes, technological disruptions, and even natural disasters. Coming to procurement in particular, could arise due to failure of suppliers, delay in supplying materials, bad quality of materials, etc. Risk management in pharmaceutical industry involves identifying, assessing, and mitigating potential risks associated with sourcing materials, supplies, and services needed for pharmaceutical production. It aims to ensure a secure and reliable supply chain while minimizing disruptions and potential harm to patients, the company, and its reputation.
Procurement risks in the pharma industry
Supply chain disruptions:
The possibility of a supply chain interruption in the purchase of pharmaceuticals is one of the major dangers. The supply of raw materials or completed goods may be impacted by elements such as natural catastrophes, unstable political conditions, or unforeseen occurrences. As a result, critical pharmaceutical manufacturing and delivery may be affected by delays or shortages. Purchasers must look for tracing of the supply chain that will help in detecting the areas of disruptions or errors that would ease the procurement process for them. This tracing would also help them to detect the transportation errors that cause delays in supplies.
Pricing volatility:
Another significant risk that must be taken into consideration during the procurement process is supplier pricing. This is because buyers need to hunt for the best rates on the market and to see which suppliers have the best pricing strategies. They should consider choosing suppliers that offer the greatest costs to reduce the risk of market price fluctuations. Purchasers should focus on price forecasting to reduce the risk of pricing volatility which would provide them with information about the fluctuations in price. Price forecasting would also prepare them for unforeseen changes in the future when help prepare them for unforeseen changes in the future related to any price fluctuations.
Challenges with finding the right contract manufacturers:
Pharmaceutical companies are always on the lookout for availing a CMO/ CDMO's expertise — a shift from historic usage where a CMO's primary purpose was to provide needed capacity. Although cost reduction is the single largest reason for increased outsourcing, the vendor (manufacturing partner) shortlisting process also depends on a wide range of other factors such as technical capabilities and expertise in therapeutic areas, financial management capabilities, quality, and delivery time. Pharma companies often face challenges with capturing the right capabilities and shortlisting the right suppliers to work with.
Procurement recommendations: How SpendEdge can help you!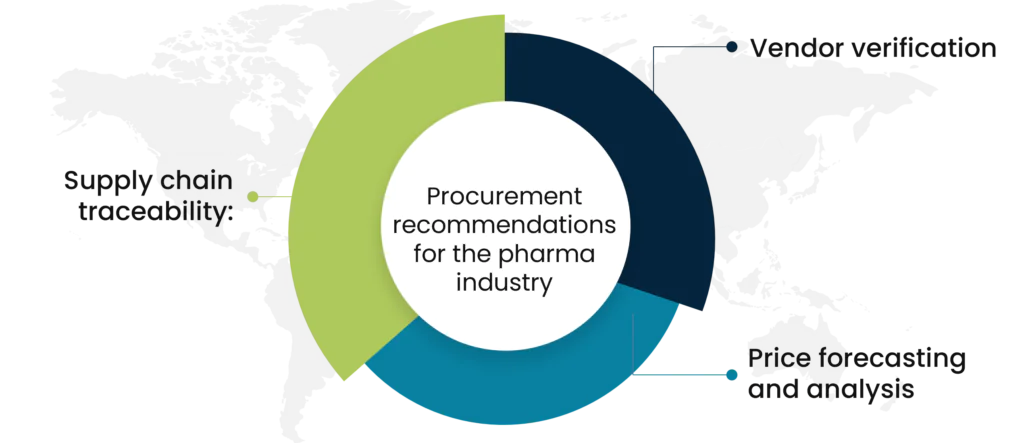 Supply chain traceability
:
We give you a 360-degree supply chain process report that will enable you to get an understanding of related constraints and supplier obligations. Additionally, if you are aware of the risks associated with supply chain interruptions in advance, it becomes possible to formulate plans to address these risks. We also provide you with risk assessments in pharma industry that you can use to your advantage when deciding how to organize your supply chain. With the help of these reports, you can spot fresh chances to improve supply chain resilience and rebound capability. You can also anticipate and stop supply chain inflation before it gets out of control. Through these reports, you can collect quantifiable information about supplier experience that you can utilize to improve the supply chain.
Vendor verification:
By examining their historical data, including revenue and earnings, performance, and quality, our methodology will help you identify the top suppliers and CMOs. You will be protected against supplier malpractices including counterfeiting drugs, billing fraud, and cheque forgery by the thorough vendor onboarding procedure, regular verification of vendor data, and other safeguards. We can provide early financial risk warnings and operational problems which help you save money. We assess supplier practices in light of ESG and give you information on available reliable sources.
P
rice forecasting and analysis
:
To help you take action before a price fluctuation ever occurs, we employ category pricing intelligence to identify the price trends in the market. Additionally, to help you achieve the best supplier price, we analyze and provide reports on the pricing policies of several potential suppliers. You may learn more about different cost drivers for suppliers and market trends related to cost components with the aid of our studies. You may discover areas of procurement overspending and cut that spending by using extensive cost breakdown analysis to get the best prices.
Success Stories: How SpendEdge helped pharma giant enhance procurement function
When it comes to risk management, every organization must make an attempt to control the risk by putting in place sensible plans that, if feasible, may assist minimize or eliminate it. The pharmaceutical business is also vulnerable to procurement risks for several reasons, including supplier fraud, supply chain risks, and pricing. Pharmaceutical supply chain risk management is another significant challenge that must be tackled.
In a similar vein, a US-based pharmaceutical company asked SpendEdge for a hand because they wanted to learn about all the supply chain segments and where a lot of spending is occurring. They also needed help because they were experiencing delays in procurement and sub-par raw material deliveries as a result of a lack of supplier analysis. Additionally, they were unable to monitor pricing changes and promptly take appropriate responses.
To address this, our specialists conducted research to provide reports on the functioning of the supply chain. These studies gave the business insights into various supply chain segments and allowed them to identify the interruptions that led to delays in procurement. The specialists assessed the risk associated with the suppliers, looking at their past performance, pricing policies, and delivery schedules. To provide the organization with information about changes in market pricing, our experts conducted price forecasting.
The organization was pleased with the conclusions drawn from the use of our reports and investigations, which allowed them to make on-time deliveries, anticipate pricing changes and eliminate supply chain disruptions.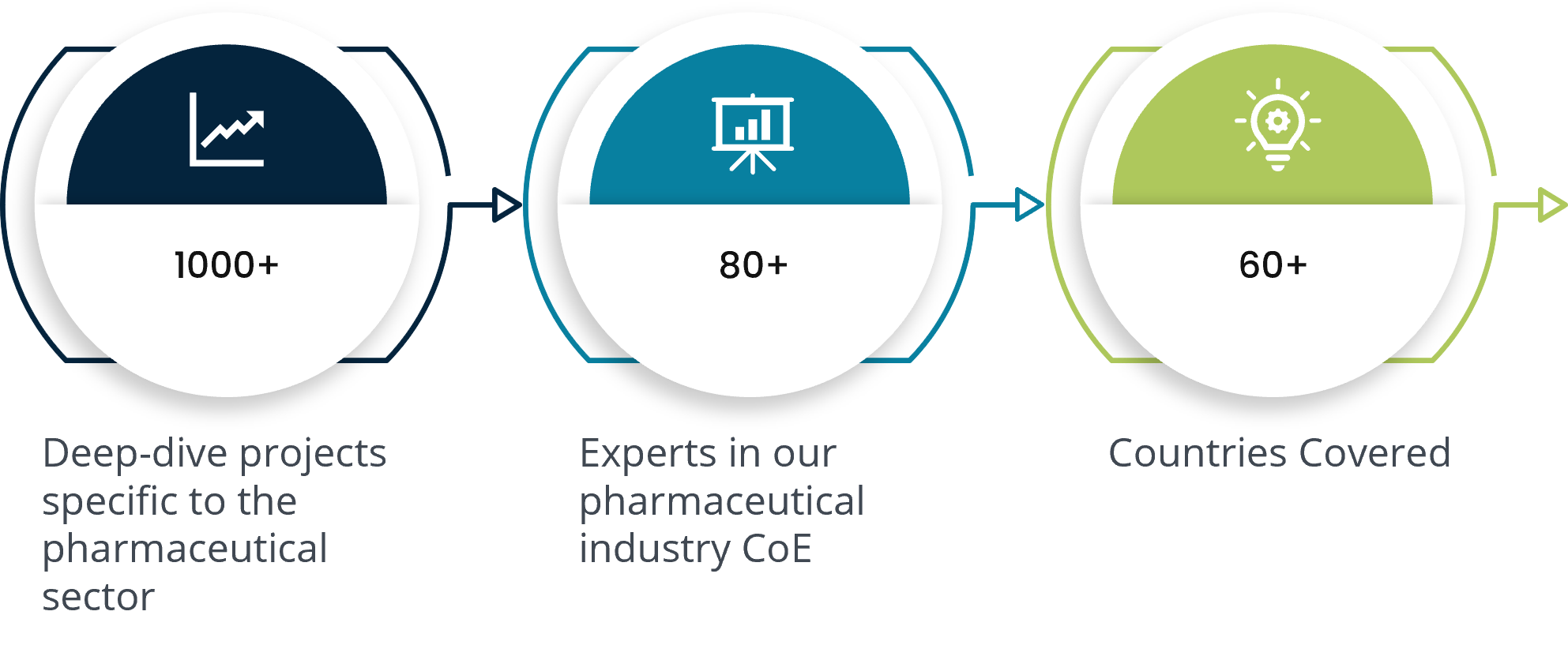 For any similar kind of issues, get in touch with us now, and make use of all our services to experience positive outcomes.
Author's Details
George Mathew

Vice President, Sourcing and Procurement Intelligence

George is a procurement specialist at Infiniti Research and provides advisory services to clients across the pharmaceutical, CPG & FMCG, energy, and automotive sectors. He specializes in the procurement areas of industry benchmarking, cost modeling, rate card benchmarking, negotiation advisory, and supplier intelligence.