According to top management professionals, cost modeling is the numero uno purchasing best practice. Cost modeling enables purchase managers to determine the actual cost of manufacturing a product and understand the underlying cost components and cost drivers. By leveraging cost modeling, the procurement and purchase managers gain the upper hand in devising negotiation strategies which helps them to identify and understand the costs involved from a supplier's perspective. The bottom line of the story: cost modeling helps procurement professionals boost their negotiation skills, thereby driving profitability for the business.
Cost modeling is the analysis of the costs involved in manufacturing a product or service and determining its optimum cost of production so as to earn a fixed profit margin. It takes into consideration material costs, production costs, labor costs, research and development costs, sales and administrative expenses, and profit margin so as to arrive at the actual cost. Cost modeling tool enables the buyer to fathom what exactly goes into manufacturing a product, understand the supplier's pricing strategy, and drive cost savings opportunities for the organization. It also facilitates collaboration between the supplier as well as the buyer which not only helps them in optimizing costs but also enables material design improvements and provides supplier insights. But how can cost modeling boost management negotiation skills enhance negotiation strategies, you ask? Here's how.
SpendEdge's Recent Posts
"You Get What You Ask for" – Cost Modeling
Top procurement managers have ranked negotiation skills as one of the important skills a procurement professional must possess. It is an essential trait that enables the buyer to negotiate or bargain the prices of supplies and materials with the suppliers. Negotiation is a process to find a common ground between two or more parties i.e. buyers and suppliers, in order to reach an agreement or achieve a settlement on common grounds that is beneficial to all the parties involved. An effective cost modeling tool enables organizations to comprehend the supplier's pricing strategy and identify the factors that drive final product pricing such as raw materials, labor, production process, logistics and much more.
Cost modeling helps buyers to seal the deal with the suppliers at the best possible price and squeeze profit margins. This helps them to negotiate the supplier's terms and conditions and challenge his cost model. Often, the suppliers are compelled to back up the material prices with real cost data which helps the procurement professionals to understand the true manufacturing costs of the product. It enhances negotiation skills thereby creating opportunities to drive cost savings and profitability. It helps in spend management, identifying each cost component of the product and determining the most expensive components or parts that demand management's attention.
At SpendEdge, we offer cost modeling and procurement intelligence solutions to organizations that help them reduce costs, drive profitability, and create a sustainable competitive advantage based on actionable insights.
How Cost Modelling Can Power Negotiation?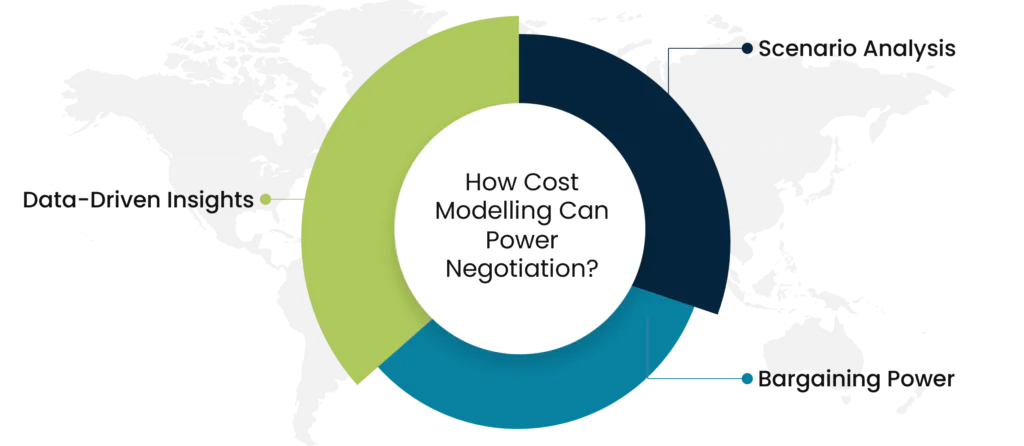 Data-Driven Insights:
Cost modeling involves the meticulous analysis of all expenses associated with a product or service. This data allows you to pinpoint where costs are incurred, helping you challenge and validate pricing during negotiations. Armed with this information, you can confidently discuss the rationale behind your pricing expectations and demonstrate that you're making informed decisions.
Scenario Analysis:
Cost modeling provides the flexibility to explore various scenarios, each with its own cost implications. This is a valuable tool during negotiations, as it allows you to present alternative options that might benefit both parties. For example, you can propose volume discounts that could drive down costs or suggest adjustments to specifications that could make the deal more attractive. By offering multiple scenarios, you're more likely to find common ground and reach a mutually beneficial agreement.
Bargaining Power:
Having a deep understanding of the cost structure, not just for your organization but also for the other party, can significantly impact your bargaining power. If you can demonstrate that you have viable alternatives or that the offered pricing is considerably higher than your cost estimates, you gain a competitive edge in negotiations. This knowledge can help you assert your position and potentially secure more favorable terms. Furthermore, by showing that you've thoroughly analyzed your own costs and are aware of your leverage, you project an image of preparedness and professionalism, which can further strengthen your position at the negotiation table.
To know more about cost modeling, negotiation strategies, business negotiation, predictive modeling and its benefits for your organization