Category management originated from the retail industry. This retailing and supply management concept involves breaking down the products purchased or sold by a retailer into discrete groups of similar or related products. Category management is a systematic approach to managing a set of products as a strategic business unit. However, recently, category management has been gaining ground outside the retail industry and is being widely used in several public and private sector companies. The motive behind it remains the same; products or services that have similar characteristics and similar supply markets are grouped together and treated as a discrete group. While category management has several known advantages, here our category management experts discuss some of the key challenges faced while implementing it.

Top Trends in Category Management Challenges
Getting Stakeholder participation
In several procurement organizations, the stakeholders are either unknown or they are not in close contact with the management. It is critical to ensure that the stakeholders understand the importance of category management, which means that they have to put in some work as well. This transforms the stakeholders to active participants and will improve the results for the procurement organization. Without the support of your stakeholders, the results of the new way of working will be disappointing.
Workforce capability gaps
The transformation of an operational department to a more strategic department results in a chance for gaps in the workforce capabilities. This could be because the organization lacks the skills and capability to become the advisor of the business. This situation can overcome by providing specific training and coaching on the skills and capabilities that are needed to the company's workforce. Furthermore, they can also be provided with coaching-on-the-job, where experts coach the buyers in the new way of working. For capabilities to be enhanced, a budget needs to be made for supporting the training costs for buyers.
Garnering support from management teams
The need for change often comes from the management team of a company. However, during the course of transformation, the same team may display a lack of engagement and operational support. This leads to a transformation that does not fully realize the benefits out of the category management. In order to gain the maximum benefit from category management, there needs to be full support from the management team throughout the transformation. The management team should be available to support with data analysis, value-chain/TCO-analysis, stakeholder meetings, and supplier negotiations.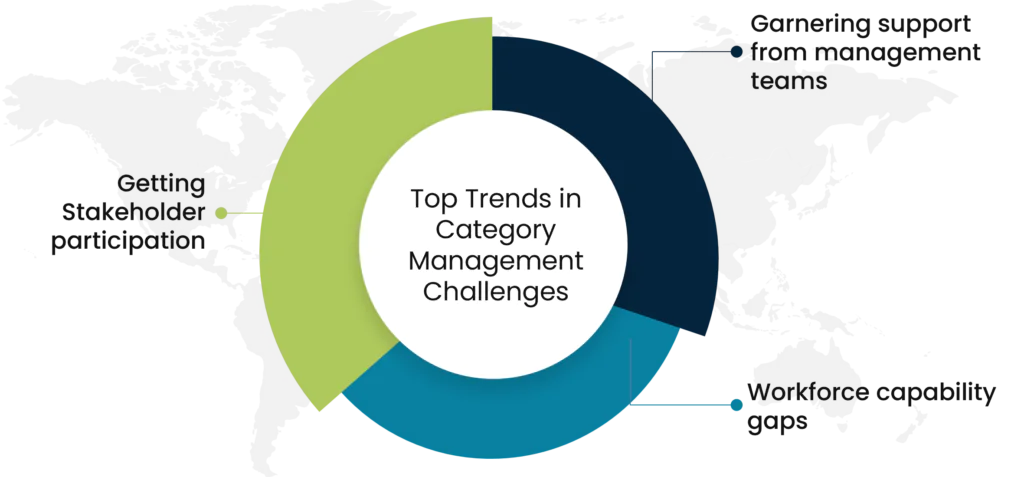 The SpendEdge Advantage
Businesses can greatly benefit from adopting category management as one of its best practices in procurement. SpendEdge's category management solutions have the capacity to add value in reducing supply chain risk as well as drive innovation in different supply chain categories. Our category management experts have proven expertise in helping organizations tap into opportunities in order to manage demand, have better cash flow management, and enforce greater compliance of standards from suppliers. Get in touch with us for tailor-made solutions to suit your business.