The fleet management market in Europe has been exhibiting promising growth over the past couple of years. Modern vehicles are getting more fuel-efficient, environmental friendly, and having an extended vehicle life, which, in turn, is reducing the Total Cost of Ownership (TCO). This is subsequently contributing towards the growth of the fleet management market in Europe. The growth prospects for the fleet management market in Europe looks positive with the rising number of commercial vehicles.
Fleet procurement can be a complicated and time-consuming affair since a fleet manager has to deal with dynamic market-wide variables such as country-wise regulations, fuel prices, maintenance labor rates, and other service-related costs. The impact of the decision usually is not instantaneous; it can be felt years after the decision has been made since it's a massive investment with many complex components. Big organizations often involve their finance department along with procurement and compliance department to take the final decision.  It is advisable to include all affected stakeholder during the fleet procurement process as a best practice to avoid discrepancies.
European Fleet Industry Progressing Their Procurement Practices
The fleet industry in Europe is attempting to remain efficient by revisiting their current procurement practices and giving up on traditional measures to adopt industry best practices. Advancement of technology is easing the pressure on the fleet industry by enhancing the car performance in terms of powertrain, fuel-economy, engine optimizations, safety features, and smartphone integration. Also, lowered insurance costs, maintenance and fuel costs, tax rates, and time efficiency factors are driving down the TCO of a vehicle.
Here's a look at how the fleet industry is improving their procurement practices:

Trends in European Fleet Management Market
Shifting Focus Towards Mobility Management
Europe, in particular, accounts for the highest car-sharing service per capita with a customer base of over 2 million. The car sharing practice would hurt new-car purchases but would significantly reduce the TCO as several fixed costs such as maintenance, repair, depreciation, and insurance are shared.
Stakeholders in the fleet procurement are also exploring blending connectivity options to bring about efficiency. Apart from extending the services provided by the leasing companies, they are exploring ways of delivering added value through data management and predictive flexibility. Customers are offered a wide variety of mobility solutions with the advent of multimodal transport solutions, vehicle analytics, and car-sharing. This, in turn, pushes the car manufacturers to accommodate their business activities to provide a one-stop solution to customers. Car manufacturers are reliant on autonomous and electric vehicles to enhance features, increase driver safety, and bring down the overall running costs. Fleet managers are thus compelled to look for innovative options to not only save on procurement costs but also enhance the value to their organization.
How can Driverless Cars Shape the Fleet Management Industry?
Driverless cars have brought about a paradigm shift in the fleet management industry. Intensive machine learning and automation have transformed the driverless car technology to such an extent that such vehicles can operate itself better than a human. Automotive players along with technology giants are investing huge sums in this technology to roll out more autonomous cars in the European roads.
This breakthrough technology will affect a fleet manager's decision-making process. Here's how:

Telematics to Enhance Fleet Performance
Telematics takes the efficiency of fleet management to the next level by carrying out an analysis of driver data and suggesting measures to improve the effectiveness. The goal of telematics is of efficient driver management by means of collecting driver data to provide timely feedback to assist drivers on safer driver behavior. Also, driver incentives are associated with key metrics to ensure optimal driver behavior. The incentive calculations are done using sophisticated analytics – taking into account parameters such as mileage, fuel usage, idle time, and driver behavior, which rewards them using points-based systems. The real-time data gathered from a telematics system can provide constant updates to reduce delays and handle traffic more efficiently.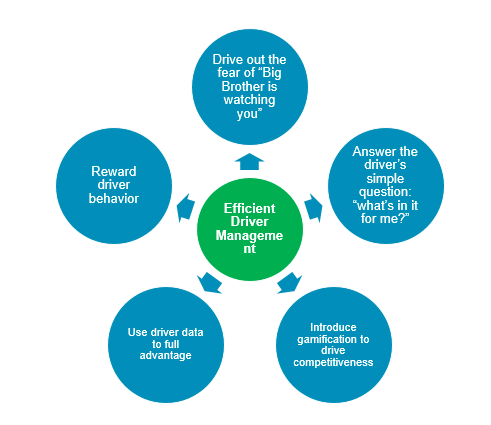 To know more about fleet management market in Europe: