By: Manpreet Kaur
Effective procurement streamlining is pivotal for cost reduction in organizations. It encompasses optimizing the end-to-end acquisition process, from needs assessment to contract finalization and payments. Successful implementation yields numerous cost-saving advantages, including lowered, and improved supplier negotiations, enhanced visibility into expenditures, rigorous compliance and risk management, and vigilant supplier performance oversight.
This comprehensive approach, spanning requisition to payment, offers various advantages, such as reduced administrative overhead, heightened operational efficiency, strengthened supplier relations, improved financial transparency, rigorous compliance and risk mitigation strategies, and vigilant monitoring of supplier performance.
A more effective procurement function is crucial for businesses as it can lead to cost savings, improved supplier relationships, reduced supply chain risks, and better access to quality resources. In an increasingly competitive global market, optimizing procurement helps organizations stay agile, competitive, and financially sound, driving the demand for its enhancement.
Procurement challenges that interrupt the flow of supplies from vendors to the business
Managing the supply market players stands as a challenge:
Identifying and managing reliable suppliers is challenging due to several factors. The global supply chain is complex, making it difficult to find suppliers that align with specific business needs. Once identified, maintaining good supplier relationships demands ongoing effort, as communication, trust-building, and negotiation are vital. Additionally, assessing supplier performance can be intricate, involving metrics such as on-time deliveries, quality control, and cost-effectiveness. Ensuring suppliers meet ethical and sustainability standards adds complexity, as businesses must monitor compliance with labor, environmental, and social responsibility criteria. Navigating these challenges is essential for a dependable and sustainable supply chain, which directly impacts business success.
Risks/Disruptions a big obstacle for businesses:
Identifying and mitigating supply chain risks is crucial due to their potential to disrupt operations and impact profitability. Supply disruptions can occur from various sources such as natural disasters, and supplier bankruptcy. Geopolitical tensions can lead to trade restrictions or political instability in sourcing regions. Economic changes, like recessions or inflation, affect cost structures and demand patterns. Identifying these risks requires robust risk assessment methodologies, while mitigation involves strategies like diversifying suppliers, building redundancy, and adopting agile inventory management. Navigating these challenges is vital to ensure supply chain resilience and minimize the impact of unforeseen disruptions on business continuity.
Controlling and optimizing costs is a significant problem:
Balancing procurement costs and quality standards is an ongoing challenge for businesses. The fluctuation of prices, currency exchange rates, and unexpected expenses can disrupt budget plans. Rising prices from suppliers or inflation can strain cost control efforts, while currency fluctuations can lead to unpredictable cost variations for imported goods. Additionally, unforeseen costs like tariffs, customs fees, or compliance-related expenses can impact procurement budgets. Effectively managing these challenges requires vigilant cost monitoring, supplier negotiation, risk mitigation strategies, and agile procurement practices to ensure quality standards are maintained while cost overruns are minimized.
SpendEdge services that can help corporations excel in the procurement function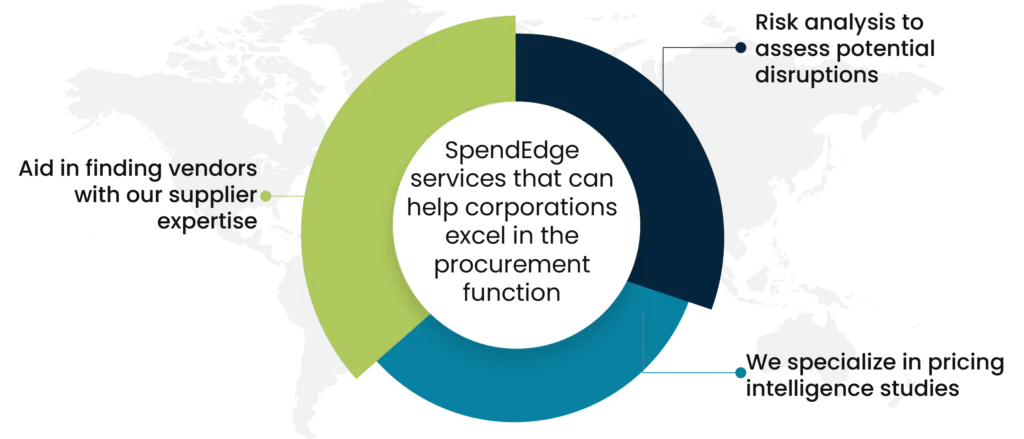 Aid in finding vendors with our supplier expertise:
We assist companies in identifying suitable suppliers and conducting supplier benchmarking studies, our supplier identification involves thorough market analysis to pinpoint suppliers that align with a client's quality, cost, and other requirements. We conduct supplier benchmarking studies to assess and compare the performance and capabilities of various suppliers in the market. These services help businesses make informed decisions about their supplier selection and management, ultimately improving procurement processes and optimizing supplier relationships.
Risk analysis to assess potential disruptions:
Our services encompass comprehensive risk assessment studies aimed at enhancing visibility regarding potential risks, their respective impact levels, and the development of effective mitigation strategies. We thoroughly analyze the entire spectrum of risks that could affect your business, including supply chain disruptions, geopolitical instability, regulatory compliance issues, and more. Our goal is to equip your organization with actionable insights and strategies to proactively manage and mitigate these risks, safeguarding your operations and enhancing overall resilience in an ever-evolving business landscape.
We specialize in pricing intelligence studies:
Our expertise lies in conducting comprehensive pricing intelligence studies, enabling our clients to gain invaluable insights into the pricing structures of various products and services offered by the suppliers. Not only do we offer transparency in supplier pricing, but we also excel in delivering strategic recommendations and negotiation tactics. These insights empower our clients to optimize their procurement strategies, fostering better cost-efficiency and advantageous supplier negotiations. With our tailored solutions, businesses can make informed decisions, enhancing their competitiveness in the market.
The success story of SpendEdge helping a multinational company
A multinational company based in Europe aimed to identify price benchmarks for various services of client interest in order to understand price variations among different suppliers. SpendEdge experts came to the company's rescue, our experts provided the best solutions for the problems of the client.
Our team of experts identified the main suppliers of the services we require and compared the prices they offer. We have provided a detailed analysis of the prices for each service, as well as the prices for different geographic locations such as the US, UK, Germany, etc. Furthermore, we have analyzed the cost structure of each supplier, identified the key cost components, and determined the main cost drivers. We have also provided valuable insights on cost-saving opportunities and negotiation tactics. The information was gathered from various primary and secondary sources.
Our specialists analyzed the data and provided detailed insights on top suppliers, including pricing information and negotiation strategies to recommend the best-fit supplier.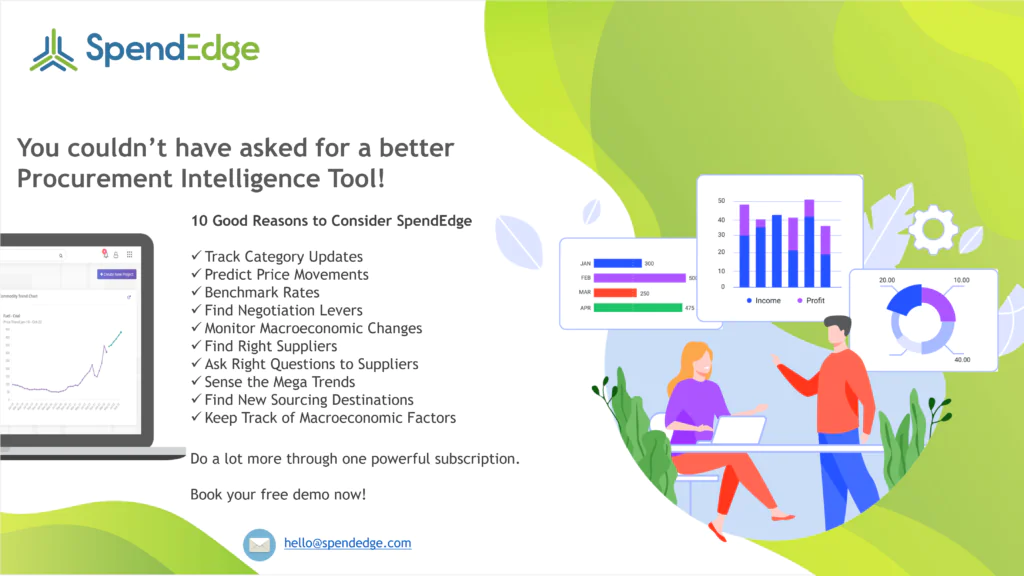 Contact us now to solve your procurement problems!
Author's Details
Manpreet Kaur
Assistant Manager Presales – Sourcing and Procurement Intelligence
Manpreet is a presales specialist at Infiniti Research and has expertise in sales, business strategy execution, and innovative solution design. She is actively involved in supporting clients from F&B, CPG, Healthcare, Pharma, Chemicals, BFSI, Oil & Gas and Automotive sectors.