By: Ankur Rishi
The chemical industry is experiencing a digital revolution, with innovations like AI-driven research, smart manufacturing, and data analytics optimizing processes, enhancing sustainability, and accelerating product development. Business digitalization is the integration of technology that alters how businesses interact with consumers and other stakeholders across their many departments, services, and channels. A real digital transformation process needs to examine, question, and reconfigure business processes at a route and speed that works for that firm, its clients, and its suppliers. Challenges faced during digitization include employee resistance, system integration, data security, costs, skill gaps, supplier adoption, compliance, vendor choice, and risk management. Careful planning is vital to overcome these obstacles and realize the advantages of digital procurement. Digital technologies enhance chemical supply chain operations through real-time tracking, data analytics, and automation. IoT sensors monitor inventory levels, ensuring efficient stock management. Blockchain enhances transparency and traceability, bolstering safety and compliance. Overall, digital tools optimize logistics, minimize risks, and boost efficiency in the chemical supply chain.
Challenges faced by sourcing teams in the chemical industry
Margin pressure and supply chain resilience:
A major issue faced by chemical companies is the need to maintain their profit margins. This challenge is primarily caused by the emergence of new competitors, a scarcity of specific raw materials, substantial investments in chemical plants, and strict government regulations. The decisions made by management regarding cost-cutting measures, Return on Investment (ROI), and growth are likely to have a significant impact on the procurement department of these companies. Procuring raw materials in large quantities like oil, gas, and coal from commodity markets is difficult for chemical companies due to volatile prices that can harm financial performance and planning.
Needs and benefits of business networks:
Chemical companies are dealing with over 50,000 suppliers who provide raw materials, services, and infrastructure. To manage these suppliers effectively, companies negotiate, review, and classify them, taking into account the technical aspects of supplier integration. This poses a challenge for the teams as they need to integrate with one or more business networks to connect with suppliers using standardized interfaces for process efficiency. Because of the existence of multiple competing business networks, companies must evaluate their requirements and benefits before choosing the most suitable one.
Sustainability considerations:
For procurement teams in the chemical industry, sustainability has become a major concern. All chemical companies are required to comply with sustainable regulations, given their resource-intensive nature. Procurement managers are faced with a growing number of government sustainability regulations and market pressure from downstream customers demanding sustainable operations and products. In addition to this, finding suppliers who follow sustainability standards and offer competitive pricing is the biggest challenge. Companies must look for those using recycled packaging materials and sustainable processes for chemical production.
How SpendEdge can help with overcoming the procurement the challenges in chemical industry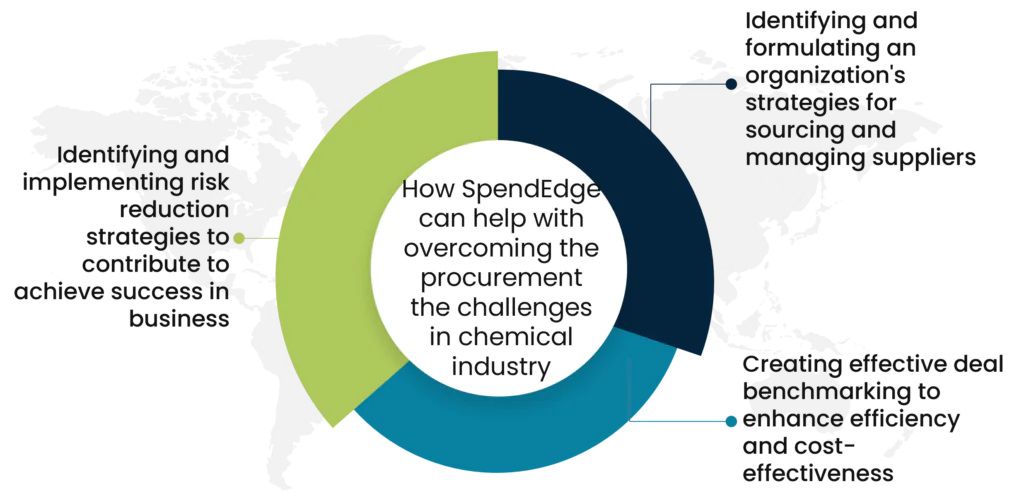 Identifying and formulating an organization's strategies for sourcing and managing suppliers

:

Our approach to evaluating suppliers goes beyond traditional measures like revenue and performance, we look for vendors who can provide the most value to your business. It's important to keep track of your suppliers to avoid any potential issues that could harm your business. Our team of experts uses statistical analysis and modeling techniques, along with exhaustive data sets, to accurately predict potential risks and assign risk scores based on probability and severity. This allows us to provide actionable insights to help you prevent supplier risks and other threats. Our supplier intelligence solutions will enable you to build up your diverse pipeline and onboard certified vendors.
Identifying and implementing risk reduction strategies to contribute to achieve success in business
Our team can help you identify and manage risks associated with your supply chain, and prepare for potential disruptions, geopolitical issues, and compliance risks through the implementation of countermeasures and contingency plans to reduce financial risks such as chemical market fluctuations. Our early warning system can alert you to impending risks, allowing you to resolve them quickly and save costs. We can also help you avoid penalties and legal consequences by identifying new regulatory compliance risks associated with hazardous chemicals in advance. With our risk mitigation plan, you can assure stakeholders of your commitment to managing risks and boost their confidence.
Creating effective deal benchmarking to enhance efficiency and cost-effectiveness
Businesses can analyze potential contracts and partnerships by comparing them to competitors on various parameters, including pricing, discounts, and SLAs. This type of deal benchmarking involves examining strategies and technologies used by industry leaders and competitors. Through this analysis, CPOs and supply chain managers can make informed decisions based on research. Identifying needs and requirements, industry standards, and the best suppliers and vendors to partner with are some of the benefits of deal benchmarking. It enables companies to prepare comprehensive strategies and make informed decisions.
The success story of how SpendEdge helped one of its clients with procurement
The chemical industry is going through a digital transformation that will bring about changes in various areas such as research and development, product compliance, procurement, and sales and marketing. However, it is important to consider the potential effects of this transformation on the operations and the challenges that will be faced during this transformation.
A market player in the chemical industry based in the US that operates around the world and procures chemicals for drug manufacturing has limited visibility into the supply chain, leading to inefficiencies and unexpected disruptions. The client was also facing challenges related to compliance and risk management.
Our procurement specialists analyzed historical data and market trends, which helped the client select better suppliers and improved supplier negotiations. Our insights also helped the client enhance traceability in the supply chain and assigned risk scores to help in making appropriate supply chain decisions, ensuring compliance with regulatory requirements.
Our assessments and solutions increased the efficiency of procurement operations, enhanced supply chain visibility to detect disruptions timely, and reduced the impact of disruptions.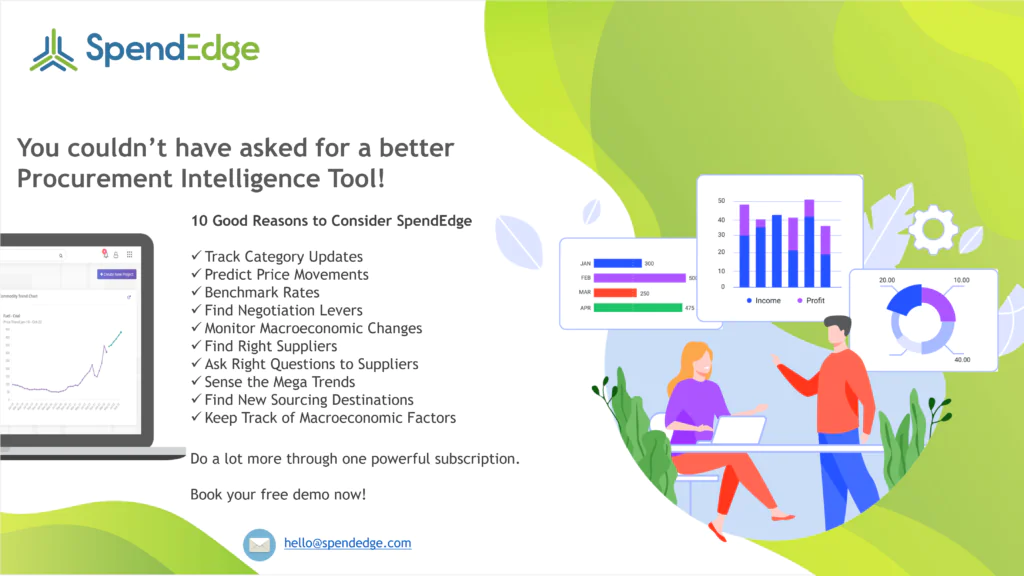 Contact us now to solve your procurement problems!
Author's Details
Ankur Rishi
Vice President, Sourcing and Procurement Intelligence
With more than 12 years of advisory experience, Ankur manages platform content and services within the sourcing and procurement vertical. Over the years, Ankur has provided consulting services to category leaders from chemicals, energy, and packaging industry, on varied topics, such as category strategy, spend analysis, commodity pricing, and clean-sheet analysis.