By: Ankur Rishi
Global chemical industry is witnessing fierce competition as emerging market businesses umbilically linked to majority state-owned oil giants and transnationals slug it out for a slice of the $5 trillion chemical sector. Even to simply stay in the same place and hold on to margins, businesses in the industry must work harder than ever! Reducing the cost incurred to make the same amount of profit (operating efficiency) is by far the best route chemical businesses can take to stay ahead in the market. Of course, in the process, chemical industry participants cannot afford to sacrifice product quality and production excellence at the altar of profitability. There are technologies in the market chemical industry players can wield to lop off flab in procurement activities and turn lean to bring down the operating expenses (opex) bill. One such technology that has already spelt success industry-wide is "predictive analytics with AI". By integrating AI/ML into predictive analysis models, chemical industry can accurately track inventory as it journeys along the supply chain, drive shop floor efficiency with advance fault prediction, minimize supplier risks, and, overall, fine-tune CPO decisions for best outcomes.
Predictive analytics lights the way for procurement in chemical industry:
Lack of visibility is hurting chemical industry
At least 9 out of 10 chemical businesses in the US continue to wrestle with supply chain and transportation disruptions, a pandemic-induced event that still refuses to go away. Lack of visibility into supply-side activities and data is leaving many enterprises flying blind or nearly so. It is easy for procurement organizations to lull themselves into thinking that this data opacity is a headache confined to the supply network. Nothing could be further from the truth. Because bereft of relevant digital tools and data analytics expertise, the majority of chemical businesses have little or no line-of-sight to the millions of data records they generate every passing day! This means procurement in chemical industry might be missing out on those juicy insights that would have made noticeable difference to their bottom lines.
Making better decisions is increasingly hard
Global chemical industry is worth more than $5 trillion, and despite input cost inflations, the sector is expected to contribute more than $6 trillion to global GDP by 2027. Laxity in pursuing sustainable initiatives and, of course, imagination are probably the only factors limiting growth in the sector. While chemical businesses are highly profitable, product safety is sacrosanct, particularly since the industry feeds into downstream processes like pharmaceutical drug synthesis. To avoid costly product recalls, procurement in chemical industry must inlay AI/ML in data analytics to parse data and make improved predictions about future outcomes with very little human intervention.
Manufacturing efficiency is taking a hit
Talking of AI/ML-based predictive analytics, it's about time CPOs in the chemical landscape leveraged the full potential of latter-day forecasting models to "catch" production bugs early in the process. Predictive maintenance sensors gather critical performance measures (e.g., vibration, temperature, security, pressure) of shop floor assets to prevent unexpected breakdowns and unplanned downtime, thus lowering maintenance costs. Expanding carbon footprints, apart from excess water consumption and pollution levels, can put chemical enterprises in regulators' direct line of fire with knock-on effects on business reputation. Without AI-support, procurement in chemical industry will struggle to sift the massive amounts of data required to recalibrate production and meet mandated environmental quality standards.
Supplier relationship can be smoother
The chemical industry is marked by a labyrinthine supply network that weaves its way from production through distributors and onward to retailers. It takes constant effort and deep understanding to manage this flow of goods and data. Raw materials must meet goods and services that meet agreed standards. Cutting corners on raw material quality is a big no-no for supplies in the sector. On-time delivery and high-quality production workflows, as well as efficient distribution channels, are other prerequisites. In practice, there could be departures from agreed-upon quality standards and processes, and predictive analytics holds the key to managing and deepening supplier relationships for best results. So, there is enough room for improvement for procurement in chemical industry.
How SpendEdge can help you with chemical procurement: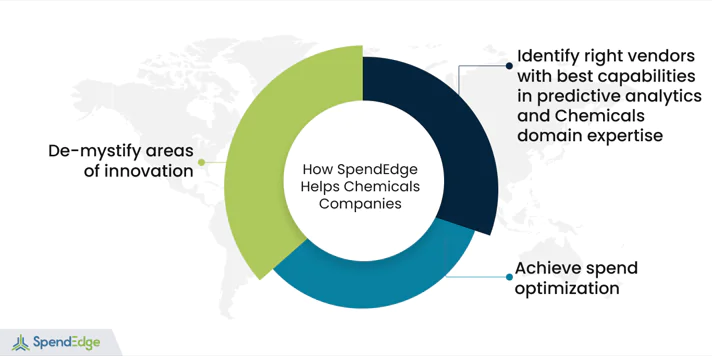 De-mystify areas of innovation
Our experts track the developments across industries and peer groups to help clients stay on top of latest innovations in the market. We could help you understand the success stories from other companies regarding their implementation of AI/ML and predictive analytics along with coverage of limitations and challenges during implementation. This provides better visibility into potential applications and benefits.
Identify right vendors for these solutions
Finding the right suppliers for AI/ML and predictive analytics with the right capabilities and understanding of the chemicals sector could be a challenge. At SpendEdge, we do a thorough analysis of the operational and functional capabilities of the vendors, assess their experience of working with your peers and understanding of the business cases to ensure we shortlist and recommend a right set of suppliers. We conduct strong secondary and primary research to gather fresh and accurate information on suppliers to develop the right recommendations.
Achieve spend optimization
We help clients do effective assessment of their current and historic spend data and develop recommendations on areas such as spend consolidation, supplier rationalization, identify maverick spend, monitor spend per supplier, implement right sourcing strategy etc., We take care of end-to-end implementation right from data cleaning till conducting gap analysis and developing recommendations. We make use of our advanced analytics capabilities to develop spend buckets by services, suppliers, vendor normalization, parent-child linkages etc. We also conduct procurement pattern assessment and gap analysis to identify improvement areas for quick wins. 
Stay on top of supplier risks
Safety of employees, machinery, and environment is paramount in chemical industry, and the risk of chemical spills, explosions, and contamination is real! At SpendEdge, our experts track health and safety risks in the supplier ecosystem – as they happen – and provide functions, such as procurement in chemical industry, with highly relevant alerts to help them stay ahead of supply-side challenges.
Success story: A chemical industry leader discovers long-hidden cost-reduction opportunities in MRO   
Our client is a North American manufacturer of synthetic-nonionic surfactants used in detergents, cosmetics, and household chemicals, apart from chlorinated alkanes, stabilizers, plasticizers, lubricants, and flame retardants. The client's expanding product portfolio is organized across four operating segments. The business operates in almost every region in the world, with a presence in more than 50 countries and more than 10,000 employees.
The client has been recognized for driving innovation in the chemical sector for more than two decades now, putting cost efficiency and sustainability at the heart of all its actions. Over the years, the client's procurement organization has embraced a range of money saving ideas of varying magnitudes and the results have been encouraging for procurement in chemical industry at large. However, taming indirect spend can be tricky for any business because of its sheer complexity, and our client's situation is no different. Time and again, these behind-the-scenes spend go missing altogether from CPO dashboards. Firstly, procurement organizations don't always have a clear view of indirect spend, leading to data errors, not to speak of time and money wastages. Moreover, this kind of spending happens over a distributed base of suppliers, which makes it hard to accurately track and trace purchase transaction history. In the client's case, having to deal with an extended MRO supply base is not the only ticklish issue. It is not uncommon for suppliers to assign multiple numbers to the same item, and that can be quite confusing. Mistakes in the labeling process of raw purchase data also add to the problem. Suppliers offer substitutes in place of out-of-stock items, and things get even more complicated for procurement in chemical industry. The result is cost and time overruns in MRO sourcing with no respite in sight. So, the client began to mull over the possibility of applying latter-day predictive models and AI to circumnavigate the issues crowding MRO. The idea was to further curb spend and streamline how work gets done in its procurement function. In late 2022, the client called in our procurement intelligence experts to help its team deal with the scenario.
Working remotely from their lower-cost location, our specialists helped the client implement a market-leading AI-backed spend optimization solution to improve procurement outcomes like never before. Our analysts did a deep assessment of current as well as 3 year historic procurement dataas well as external market information, to discover patterns across all spend, including MRO. Using this our team was able to identify gaps with regards to supplier consolidation, reducing maverick spend, choosing the right number of suppliers etc., Further, the team also built modules that could predict the which way spend will go in the future. With this engagement, the integrity of the item master, which contains all relevant data about a certain piece of inventory, is a given. The client no longer needs to fret over discrepancies between manufacturer part numbers and supplier part numbers! Most importantly, the client has succeeded in bringing more MRO spend under prediction/management, leading to improved cost savings and deeper bonding with the supply base.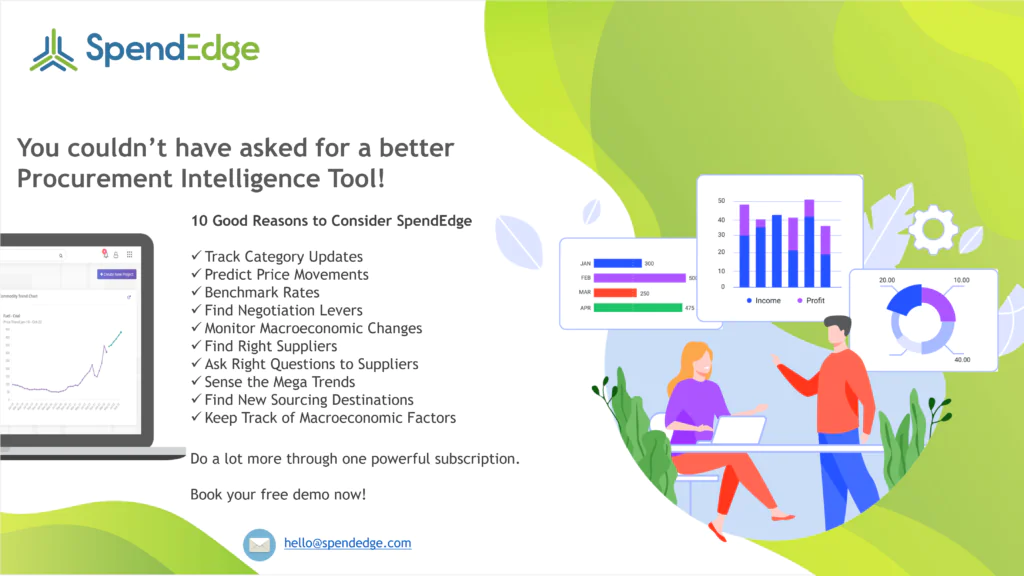 Contact us now to solve your procurement problems!
Author's Details
Ankur Rishi
Vice President, Sourcing and Procurement Intelligence
With more than 12 years of advisory experience, Ankur manages platform content and services within the sourcing and procurement vertical. Over the years, Ankur has provided consulting services to category leaders from chemicals, energy, and packaging industry, on varied topics, such as category strategy, spend analysis, commodity pricing, and clean-sheet analysis.