By: George Mathew
The production of agrochemicals includes the process of mixing materials like chlorine, yellow phosphorus, and bromine which are subject to strict rules and regulations. There is a need for conducting thorough research on suppliers and regulations while procuring these materials and making effective use of the information retrieved for making procurement decisions. The production of agrochemicals involves the synthesis of various chemical compounds that serve specific purposes in agriculture, such as fertilization, pest control, and disease management. The specific materials used can vary depending on the type of agrochemical being produced. Some of these chemicals are esters, ammonia, nitrogen compounds catalysts, and surfactants. Agrochemical companies need to identify and evaluate potential suppliers of the required raw materials, chemicals, and additives to ensure continuous procurement of the best quality of materials in order for the smooth functioning of the company.
Challenges in the current agrochemicals industry
Regulatory requirements:
Ever-changing regulatory requirements in the agrochemicals industry is a challenge as companies need to comply with the changes. The agrochemical sector purchases chemicals like ethanol, methanol, nitrogen compounds, etc. that, if used improperly—whether on purpose or accidentally—can be harmful to human health and the environment. These chemicals are subject to strict regulations to ensure their safe use and minimize their environmental impact. The main issue that comes up is determining the new alterations regularly. These regulations vary across countries and regions, making it necessary for agrochemical companies to navigate a complex landscape of regulations. This activity can be time-consuming and costly as the purchasers need to conduct continuous research to stay up to date with the latest information.
Increased procurement costs:
Agrochemical companies rely on various raw materials and inputs to manufacture their products. The solvents used like ethanol and methanol are offered at different prices by different suppliers among which a few vendors mark higher rates than the prevailing market price which increases the procurement cost. Fluctuations in these prices can significantly impact the cost of manufacturing agrochemicals, and the availability and accessibility of certain chemicals like catalysts can also affect procurement costs. Agrochemical companies may need to source materials from different suppliers or regions, which can lead to transportation and logistics expenses. Agrochemical companies may need to carefully manage their costs while ensuring the quality and effectiveness of the solvents, surfactants and stabilizers procured.
Supply chain disruptions:
One of the main reasons for supply disruptions is the complexity of the supply chain, which makes it difficult to ease the flow of raw chemicals to agrochemical companies. These disruptions can be attributed to several factors, including natural disasters, geopolitical tensions, transportation issues, and regulatory changes. Geopolitical tensions and trade disputes can lead to import/export restrictions or tariffs, affecting the procurement of agrochemicals from certain regions. Transportation issues, such as port congestion or disruptions in logistics, can delay the delivery of chemicals to the intended destinations. The purchasing company must monitor the supply chain and analyze the risks attributed to the procurement and resolve them beforehand.
How SpendEdge can help to overcome these challenges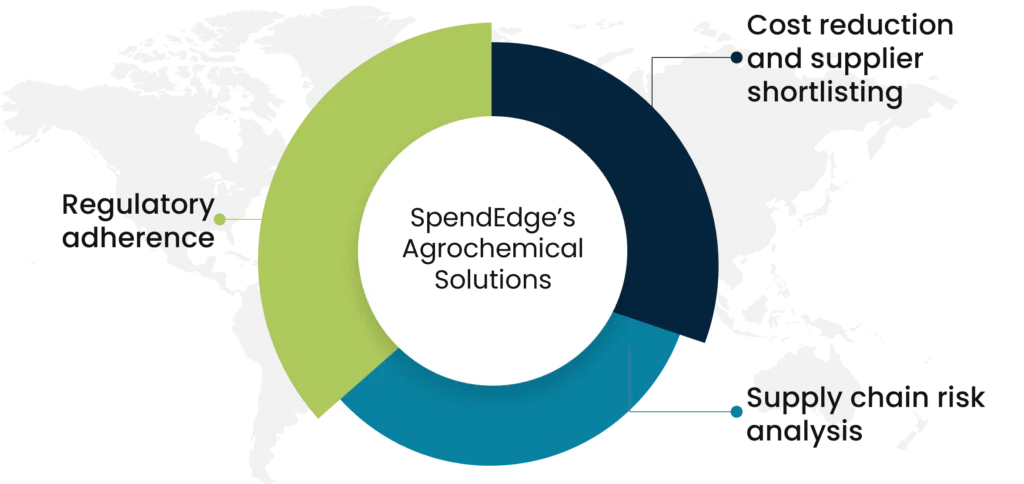 Regulatory adherence:
The growing stringency and amendments to regulation and policies imposed on additives and solvents has a huge financial impact. We not only help you understand the regulations specific to your procurement but also inform you of the local and latest regulatory requirements of these chemical intermediaries. This will help you to avoid supply chain disruptions as several regulations are related to the transportation of hazardous chemicals used for pest control. We also provide information about suppliers on their compliance track record and offer best practices that can help to address common compliance issues.
Cost reduction and supplier shortlisting:
Based on our expert analysis of your needs, we identify procurement costs and generate realistic budgets that can help you minimize wastage and timely purchase of chemicals and fillers. We help you in sorting suppliers based on their pricing strategies and commitment to sustainable and organic practices to efficiently understand the options available. Get detailed information about supplier performance and equip yourself with essential know-how on recent supplier market developments. You can also establish short-term and long-term goals for suppliers with the aid of our information about global sustainability practices.
Supply chain risk analysis:
You can effectively use risk scores related to specialty chemicals suppliers provided by us in supply chain decisions to understand the severity of risks. We help you identify new opportunities to optimize supply chain resilience and rebound capability. Use our supply-side intelligence to predict inflation in the supply chain before it can inflame and gather quantitative data on supplier experience to refine the supply chain. Precisely ascertain the risk profiles of each supply chain segment and make effective decisions to mitigate them.
Success Story: How SpendEdge helped one of its agrochemical clients
The procurement process in the agrochemicals industry has been facing a number of challenges lately. As a result, agrochemical companies have identified the need to implement innovative strategies to address these challenges.

A UK-based agrochemical company was dealing with the problem of high procurement costs due to the increase in the prices of chemical intermediaries. Not only was this impacting the COGS, but it was also resulting in production delays.

Our analysts determined that the reason behind increasing procurement costs was the high prices of the solvents used in the production of agrochemicals. We provided the client with information about suppliers who charge competitive prices for the chemicals while ensuring quality service throughout the supplier-purchaser relationship.

The client was able to identify a new supplier who could fulfill their solvent demand at a reasonable price while ensuring all the SLAs are met. The recommendations provided by our analysts aided the client in decreasing the procurement costs effectively.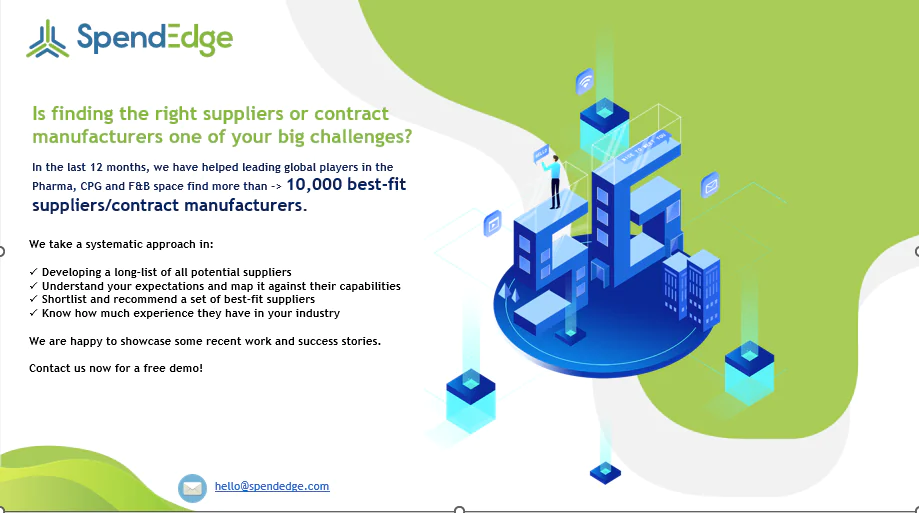 Contact us now to solve your procurement problems!
Author's Details
George Mathew
Associate Vice President, Sourcing and Procurement Intelligence
George is a procurement specialist at Infiniti Research and provides advisory services to clients across the pharmaceutical, CPG & FMCG, energy, and automotive sectors. He specializes in the procurement areas of industry benchmarking, cost modeling, rate card benchmarking, negotiation advisory, and supplier intelligence.