By: Ankur Rishi
The playbook for chemical industry in 2023 and beyond offers some intriguing insights into how crosscurrents in the sector will play out in the next 12-to-15-month horizon. With enough cash reserves for uncertain times like these, the $5 trillion-plus global industry is well-heeled and with few reasons to get seriously hurt by inflationary pressures in the near term. However, oil price volatilities and feedstock shortages could start to pinch as the industry sails into 2024, unless market participants choose to drive far-reaching changes to their operating models. Global oil prices are already at a nine-month high ($90.65 a barrel), on the back of fierce production cutbacks by Russia and Saudi Arabia. Almost 9 out of 10 players in chemical manufacturing industry in the US surveyed recently admitted their supply lines have been disrupted unlike at any time in the past, and there are multiple headwinds chemical businesses must future-proof their supply chains against. These range from geopolitical fault lines and inflationary shocks to floods and wildfires that threaten to leave ports, highways, and facilities in ruins, something chemical manufacturing industry must take cognizance of. As for specialty chemicals industry outlook, weak global demand and diminishing prices stare at market participants. Above all, the demand that chemical companies with huge carbon footprints make sustainability a board-room priority is growing shriller, and more recently, conscious investors have joined the climate change bandwagon. Earlier this year, for the first time, clean energy funding drew level with fossil fuel investments! That's a whole new perspective, challenge, and opportunity, all rolled into one, that chemical industry goliaths can't hope to overlook.
Market volatility is set to continue
Just as chemical industry CPOs thought they were out of the woods, in early 2022, conflict broke out in Ukraine. With Western sanctions on Russia, along with Moscow's countersanctions, volatility shot up, and the chemical industryscrambled to respond. Energy prices and gas supply-demand gap in Europe have since eased, but market volatilities will likely persist into 2023 last quarter as the industry continues its search for alternatives to shrinking Russian gas supplies and the embers of geopolitical tensions linger still.
Supply chains need more bounce-back capabilities
In a recent study, close to 100% of respondents from the US chemical industry acknowledged they are experiencing inefficiencies and disruptions in production and distribution, forcing many, including chemical processing industry, to significantly revamp their practices and processes. With their supply markets walloped by geopolitical volatilities, inflationary pressures, storms, and extreme weather, building flexibility and resilience into supply networks is crucial for chemical industry participants. This is a scenario that should bother procurement organizations in the chemical sector. It is important to step up efforts to tighten their integration with upstream and downstream ecosystem participants, leveraging AI/ML-powered demand forecasting and enterprise-wide data sharing.
It's time to promote sustainability to the board level
Nearly 925 million metric tons (MT) – that's the magnitude of CO2 global chemical industry belched out in 2021, and this is like 2% of all emissions in this world! Nearly half of the 50 largest chemical businesses by revenue notched up far-from-desirable scores in a 2022 study that considered the toxicity of their product basket, commitment to less hazardous chemicals ("green chemicals") and public disclosures about their inventory. Revenue from green chemicals totals a little more than $9 billion, which is just a drop in the $5 trillion-plus global chemical market! These are strong sentiments chemical businesses can't afford to brush away. Pressure is building on chemical business from all quarters – law makers, investors, and the public to walk their talk on sustainability by turning it into a top-of-mind priority for company boards. Stakeholders are demanding that participants in chemical processing industry act more responsibly by redesigning hazardous products and processes or completely replacing broken systems with ones that are safe and sustainable by design.
Chemical businesses must step up and take charge of supply lines
To take advantage of low labor and energy costs, deeper talent pools, various incentives, and tax breaks, chemical businesses have been making a beeline for Asia, with China proving the hottest destination. The risk-reward tradeoff from shopfloor offshoring has been largely appetizing so far despite occasional gripes about intellectual property (IP) infringements and "quality problems." However, rising labor costs in Asia, and, more importantly, the tit-for-tat trade restrictions brought into play by the world's two largest economies are concerns chemical businesses can't fail to notice without getting caught in shifting geopolitical tectonic plates. So, increasingly, participants in the chemical market might want to go "nearshore" to secure critical supply lines closer to their shorelines, thus reducing complexities in the supply chain. Alongside, chemical manufacturing industry participants will likely build presence outside China (the so-called China+1 strategy) in India, Malaysia, Philippines, and Vietnam, among others, to quell concentration risks arising from investments in any single destination.
How SpendEdge can help you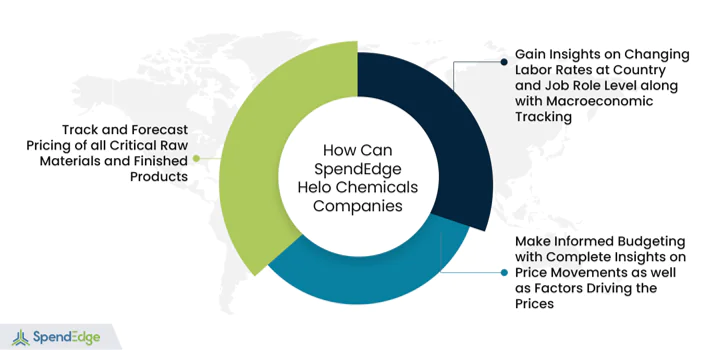 Track 100+ commodities and labor rates at scale
Backed by SpendEdge expertise, businesses, including in the chemical industry, are now able to monitor price trends for more than 100 commodities and finished goods globally. Our in-house experts build and maintain forecasting models that provide more than 95% accuracy. In addition we also help tracking labor rates and macroeconomic factors. Businesses intent on optimizing spend and minimizing price risk exposures should consider joining this initiative now!
Get contextually relevant historical price trends
With our advanced price trackers, chemical industry participants can get a pulse of historical price data when they need it most without any struggle. Why stop with historical trends. Go ahead and see in-depth how downstream and feedstock variables impact commodity pricing. Our tracker is configured to do that and more, such as combining univariate and multivariate models for high-precision price forecasts.
Ride on breadth-and-depth of expertise
At SpendEdge, we are all eyes and ears as the supply-demand scenarios in major producing and consuming industries, including global chemical industry, evolve. Further, our teams stand on top of more than two decades of core procurement experience and expertise, including in analyzing global commodities trading and delivering accurate and workable product forecasts.
Budget with high confidence
Thanks to precise and timely intel on commodity price movements, category managers in chemical industry are able to develop their spending plans with a great deal of self-assurance and minus the usual jitters.
Success story: Commodity price forecasting made simple for a North American chemical industry major   
Our client is a leading supplier of fertilizer products to agricultural markets, with operations across North America and Europe. The company's product lines include liquid fertilizers (e.g., urea ammonium nitrate solution) and   anhydrous ammonia, a common feedstock as well as a source of various nitrogen fertilizers. The company's key markets are in midwestern United States and Western Europe. Headquartered in the US, our client runs manufacturing sites and technical service centers in Asia.
Arguably, our client operates in the energy-intensive global chemical industry, and since February 2022, amid price swings of feedstocks and key input materials, the client has been exploring cheaper and adequate gas supplies. The effect of war, inflation, and rising energy prices was palpable within the client's organization. For the company's procurement team, securing the food chain of its fertilizer business has been an almost daily struggle, turning sourcing into a highly demanding function unlike any time in the past. Left unchecked, raw material inflations would strain business profitability, this was the dominant thought around the company's C-suite tables. Lack of adequate visibility into supply-side data was also hindering key decisions around commodity pricing trends and securing supply lines. At this juncture, the client decided to turn to our experts to assist its procurement organization in developing deeper insights into commodity price trends, including chemical industry price movements. The end goal was to improve planning and decision-making.
Soon, our experts drew up a game plan to help the client to continuously track and report price changes for an entire range of fertilizers, taking care to separate out high-risk and low-risk ones. Our experts delivered price forecasts for both medium and long timeframes (i.e., quarterly, half-yearly, yearly) and armed with this critical chemical industry info, the client's procurement organization has been able to pay close attention to highly volatile direct spend categories and effectively tame these over the near term. For context, our commodity price forecasting frameworks, predicated on deep learning algorithms, have been put to good use in the past, and these allow users to filter results by regions, specs, and grade. In this case, our client began to see the merit of employing hedging as a risk management strategy to cushion losses arising from price swings in the chemical industry. The results are quite encouraging, with the client now able to successfully secure future prices while containing losses. Without a doubt, supply chain disruptions are far less likely to happen, compared to the past now that these countervailing measures are in place.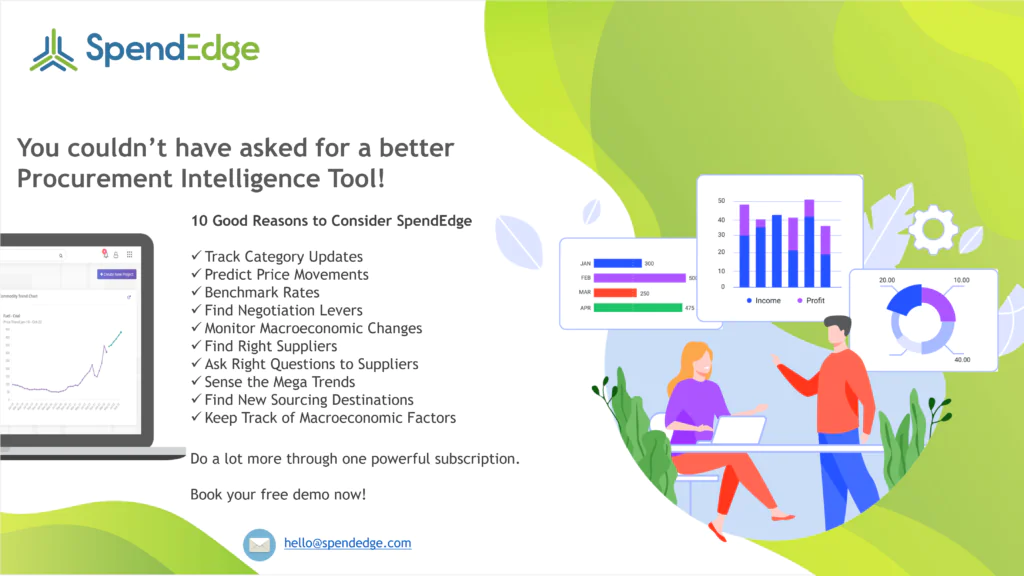 Contact us now to solve your procurement problems!
Author's Details
Ankur Rishi
Vice President, Sourcing and Procurement Intelligence
With more than 12 years of advisory experience, Ankur manages platform content and services within the sourcing and procurement vertical. Over the years, Ankur has provided consulting services to category leaders from chemicals, energy, and packaging industry, on varied topics, such as category strategy, spend analysis, commodity pricing, and clean-sheet analysis.