By: Ankur Rishi
The study of vegetable oils and animal oils and fats is called Oleo chemistry. The chemicals derived from these oils and fats are called Oleochemicals. Oleochemicals can be used in a wide range of applications such as soaps, detergents, personal care products, lubricants, and greases. Other major oleochemicals include fatty acids, fatty acid methyl esters, fatty alcohols, and fatty amines. Glycerol is a side product of all these processes. Intermediate chemical substances produced from these basic oleochemical substances include alcohol ethoxylates, alcohol sulfates, alcohol ether sulfates, monoacylglycerols (MAG), diacylglycerols (DAG), and other oleochemical products. The oleochemicals category is projected to grow at a CAGR of 5.46% during 2021-2025. The prices are outlined to rise by 3%-5% during the forecast period and suppliers will have a high bargaining power in this market. Wilmar International Ltd., AVRIL SCA, and Evonik Industries AG are a few of the key suppliers in the oleochemicals market.
Oleochemicals Procurement Industry – Recent Trends & Impact
Increased use of biofuels raises market growth opportunities
The increase in demand for biofuels has raised market growth opportunities. Fossil Fuels cover the major share in the consumption of fuel that has always led to environmental and health issues. Environmental pollution and depletion of fossil fuels caused serious environmental threats such as greenhouse gas emissions and ozone layer depletion. These challenges have forced consumers to move towards sustainable and green alternatives such as biofuels. Biodiesel is produced by the transesterification of oils and fats obtained from natural resources. The increasing adoption of sustainable alternatives to petrochemical products in food and beverages and rising technological advancement are anticipated act as growth opportunities.
Market growth is hampered during the pre-treatment of glycerin
Oleochemical products such as fatty acids, glycerin, and fatty alcohols, are used in applications ranging from food to cosmetic products. The production of these chemicals comes with health issues caused by releasing harmful Volatile organic compounds during glycerin processing. VOC vapors can cause Nausea, damage to the liver and kidney, and permanent damage to the central nervous system. All these mentioned factors hampered the market growth.
Sustainable sourcing
There is a notable trend towards sustainable sourcing in the oleochemicals procurement industry. This is driven by the increasing demand for eco-friendly alternatives to petrochemical-based products. Many consumers and industries are now seeking oleochemicals derived from renewable sources such as plant oils and fats. This shift is motivated by environmental concerns and the desire to reduce carbon footprint.
Certification standards
Certifications like the Roundtable on Sustainable Palm Oil (RSPO) have gained significance in oleochemicals procurement. RSPO ensures responsible sourcing practices in the palm oil sector, promoting sustainability and ethical practices. Companies are increasingly seeking RSPO-certified ingredients to align with growing consumer preferences for sustainable products.
Food and beverages industry holds the largest market share
The largest share of oleochemicals is backed by the food and beverages segment. Increasing adoption of bio-based thickeners, stabilizers, and other food additives in the food industry is expected to drive segment growth.
Empowering Strategic Growth Solutions for the Oleochemical Sector
Challenges faced during the procurement of Oleochemicals
Oleochemical procurement can indeed present some interesting challenges. One of the main challenges lies in ensuring a reliable and sustainable supply chain for sourcing oleochemicals. This involves factors such as fluctuating prices, geographical limitations, and the need to maintain quality standards. Another challenge is the complexity of navigating the diverse range of oleochemical products available in the market. Identifying the most suitable options based on specific requirements, such as the desired functionality, purity, and environmental impact, can be overwhelming.
Solutions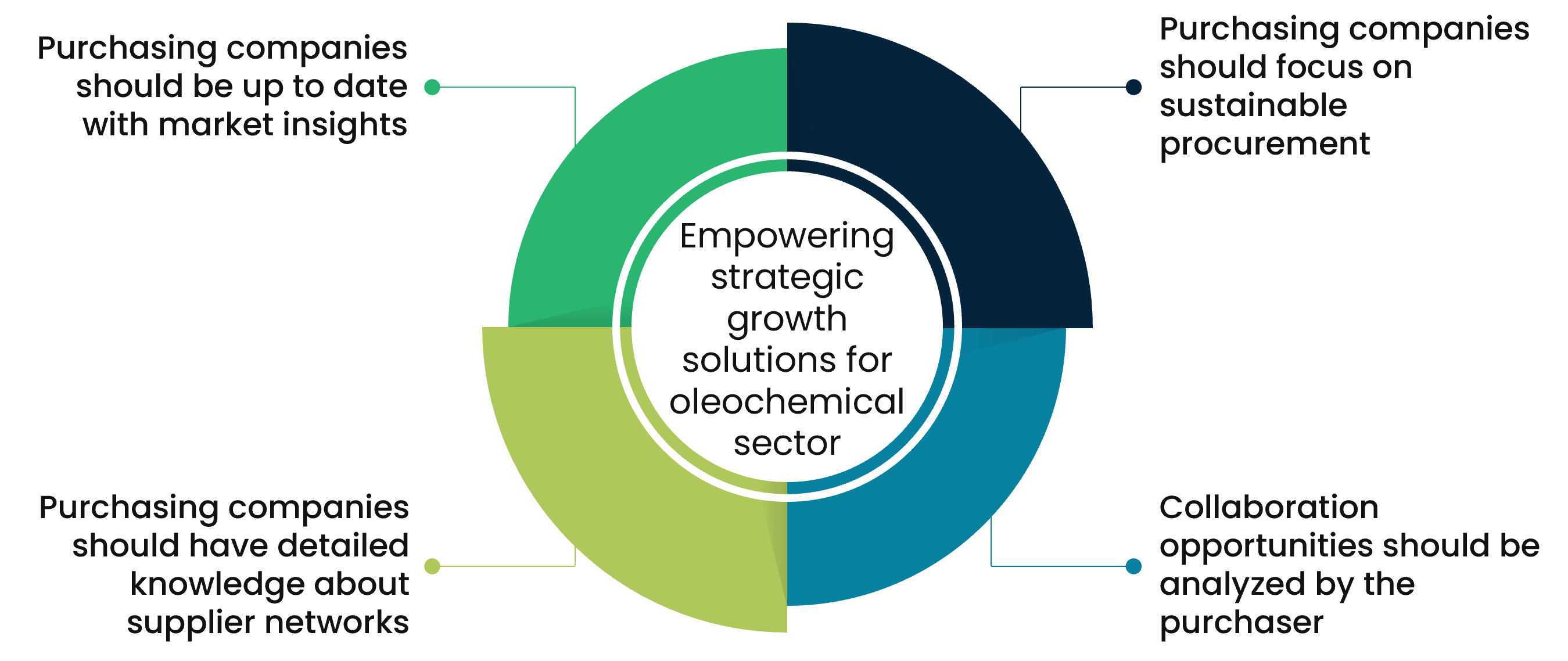 Purchasing companies should be up to date with market insights
Purchasing companies should look to gather up-to-date market insights, including pricing trends, supply-demand dynamics, and emerging opportunities which will help to make informed decisions and identify strategic growth areas.
Purchasing companies should have detailed knowledge about supplier networks
Purchasers should focus on expanding their supplier network by connecting with trusted suppliers and manufacturers of oleochemicals which will enable them to explore a wider range of options and negotiate better terms.
Purchasing companies should focus on sustainable procurement
Sustainability is a key aspect of modern procurement. Procurement stakeholders should look to identify suppliers who adhere to sustainable practices, such as sourcing from responsibly managed plantations or utilizing eco-friendly production processes. This will not only align with their corporate social responsibility goals but also give them a competitive edge in the market.
Collaboration opportunities should be analyzed by the purchaser
Companies should identify potential collaboration opportunities with other organizations or industry players to form joint purchasing ventures, knowledge-sharing initiatives, or even strategic partnerships to optimize oleochemicals procurement processes and leverage economies of scale.
Purchasers should adopt technology Integration
Purchasing companies must look for guidance in adopting advanced procurement technologies, such as AI-powered analytics, blockchain-based supply chain solutions, or digital platforms for seamless communication and transaction management. These technologies can streamline their procurement operations and enhance efficiency.
SpendEdge: The One-Stop Solution

The Oleochemical industry is a highly interconnected supply chain with the concept of globalization being widely recognized. In the current post-pandemic era, it is crucial for chief procurement officers to be alert and take preventive measures to avoid any disruptions in transportation, as the global supply chain of the oleochemical industry is more significant, and complex compared to other industries.
The financial implications of implementing stricter regulations and policies in the oleochemical industry are substantial. To mitigate these effects, we utilize key performance indicators (KPIs) to assist our clients in selecting suitable logistics partners and identifying any gaps in the procurement process. This approach enables clients to implement cost-optimization strategies and make data-driven decisions.
We offer solutions based on various strategies such as Best Cost Country Sourcing (BCCS)/Low-Cost Country Sourcing (LCCS) and multi-supplier sourcing to facilitate cost reduction and ensure uninterrupted supply. Our experts keep clients up to date with local and current regulatory requirements. This information helps prevent disruptions in the supply chain by ensuring compliance with relevant regulations.
When shortlisting suppliers, we place high importance on their compliance track records. This ensures that suppliers adhere to the necessary regulations and provides clients with best practices to address common compliance issues in the oleochemical industry.
Success Story
A supplier of lubricants had demonstrated exceptional resilience and longevity in a fiercely competitive market for over two decades. However, recognizing the need to address declining revenues, market share, and profitability, the company identified its procurement process as a crucial area to focus on for cost reduction efforts. To assist with this endeavor, the company sought the expertise of our professionals, who provided valuable insights and recommendations.
Our experts delved into analyzing the sales and profitability of specific product categories within the company's procurement portfolio. By examining these categories, they were able to identify areas where cost reductions could be achieved without compromising quality or customer satisfaction. Continuous cost reductions became a key aspect of the recommended strategy. The company could achieve significant savings and improve its overall profitability by implementing cost-saving measures such as bulk purchasing, strategic sourcing, and supplier consolidation. We emphasized the importance of nurturing enriched supplier relationships. Our professionals advised the company on developing closer ties with key suppliers, fostering open communication, and exploring collaborative partnerships. By strengthening these relationships, the company could potentially gain access to exclusive discounts, improved payment terms, and better overall value from its suppliers. As a direct result of implementing these insights, the client's procurement function has already achieved an additional 5% in savings. Through improved category management, the client has been able to maintain a more balanced supply-to-demand ratio, both internally within their organization and with external suppliers.
Connect with our experts today to avail yourself of all the services related to your oleochemical procurement and get to know about the best procurement practices.
FAQ
How can a company improve its utilization rate in the oleochemicals industry?
Improving utilization rates in the oleochemicals industry can be a complex task, but there are a few ways through which a company can boost its utilization rate such as optimize production processes, enhance supply chain management, and invest in technology and automation.
What are some strategies to achieve revenue growth benchmarks in the oleochemicals industry?
Achieving revenue growth benchmarks in oleochemicals procurement requires a strategic approach. Here are some strategies to consider: supplier relationship management, market Intelligence, diversification of suppliers, cost optimization, etc.
What are some common environmental and sustainability initiatives in the oleochemicals industry?
The oleochemicals industry has been actively addressing environmental and sustainability concerns. Here are some common environmental and sustainability initiatives in the industry: sustainable sourcing, resource efficiency, carbon footprint reduction, and circular economic practices.
Author's Details
Ankur Rishi
Vice President, Sourcing and Procurement Intelligence
With more than 12 years of advisory experience, Ankur manages platform content and services within the sourcing and procurement vertical. Over the years, Ankur has provided consulting services to category leaders from chemicals, energy, and packaging industry, on varied topics, such as category strategy, spend analysis, commodity pricing, and clean-sheet analysis.