By: George Mathew
With economies across the globe facing inflationary pressures and the fear of recession unwilling to die down, a big challenge for companies is to optimize their marketing budgets. For procurement stakeholders responsible for sourcing marketing collaterals, this has become an additional task along with effectively navigating through the prevalent high cost pressure scenario. It is becoming imperative for procurement teams to develop a strategic roadmap to drive value and maximize marketing investments so that their organizations can improve their competitiveness, reduce costs, and create new opportunities for growth. This, however, is not possible without a thorough understanding of the market, properly identifying and defining internal company requirements, and having a steady focus on category management and spend analytics.
One of the roadblocks for procurement teams is that tackling the Marketing category from a sourcing standpoint can be challenging. However, by using the right strategies, procurement stakeholders can develop effective plans to optimize the organization's marketing budget.
Challenges in sourcing & procuring marketing services:
Overcoming risks along the supply chain
With increasing cost pressures, there is a need for procurement teams to achieve more with less resources. This means being able to effectively wade through an increasing set of risks across the supply chain while simultaneously staying close to corporate marketing strategies to maintain a competitive edge. The need to manage both objectives effectively has necessitated the adoption of better practices, closely monitored vendor relationships, and utilization of new technologies to help manage current and future growth.
Efficiently managing multiple agencies
Another challenge faced during marketing procurement is efficiently managing multiple agencies. Since most companies use a multiple agency engagement model, it is important to develop strategies that can help achieve cost savings and improve efficiency. For example, consolidating all the agencies under one or more holding companies can help achieve this objective. Typically, companies engage with anywhere from 5 – 17 multiple marketing agencies under a single holding company. This also includes various market research suppliers whose services the company uses.
Being prepared to tackle the shift within the marketing procurement function
Procurement teams also need to be prepared to tackle the changes in the marketing procurement function. Over the past few years, the marketing procurement function has seen a significant shift. While previously the function was limited to buy-sell transactions or focusing on cost savings or supply continuity, the marketing procurement function of present times has to think more strategically to overcome increased competition, achieve cost reduction, establish mutually beneficial relationships with suppliers, gain a clear understanding of the market or assist the organization in its plans to efficiently review spend analytics and category management.
Effectively utilizing the available technology options
With the availability of new technologies such as artificial intelligence, machine learning, and big data analytics that can improve the outcome of marketing efforts, another challenge facing procurement teams is to devise plans to effectively use these services. With technology being used to gain a deeper understanding of customer behavior and preferences, and to create more targeted and effective marketing campaigns, procurement stakeholders need to be smart in deciding which agencies to engage with and smartly allocate budgets across different marketing needs.
How SpendEdge can help overcome marketing procurement challenges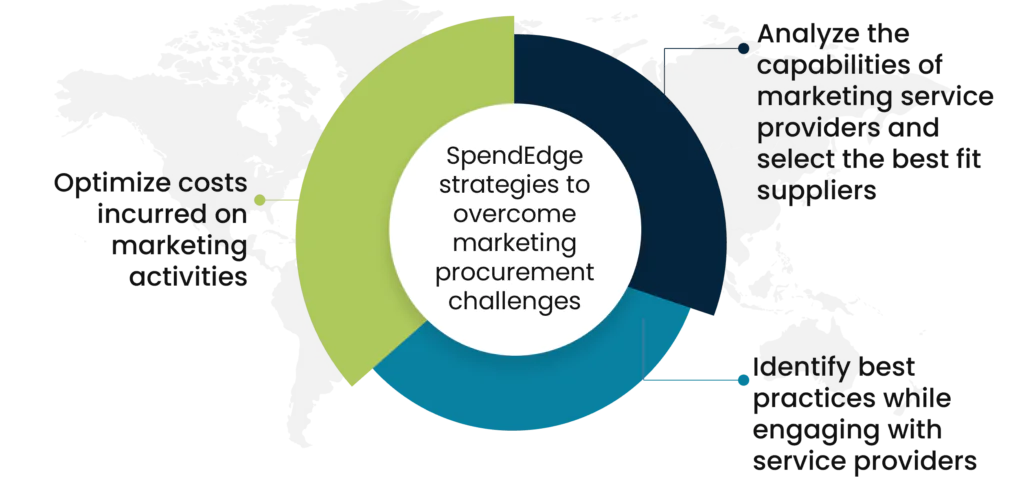 Analyze the capabilities of marketing service providers and select the best fit suppliers
With several years of experience assisting companies on marketing procurement, SpendEdge's seasoned analysts provide expert guidance and recommendation to businesses looking to partner with the right marketing service providers. Our specialist advisors help clients to stay updated on new offerings in the market and how suppliers are developing their capabilities.
Identify best practices while engaging with service providers
When it comes to engaging with marketing service providers, our experts help in identifying the best approach on vendor selection, engagement models, contract negotiation, and cost managements. With a clear view of the best practices, our experts help clients achieve cost savings and minimize the risk in the procurement process. Adhering to preset guidelines as defined in the best practices helps companies ensure they are procuring high-quality service and minimize risks and errors.
Optimize costs incurred on marketing activities
SpendEdge's analysts can help procurement leaders optimize the marketing budgets by aiding in resource allocation decisions by identifying and eliminating unnecessary costs. Our experienced analysts help organizations improve resource allocation and efficiency, streamline processes, and reduce wastage by identifying drawbacks and inefficiencies as well as cost-saving opportunities. By identifying areas of overspending and underutilization, SpendEdge can help businesses in reallocating resources to boost productivity and improve return on investment.nancial information, examining how they handle revenue and cash flows during periods of economic expansions and positive trends.
Success story: How SpendEdge helped a CPG client optimize marketing spending
SpendEdge's client is a global CPG company with presence across the F&B, home care and personal care segments. The client's procurement team based in the Netherlands reached out to SpendEdge to help with their marketing services procurement. Although the client was happy with the services being provided by their existing marketing partner, they were unsure whether the resources being allocated for different marketing activities was the most optimal mix.
SpendEdge's analysts evaluated the current marketing services being used by the client and the spend on each of the services. Through a benchmarking of the costs incurred on different marketing activities and the returns received from these spend, our analysts were able to decipher the most optimal use of marketing budgets for the client. In addition, we also provided the client recommendations on the best engagement practices which could help them obtain better results with their current marketing budgets.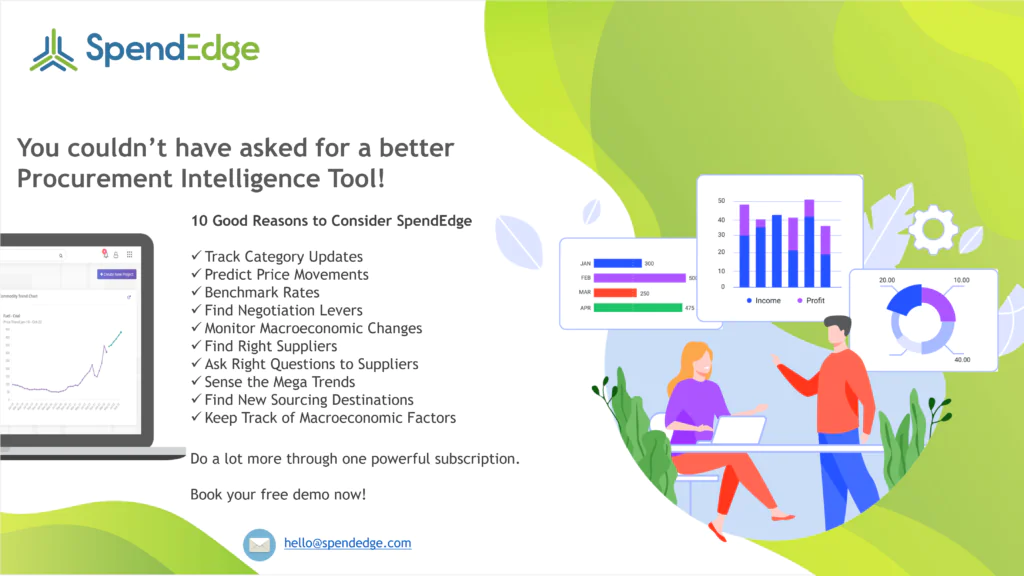 Contact us now to solve your procurement problems!
Author's Details
George Mathew
Associate Vice President, Sourcing and Procurement Intelligence
George is a procurement specialist at Infiniti Research and provides advisory services to clients across the pharmaceutical, CPG & FMCG, energy, and automotive sectors. He specializes in the procurement areas of industry benchmarking, cost modeling, rate card benchmarking, negotiation advisory, and supplier intelligence.