By: George Mathew
Artificial Intelligence (AI) has been making significant strides in the agriculture industry. The cutting-edge technology has the potential to enhance efficiency, reduce waste, and increase overall productivity in the sector. AI-powered drones and sensors help to gather data from fields. Additionally, utilizing AI-powered robots for agricultural harvesting can greatly enhance productivity and lower labor expenses. In addition, the progress in AI has also unlocked fresh avenues for effectively managing carbon sequestration in the field of agriculture.
Role of AI in farming and impact on F&B procurement practices
The role of AI in food supply chain
The ability of AI to analyze diverse but interconnected data sets, including weather patterns, soil conditions, moisture levels, and pesticide expenses, is improving farmers' capacity to predict crop yields and market prices more accurately. As a result, purchasers are strategically forming contracts, leading to decreased instances of last-minute procurement rushes and shortages during growing season. Moreover, the information gathered from the fields supports suppliers in verifying claims on product labels, such as fair trade or non-GMO status.
The effective use of AI is transforming the entire food supply chain and improving efficiency from start to end. It facilitates accurate demand forecasting, streamlines inventory management, strengthens supplier relationships, route optimization for transportation, quality control and optimizes warehouse operations, as well as predicts foodborne illness. Furthermore, AI provides predictability and traceability advantages, elevating the customer experience through real-time order management and personalization.
Harnessing AI for the purpose of improving the quality of crop breeds
AI and Big Data is being used to accelerate the development of new crop varieties through a process known as "precision breeding". By analyzing vast amounts of genetic and environmental data, AI can identify promising gene combinations that lead to desirable traits such as higher yields, disease resistance, and improved nutritional content, as well as reduce the resources needed for crop development and growth. This helps researchers narrow down options and create new crop varieties more efficiently, potentially addressing food security challenges.
Researchers are using AI and ML to instruct algorithm in identifying highly advantageous genotypes and anticipating their resulting impacts. Through this methodology, researchers anticipate a notable enhancement in breeding efficiency, achieved by minimizing the need for extensive phenotyping efforts and reducing the time required to cultivate new varieties. This approach also prioritizes traits that enhance yield and provide resilience against the challenges of a shifting climate.
AI in sustainable sourcing
The impact of emissions from packaging on the environment could be significant, as they contribute between 7%–54% of the overall emissions generated during the production of fresh vegetables and fruit. The extent of this impact depends on the capacity and merchandise. Additionally, the Life Cycle Assessment (LCA) approach, in combination with other technologies such as AI, has been employed to predict the environmental effects of agriculture, reduce CO2 emissions in fruit production, and assess energy efficiency in farming.
The inclusion of Carbon Footprint (CF) labels provides consumers a comprehensive perspective on a product's impact by measuring its CO2 emissions. Agricultural products featuring CF labels play a vital role in informing customers about greenhouse gas emissions linked to the items they purchase. According to the World Economic Forum, implementing precision agriculture on 15%–25% of farms could potentially lead to a 10%–15% increase in global yields by 2030. Furthermore, this approach might lead to a 10% decrease in greenhouse gas emissions and 20% reduction in water usage.
How SpendEdge can help to improve F&B procurement

Get a complete view of the agro product category
Our procurement advisors provide and evaluate a wide range of market information related to the agro product categories that you procure. This involves understanding cost drivers, market trends, supplier capabilities, engagement best practices, and potential risk associated with the sourcing function. By conducting comprehensive category analysis, our specialist advisors provide insight into the key factors that influence procurement decisions. Our experts also help you to identify the best-fit suppliers based on your needs. This process involves evaluating supplier's operational and functional capabilities, quality standards, pricing structures, and overall alignment with organizational goals.
Stay informed of changes in the supply chain
Our procurement advisors play a crucial role in keeping organizations informed about supply chain updates and uncertainties. They monitor and assess potential disruptions in the supply chain, such as changes in transportation, regulatory issues, or geopolitical events, and provide guidance on how these factors could impact procurement strategies. Our experts also help in analyzing how changes in commodity prices could affect procurement costs and advise organizations on how to mitigate potential risks. This might involve renegotiating with suppliers, exploring alternative sourcing options, or adjusting inventory strategies.
Analyze the sustainability initiatives of suppliers
Our experts help organizations to adopt modern sustainability practices and develop strategies to address any existing or potential sustainability gaps in their supply chains. This involves assessing suppliers' environmental, social, and ethical practices to ensure alignment with sustainable business goals
Identify best locations to source from
Our procurement advisors with expertise in best cost country sourcing and low-cost country sourcing provide valuable insights and help in identifying the ideal locations to source agricultural products. Our advisors analyze various factors such as production costs, transportation expenses, quality, labor availability, and proximity to determine the most suitable sourcing locations. These insights can lead to informed decisions and cost-effective procurement strategies.
Success Story: How SpendEdge helped a retail client
Our client is a fast-growing Food and Beverages company based in the US and serving consumers in over 150 countries. One of the challenges the company was facing was in increasing the share of sustainable ingredients in its products. Wheat and corn being two of the largest raw materials sourced by them, the client wanted SpendEdge to help them find suppliers that utilize modern technologies and sustainable farming practices. The client wanted to identify agricultural organizations promoting eco-friendly methods, conduct thorough supplier audits, and explore partnership opportunities with local farms implementing sustainable techniques.
SpendEdge's procurement advisors identified agro companies dealing in sustainably farmed products for the client. This involved using databases, trade associations, and industry reports to create a list of suppliers. The analysts then shortlisted the best fit suppliers by conducting a thorough capability mapping. This process involved evaluating factors such as financial stability, average annual yield, technologies used in farming, sorting of agricultural produce, sustainable practices, pricing, quality of products and services, geographical location, and overall fit with client's requirements. In addition, we provided engagement best practices and negotiation levers while interacting with these suppliers to obtain the most optimal terms related to pricing, delivery schedules, and contractual obligations.
The client was able to compare the sustainability initiatives of several suppliers and shortlist a few suppliers that were included in their list of preferred suppliers. The engagement best practices shared by us helped the client to effectively negotiate with potential suppliers and finalize the contract with favorable pricing terms. SLAs and KPIs included in the contract additionally ensured proper quality control and timely delivery.
e ease of covid restrictions, maintaining an online business has become difficult as customers started switching again to normal buying practices.
Similarly, a retail company based out of the US expanded its online delivery service and started using the services of a logistics company for online delivery services. Later with the ease of covid situation, the demand from its online channel started declining and the company was unsure whether to continue using the logistics service. They were in a dilemma because if they stop using the service, they will potentially lose out on some online customers. However, continuing would mean high operational costs.
Our SpendEdge experts were hired to address this issue by doing a cost benchmarking of the warehouse operations of the supplier. We identified that the average per-delivery costs being charged were higher than prevailing market rates. We provided recommendations on how to renegotiate the contract terms with existing customers. In addition, we provided information on the best engagement models to follow and provided a list of alternate suppliers the client could engage with.
Our recommendations and solutions helped the client to float an RFP to identify if they could get a supplier with a lower price and similar or better service quality levels. Eventually, the client decided to continue with the existing client but was able to effectively renegotiate the pricing terms and hence reduce their logistics service procurement costs.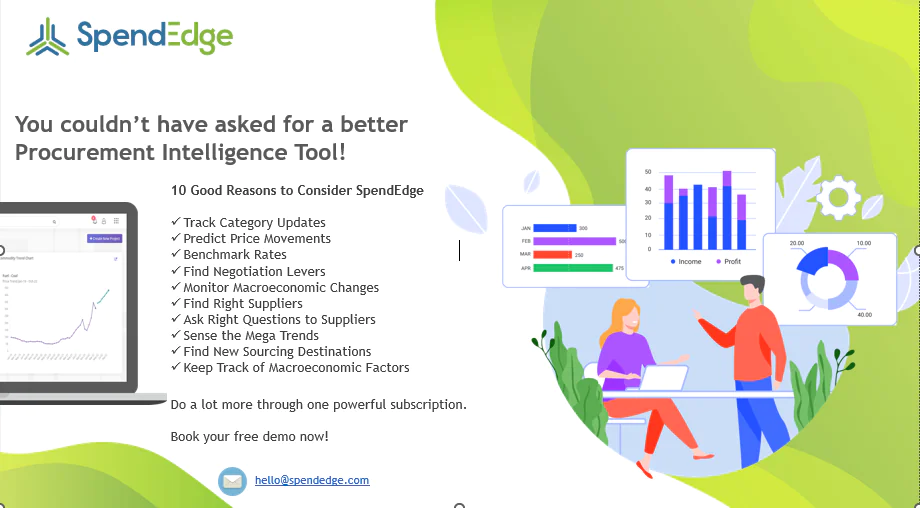 Contact us now to solve your procurement problems!
Author's Details
George Mathew
Associate Vice President, Sourcing and Procurement Intelligence
George is a procurement specialist at Infiniti Research and provides advisory services to clients across the pharmaceutical, CPG & FMCG, energy, and automotive sectors. He specializes in the procurement areas of industry benchmarking, cost modeling, rate card benchmarking, negotiation advisory, and supplier intelligence.