By: George Mathew
The need for sustainable packaging is arising from the growing environmental concerns related to excessive waste, pollution, and resource depletion. It is estimated that around 8.3 billion tonnes of plastics have been manufactured since 1950s, and only 9% of the total plastic waste generated has undergone recycling. Utilizing innovative sustainable packaging enable manufacturers to reduce operational expenses, enhance product sustainability, as well as enhance customer support, safety, and well-being for both consumers and the broader community.
Innovative packaging for sustainability includes biodegradable materials, minimalistic designs to reduce waste, reusable containers or even packaging made from recycled materials. Regulatory and public apprehensions related to waste from single -use packaging are converging with other significant trends to create substantial challenges in the area of consumer packaging. While authorities are taking action on this matter, companies and retailers too are taking proactive action by making ambitious initiatives to enhance the eco-friendliness of their packaging and completely reevaluate their packaging processes. Around one-fifth of organizations with sustainable packaging objectives are expected to shift their focus from plastic reduction and recycling to actively reducing the carbon footprint of their packaging by 2026. These initiatives include more than simply using fewer packaging materials; they involve adopting materials that are produced, transported, and processed with greater efficiency.
Furthermore, the top 25 CPG companies have pledged to enhance recyclable content, reduce the recyclable content of their products, reduce packaging, or promote material reuse. Notably, 80% of these companies are actively looking to achieve fully recyclable packaging for all their products by 2030.
Innovative CPG packaging trends
Paper-based bottles
Paper-based bottles have been gaining traction as a sustainable alternative to traditional plastic bottles. They are often lauded for their eco-friendly attributes, as they are made from renewable materials and are biodegradable. Many companies are embracing this trend to reduce their environmental footprint and cater to consumers who are looking for more environmentally responsible packaging options. For instance, Pernord Ricard introduced a three-month pilot testing of single-mold paper-based bottles for its Absolut Vodka, which is commercially available in the UK. Similarly, the US-based multinational food company, Kraft Heinz tested the feasibility of paper-based ketchup bottles, which are made from sustainably sourced wood pulp.
Some of the major paper-based bottle manufacturers that closely working and supplying packaging solutions to the CPG industry include Stora Enso, Pulpex, Elopak, and Tetra Pak.
Increasing use of aluminum cans for cleaning products
The use of aluminum cans for cleaning products represents a shift towards more sustainable and eco-friendly packaging solutions that align with consumer preferences and environmental concerns. It also reflects the efforts of companies focusing on environmental stewardship while maintaining product quality and market competitiveness.
Factors contributing to the rise in metal packaging include the growing middle-income demographic, shift in lifestyle, and the convenience of portability, as well as increased awareness about environmental concerns among people.
Many companies are introducing products, particularly cleaning items, in aluminum package, aiming to eliminate single-use plastics from the market. For instance, natural and organic household cleaning and personal care company, Puracy introduced a cleaning product that comes in recyclable aluminum can. Henkel is another company that has been working on sustainability initiatives, including the use of aluminum packaging for some its cleaning products. They have been exploring ways to reduce plastic waste and increase the recyclability of their packaging.
Flexible and sustainable packaging for confectionery products
The shift towards paper wrapping for confectionary products is part of a broader movement towards sustainable packaging driven by a combination of environmental concerns, regulatory pressures, and evolving consumer expectations. This transition benefits both businesses and the environment, as it reduces plastic usage for packaging, lowers waste, conserve resources, and aligns with the growing emphasis on responsible consumption. Additionally, the introduction of confectionary products in packaging made from bio-based materials has witnessed an average annual growth of over 100% in the last five years.
Many companies are recognizing the importance of aligning their brand with sustainability values. Nestle tested paper-wrapped versions of their Kit Kat chocolate in Australian stores as part of their initiatives to minimize plastic packaging. The company is planning to decrease the consumption of new plastics by around 30% by 2025. This initiative involves reducing plastic quantities, incorporating recycled plastics, and exploring alternative packaging material. Similarly, Mondelēz International has recently launched sustainable packaging for its Cadbury's Energy chocolate tablet, featuring fully recyclable paper flow wraps.
Increasing adoption of in-store recycling
The increasing adoption of in-store recycling reflects a larger movement towards environmentally conscious business practices. Retailers are recognizing their responsibility to reduce their ecological impact and play a part in creating a more sustainable future. While regulatory compliance certainly has an impact, the notable shift towards sustainability is largely driven by consumer demand towards sustainability.
In the US, Kellogg partnered with food and drug retailer Albertsons to promote an in-store recycling initiative which included in-store recycling bins in which customers could drop off packaging and plastic packaging. The two companies also organized in-store events to promote the recycling programs. The partnership aligns with Kellogg's Better Days commitment to offer sustainable and equitable access to food to three billion people by 2030.
How SpendEdge can help CPG companies with packaging initiatives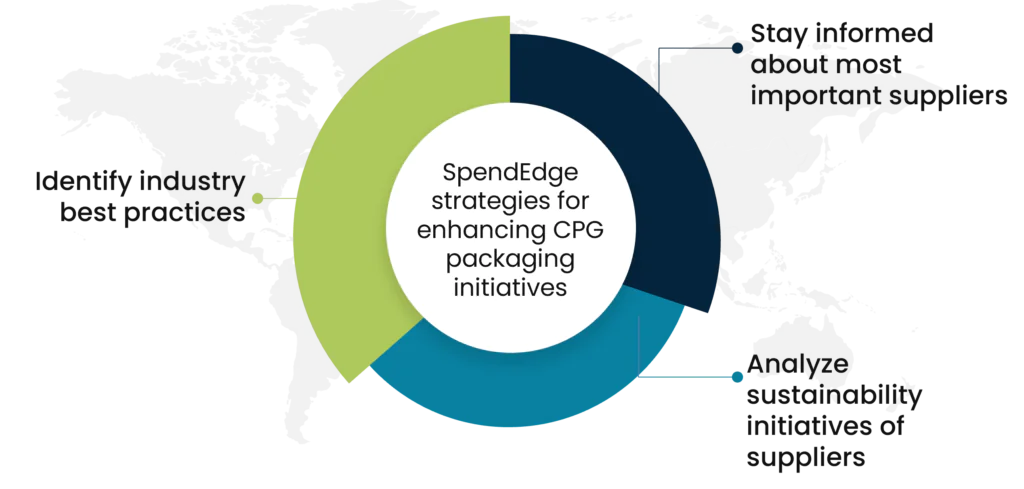 Stay informed about most important suppliers
Our procurement advisors can provide effective and efficient supplier analysis strategies while promoting eco-friendly practices. This involves gathering and analyzing data about suppliers to make strategic decisions. It involves selecting suppliers and products that have a minimal negative impact on the environment, as well as evaluating supplier performance, financial stability, quality of products/services, and their overall capabilities.
Analyze sustainability initiatives of suppliers
Our procurement advisors can assist CPG companies in implementing sustainability initiatives, especially related to packaging and modern sustainability practices. Our specialists help in evaluating suppliers and suggest improvements. Additionally, they can provide suggestions on eco-friendly packaging solutions such as biodegradable materials, or designs that minimize wastes, as well as analyze the entire packaging lifecycle from production to disposal, to find areas of improvement.
Identify industry best practices
Our experts provide insights on how CPG companies can enhance their sustainability efforts towards packaging. This involves information on material selection, balancing cost containment with quality and sustainability objectives, and adherence to various regulations and compliance requirements.
Success Story: How SpendEdge helped a CPG client
Our client is a CPG company with global presence and operates in the F&B, personal care, and home care segments. The client's European procurement team responsible for packaging materials was interested in assessing the feasibility of incorporating more sustainable packaging in their personal care segment. The client also wanted to analyze data on current packaging materials, cost, consumer preferences, and environmental impact, as well as potential benefits, challenges, and any potential cost implications of transitioning to sustainable packaging.
Our procurement advisors identified key manufacturers and suppliers in the market. Our experts engaged with various key stakeholders, manufacturers, and suppliers and thoroughly assessed sustainability initiatives in packaging. Our investigation included detailed discussions and evaluation of strategies to achieve eco-friendly packaging solutions.
In addition, we provided recommendations on best practices followed by other CPG companies for sustainable packaging. Our team suggested best practices including optimization of packaging size to reduce waste, types of biodegradable material, and adoption of innovative designs that minimize resource usage.
Our insights helped client to obtain a clear understanding of the supply landscape, identify gaps in their own packaging strategies, and potentially innovate by implementing sustainable practices that resonate with consumer preferences and regulatory requirements. The outcome of our findings also enabled the client to understand what leading personal care brands are doing across the globe. The client also gained insights on the sustainability and innovative capabilities of suppliers serving personal care brands.
Contact us now to solve your procurement problems!
Author's Details
George Mathew
Associate Vice President, Sourcing and Procurement Intelligence
George is a procurement specialist at Infiniti Research and provides advisory services to clients across the pharmaceutical, CPG & FMCG, energy, and automotive sectors. He specializes in the procurement areas of industry benchmarking, cost modeling, rate card benchmarking, negotiation advisory, and supplier intelligence.