By: Manpreet Kaur
Supply chain management is a critical component of the fast-food industry, influencing product quality, cost efficiency, operational effectiveness, and the ability to meet customer expectations. Effective supply chain management contributes to the overall success and competitiveness of fast-food chains in a dynamic and fast-paced industry. In recent years, various disruptions, including the COVID-19 pandemic and natural disasters, have highlighted the importance of proactive risk management in supply chains. This industry relies on the timely and efficient delivery of ingredients, products, and services to meet customer demands, therefore, identifying supply chain risks and devising right risk mitigation strategies is of top priority to ensure the efficient flow of goods and services even in challenging circumstances.
Challenges/Problems faced in the packaging procurement process.
Supply Chain Disruptions: Natural disasters, pandemics, political instability, and other unforeseen events can disrupt the supply chain. Fast food companies need contingency plans to address these disruptions, such as finding alternative suppliers or adjusting production processes.
Supplier Reliability: Fast food chains rely on numerous suppliers for their ingredients. Ensuring that suppliers consistently meet quality and quantity requirements can be challenging. Supplier disruptions, like bankruptcy or labor disputes, can impact the supply chain.
Food Safety: Maintaining food safety and hygiene standards is crucial in the fast-food industry. Any lapse in quality control or safety protocols can lead to health issues, legal problems, and damage to the brand's reputation.
Logistics and Distribution: Efficient logistics and distribution are essential to delivering fresh food quickly. Managing a vast network of distribution centers, delivery trucks, and last-mile delivery can be complex, especially in densely populated areas.
Regulatory Compliance: The fast-food industry is subject to numerous food safety, labeling, and labor regulations. Staying compliant with these regulations across different regions and countries can be challenging.
Cost Pressures: Fast food chains are always under pressure to maintain competitive prices. Balancing cost-efficiency with quality and sustainability can be a constant challenge in the supply chain.
How SpendEdge can help the industry in overcoming the challenges
Supplier Intelligence:
Supplier intelligence is an ongoing process that requires a proactive approach to ensure the fast-food industry's supply chain remains efficient, reliable, and responsive to market demands and consumer expectations. We can help in identifying and selecting the right suppliers from the right locations and can conduct detailed assessment of suppliers based on criteria such as reliability, pricing, quality, capacity etc. We can also provide visibility on supplier costs and their pricing structure that can help further in negotiating better terms and pricing agreements.
Risk Assessment:
In the fast-food industry supply chain it is crucial to identify, evaluate, and mitigate potential risks that can disrupt operations, impact food safety, and affect the overall reputation and profitability of the business. We have capabilities of providing visibility on the overall supply chain and identify Supplier-related risks, Food safety and quality risks, Natural disasters, Transportation risks, Regulatory and compliance risks, Economic risks etc. and conduct detailed assessment on them to evaluate the potential impact each risk can have on the supply chain and also provide recommendations on the mitigation strategies that can help in minimizing the impact.
Selecting Right Sourcing Destinations:
We also possess capabilities in conducting detailed low/best cost country sourcing analysis and it involves evaluating potential sourcing destinations to identify the most cost-effective and efficient options for procuring goods and services. This analysis is crucial for fast food companies to optimize their supply chain and reduce operational costs. In these studies we can provide indications on the total cost of sourcing from each potential country, including procurement costs, transportation costs, import duties, taxes, and other relevant expenses, we can also evaluate the quality and safety standards in each potential sourcing destination, understand whether the suppliers in those countries can meet the quality and safety requirements or not, analyze the logistics and transportation infrastructure in each country considering factors like proximity to your markets, shipping routes, and lead times, understand the regulatory and compliance requirements for importing goods from each country, calculate the TCO for each sourcing destination, which includes not only the purchase price but also ongoing costs such as maintenance, quality control, and warranty expenses, assessment of potential risks and choosing the low risk destinations and evaluate potential suppliers in these countries based on their capabilities, reputation, and track record.
The success story of how SpendEdge was helpful to one of its clients.
A leading fast-food giant with operations in over 40+ countries across the globe was looking for a partner who could support in providing visibility of the overall supply chain, identify suppliers and can also identify associated risks.
The client was facing issues with identifying suppliers who have the required capabilities and capacity and also wanted to identify risks associated with the sourcing destinations that they were interested in.
To help the client overcome these challenges, we conducted a detailed supplier identification and risk assessment study. For the target geographies we identified suppliers who can best fit the selection criteria and possess all the required capabilities pertaining to different products that client wanted to procure, quality certifications, regulatory compliance, pricing, geographic reach etc. We also identified and analyzed the risk areas associated with the locations from where client wanted to procure the goods such as political instability, corruption perception, pollution index, population in modern slavery, child labor, ease of doing business etc. and assessed the level of impact these risks could have on the supply chain.
Based on our assessment, we provided recommendations on the best fit suppliers and risk mitigation strategies that could help the client protect their business from potential disruptions and enhance overall operational resilience.
.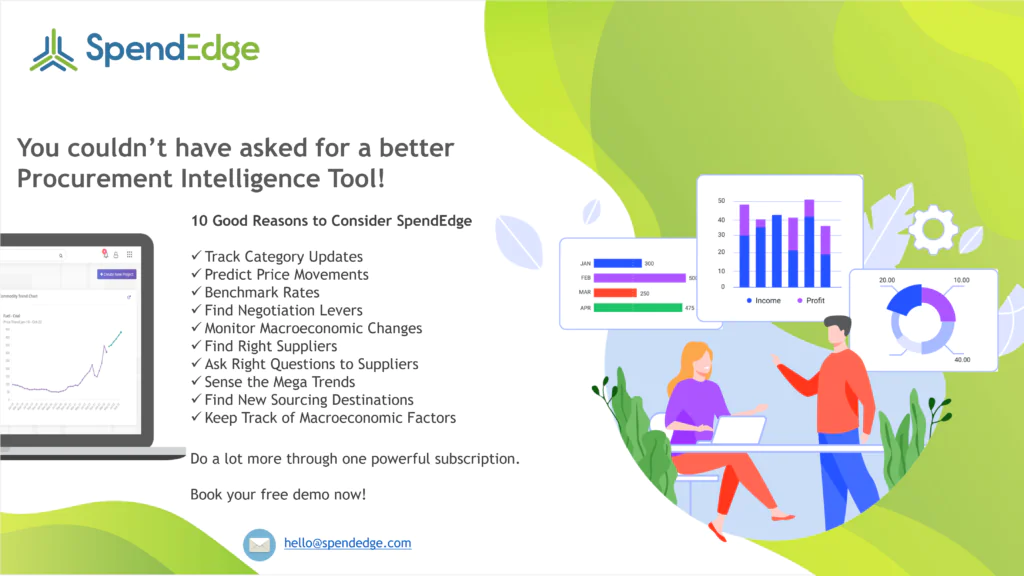 Contact us now to solve your procurement problems!
Author's Details
Manpreet Kaur
Assistant Manager Presales – Sourcing and Procurement Intelligence
Manpreet is a Presales Consultant at Infiniti Research and is responsible for designing best fit solutions for clients belonging to different industries such as BFSI, Chemicals, Retail & CPG, F&B, Pharma and Healthcare, Energy, IT & Telecom and Automotive sectors. She specializes in sales, business strategy execution, and innovative solution design.