By: George Mathew
Digitally transformed businesses aim to use automation to cut down on operational costs associated with transactional processes. They also want to improve support for supplier management and cross-departmental needs. Software-as-a-service (SaaS) procurement tools have made it possible for organizations to integrate multiple services and standardize processes across the enterprise. This standardization allows organizations to shorten the buying cycle and also improve the data necessary for analyzing costs. However, cybersecurity weaknesses in the procurement technology supply chain can increase data breach risks if not managed appropriately. In the procurement process, data breach risks include supplier data leaks, unauthorized access to sensitive procurement records, invoice fraud, and supplier impersonation. Hackers may exploit vulnerabilities to steal confidential information, disrupt operations, or manipulate financial transactions, posing financial and reputational threats to organizations.
Secure your procurement process with the aid of these cybersecurity measures
Proper collaboration with the IT department:
Proper collaboration with the IT department is essential for cybersecurity. IT experts possess the technical knowledge and tools to safeguard an organization's digital assets. They can implement robust security protocols, monitor for threats, and promptly respond to incidents. Effective communication between IT and other departments ensures that security measures align with business needs, reducing vulnerabilities. Moreover, IT can educate employees about cybersecurity best practices, fostering a culture of vigilance. In today's interconnected digital landscape, this collaboration is not just advisable but imperative to protect against evolving cyber threats.
Assess prospective endpoint security risks proactively:
When incorporating your ERP platform into your security program, it's crucial to recognize all potential data breach risks. First, the procurement team should identify the types of information that the ERP platform will handle, who will have access to the platform, and from where they will access it. This will give the team a better understanding of potential endpoint security risks. For instance, malware installed on a remote employee's device can lead to a compromise of the ERP platform. Once the procurement team has worked with the IT department to identify these risks, they can collaborate to improve data security.
Appropriate due diligence into supply chain risks:
It is important to engage in appropriate due diligence to manage supply chain risks and ensure cybersecurity. Organizations must prioritize network security measures when implementing a cloud-based service in their ERP platform. This includes using firewalls and ensuring that their ERP provider has security controls in place to prevent Distributed Denial of Service (DDoS) attacks that can result in service outages. Automating recurring and late payments can increase costs, so it is crucial for companies to have adequate security measures in place to avoid potential financial losses.
Emphasize the use of data encryption:
Data encryption is a fundamental cybersecurity measure. It involves encoding sensitive information, rendering it unreadable to unauthorized individuals or hackers. By employing strong encryption protocols, organizations can safeguard data during storage, transmission, and even in the event of a breach. Encryption ensures data confidentiality and integrity, mitigating the risk of data breaches and unauthorized access. It is a critical layer of defense in protecting valuable information and complying with privacy regulations. Emphasizing data encryption is paramount in today's digital landscape, where data is a prime target for cybercriminals.
How can SpendEdge help companies with cybersecurity solutions?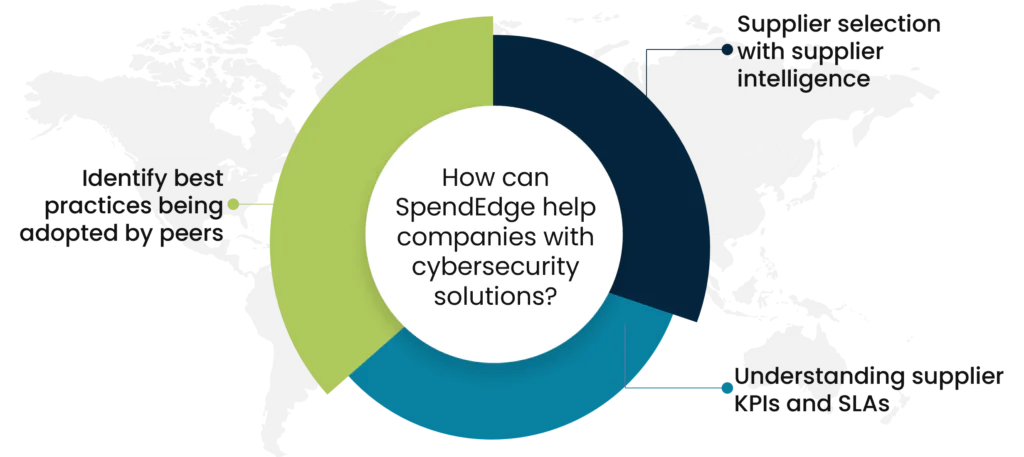 Identify best practices being adopted by peers:
You can narrow down the potential suppliers who provide cybersecurity services by checking the detailed information about supplier performance specific to each KPI that we provide. Our methodology for narrowing down suppliers goes beyond historical filters like revenue and profits, performance, and service quality to find vendors such who can produce effective solutions to prevent your business from distributed denial of services (DDoS). You can also condense your search to only select a few with the potential for long-term relationships and engage with suppliers by heading straight to the request for proposal stage through our expertise.
Supplier selection with supplier intelligence:
At Spendedge, we specialize in evaluating the security capabilities of vendors offering various technology tools for procurement functions. Our assessments encompass a thorough examination of past data breach incidents, enabling us to ascertain the extent of vulnerabilities. Additionally, we meticulously analyze the remedial actions undertaken by suppliers to enhance the safety and reliability of their products. This comprehensive approach ensures that procurement professionals can make informed decisions, selecting vendors with robust security measures in place to safeguard sensitive data and operations.
Understanding supplier KPIs and SLAs:
Gain insight into the primary Key Performance Indicators (KPIs) utilized to assess vendor preparedness in mitigating security breach risks. Additionally, explore the recommended protocols and procedures to be followed in the event of a security breach. At SpendEdge, we also provide comprehensive guidance on both KPIs for vendor readiness assessment and the steps to take when a breach occurs, ensuring your organization's data security is robust and responsive. You can use service-level agreements provided by us to resolve conflicts when a disagreement arises.
The success story of SpendEdge helping one of its clients with the procurement function
SpendEdge recently helped a European automotive products manufacturer. The client procures raw materials from global suppliers and operates across international boundaries. The procurement process of the client involved several manual processes that it wanted to automate. However, the client felt that the use of technology tools would expose it to cybersecurity-related risks. The client wanted SpendEdge to detail the measures to be taken to ensure protection against cybersecurity threats.
SpendEdge analysts conducted a best practices analysis wherein the processes being followed by the client's peers to safeguard against cyber threats were analyzed. This served as a benchmark in terms of measures to be taken by the client. In addition, the analysts assessed the various tools available in the market to enhance cybersecurity and recommended the best tools suitable to the client based on their current procurement processes. Through our insights, the client was not only able to bring in automation elements in their procurement process but also implement best practices to minimize the risk of cyber threats.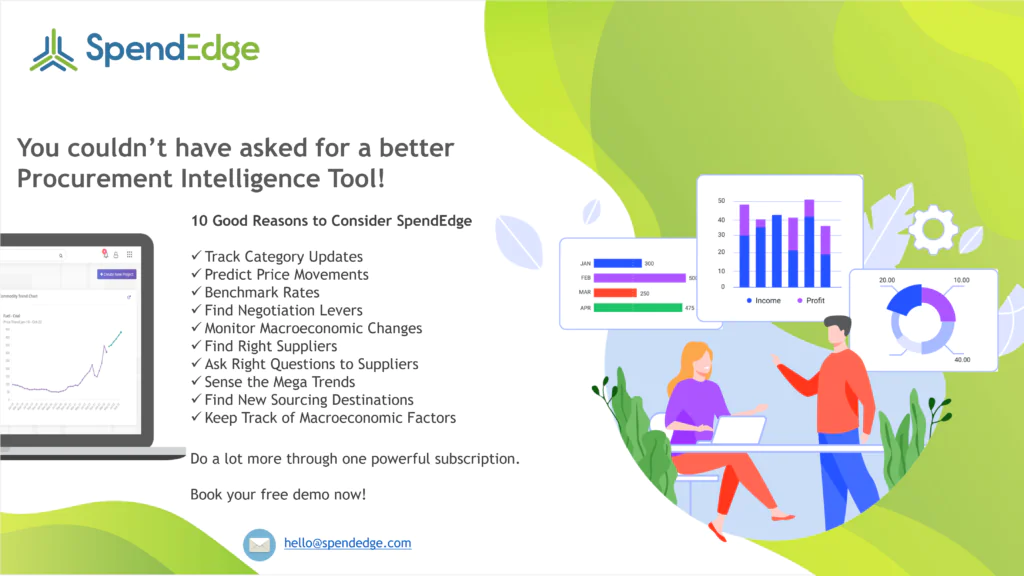 Contact us now to solve your procurement problems!
Author's Details
George Mathew
Associate Vice President, Sourcing and Procurement Intelligence
George is a procurement specialist at Infiniti Research and provides advisory services to clients across the pharmaceutical, CPG & FMCG, energy, and automotive sectors. He specializes in the procurement areas of industry benchmarking, cost modeling, rate card benchmarking, negotiation advisory, and supplier intelligence.